Tools
10 must-have SketchUp plug-ins | 3D World. Google has always prided itself on the simplicity of SketchUp's toolset.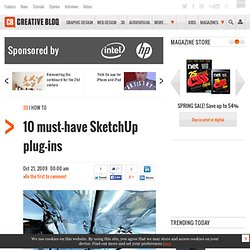 In fact, the last new tool to be introduced to the standard set was the Follow Me tool, which came in with version 4.0 (we're now on 7.0) and added the capability to extrude profiles along paths. But version 4.0 also saw the introduction of the Ruby scripting interface. This enabled anyone with scripting skills to write plug-ins for SketchUp to extend its core functionality, and that's exactly what users did – in their thousands. We've sifted through the add-ons currently available to bring you our list of the 10 most vital plug-ins. How To Use Google Search More Effectively INFOGRAPHIC.gif (800×8848) Anki - friendly, intelligent flashcards. 25 Essential Web Tools for Incoming College Freshmen | How To E-D-U. Starting college can be a bit overwhelming at the outset.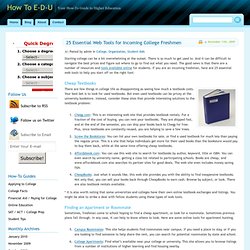 There is so much to get used to. And it can be difficult to navigate the best prices and figure out where to go to find out what you need. The good news is that there are a number of resources and tools available online for students. If you are an incoming freshman, here are 25 essential web tools to help you start off on the right foot: Cheap Textbooks. Pages in ultimate student resource list. NoodleQuest. PDF Pad.
---