Tools
Ninite - Install or Update Multiple Apps at Once. Save paper & ink printing only what you want « PrintWhatYouLike.com. TinyApps.Org : Home. Portable Software For USB Flash Drive: Lupo PenSuite. Time.is - exact time, any time zone. CustomExplorerToolbar - Add Copy/Cut/Paste buttons to the Explorer toolbar of Windows 7. Description CustomExplorerToolbar is small utility for Windows 7 only, which allows you to easily customize the toolbar of Windows Explorer, and add buttons that were existed in previous versions of Windows, like Copy, Cut, Paste, Select All, and more.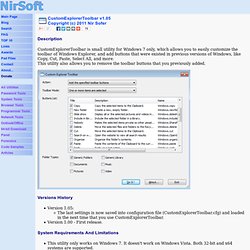 This utility also allows you to remove the toolbar buttons that you previously added. AccdbMerge - diff & merge Microsoft Access files (mdb & accdb) What is AccdbMerge?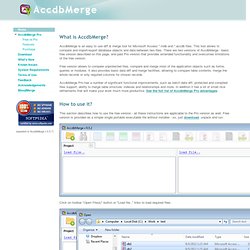 AccdbMerge is an easy to use diff & merge tool for Microsoft Access *.mdb and *.accdb files. This tool allows to compare and import/export database objects and data between two files. There are two versions of AccdbMerge - basic free version described on this page, and paid Pro version that provides extended functionality and overcomes limitations of the free version. Free version allows to compare unprotected files, compare and merge most of the application objects such as forms, queries or modules. It also provides basic data diff and merge facilities, allowing to compare table contents, merge the whole records or only required columns for chosen records.
Free Portable Software USB Flash Drive Applications | Pendriveapps. CodySafe is an Alternative to PortableApps. PortableApps, which allows you to carry around your favorite open source apps on a USB stick is one of the coolest projects out there.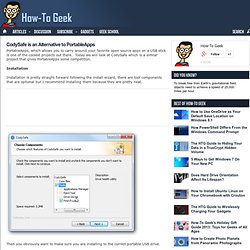 Today we will look at CodySafe which is a similar project that gives PortableApps some competition. Installation Installation is pretty straight forward following the install wizard, there are tool components that are optional but I recommend installing them because they are pretty neat. Then you obviously want to make sure you are installing to the correct portable USB drive. Starting Out. Fill a Flash Drive with Portable Software using Lupo PenSuite. A flash drive full of portable software is helpful to have along wherever you go.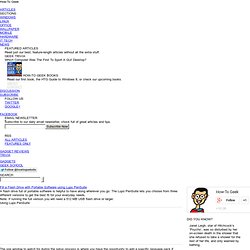 The Lupo PenSuite lets you choose from three different versions to get the best fit for your everyday needs. Note: If running the full version you will need a 512 MB USB flash drive or larger. Using Lupo PenSuite The one window to watch for during the setup process is where you have the opportunity to add a specific language pack if needed. List of trackers and uploading .torrent. Free compession software with the largest user group in China! Efficient! Utility! Fast! * Support virtual CD-ROM mounting * Support directly extract the image which mounted * Powerful dual-core Trojan horse checking engine * MD5 comparison function * Improved the interactive function of "file information" * Improved the interaction when open a file from a large size archive Forever Free!
Needn't suffer the limitations of traditional compression software's copyright and functional ? We promise Haozip is free for both customers and companies, 40-day trial Farewell! Portable Applications. NirSoft - freeware utilities: password recovery, system utilities, desktop utilities. Best Portable Apps. On this page, you will find the best portable apps to bring with you on the go. We've taken the effort to categorize all of the portable apps and picked only those we believe to be the best ones and which will most likely be useful to you. You can download and install these on a USB stick, an external hard drive, or any other portable device that you carry with you. That means that you can have any of these apps no matter where you go.
---