Tools
Portable Software For USB Flash Drive: Lupo PenSuite
Description CustomExplorerToolbar is small utility for Windows 7 only, which allows you to easily customize the toolbar of Windows Explorer, and add buttons that were existed in previous versions of Windows, like Copy, Cut, Paste, Select All, and more. This utility also allows you to remove the toolbar buttons that you previously added.
CustomExplorerToolbar - Add Copy/Cut/Paste buttons to the Explorer toolbar of Windows 7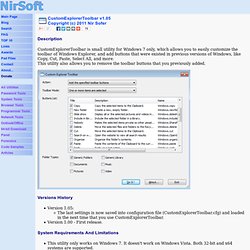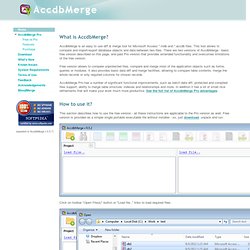 What is AccdbMerge? AccdbMerge is easy to use diff & merge tool for Microsoft Access *.mdb and *.accdb files. This tool allows to compare and import/export database objects and data between two files. How to use it? At the current version it is simple single executable file without installer - so, just download , unpack and run: Click on toolbar "Open File(s)" button or "Load file.." links to load required files:
AccdbMerge - diff & merge Microsoft Access files (mdb & accdb)
CodySafe is an Alternative to PortableApps
PortableApps, which allows you to carry around your favorite open source apps on a USB stick is one of the coolest projects out there. Today we will look at CodySafe which is a similar project that gives PortableApps some competition. Installation Installation is pretty straight forward following the install wizard, there are tool components that are optional but I recommend installing them because they are pretty neat. Then you obviously want to make sure you are installing to the correct portable USB drive. Starting Out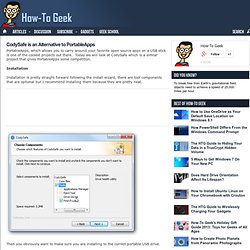 A flash drive full of portable software is helpful to have along wherever you go. The Lupo PenSuite lets you choose from three different versions to get the best fit for your everyday needs. Note: If running the full version you will need a 512 MB USB flash drive or larger. Using Lupo PenSuite The one window to watch for during the setup process is where you have the opportunity to add a specific language pack if needed.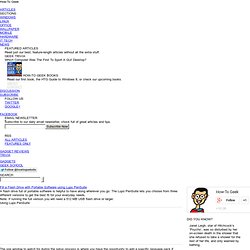 Fill a Flash Drive with Portable Software using Lupo PenSuite
List of trackers and uploading .torrent
Free compession software with the largest user group in China! Efficient! Utility! Fast!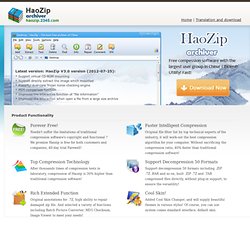 * Support virtual CD-ROM mounting * Support directly extract the image which mounted * Powerful dual-core Trojan horse checking engine * MD5 comparison function * Improved the interactive function of "file information" * Improved the interaction when open a file from a large size archive Forever Free! Needn't suffer the limitations of traditional compression software's copyright and functional ? We promise Haozip is free for both customers and companies, 40-day trial Farewell! Faster Intelligent Compression Original file filter list by top technical experts of the industry, it will work-out the best compression algorithm for your computer.