Presentation-tips
The Wrong Body Language
You're automatically signed up for the Inc. Wire, so you never miss a single day's most important news, tips, or ideas. Roll over the name of the other Inc. newsletters to see how you can get great Inc. articles on the topics that matter most to you. The news-from all over the web-entrepreneurs need to know now.
Articles on Public SPeaking
We're Communispond
Free 3-D shapes and objects template for PowerPoint 2007 - PowerPoint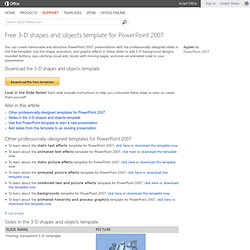 You can create memorable and attractive PowerPoint 2007 presentations with the professionally-designed slides in this free template.
hiredMYway Blog —
Guide to Persuasive Presentations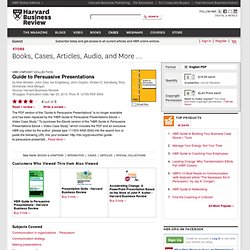 Ebook indicates that you would like to purchase and download a digital book in PDF, ePub, and Mobi formats. Hardcopy indicates that you would like to have "hardcopies" shipped from our warehouse to your requested shipping location.