For:sfreitas
What Is Acunote Acunote is an agile project management tool and Scrum software. Companies from 1 to 100,000 people use it to manage software development, IT project management, and as an online project management software for the whole company.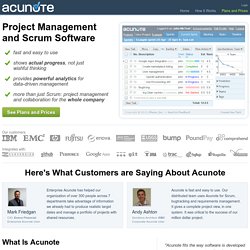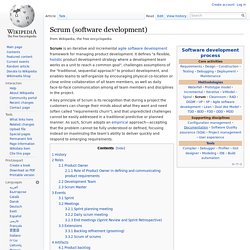 Scrum is an iterative and incremental Agile software development framework for managing software projects and product or application development. Its focus is on "a flexible, holistic product development strategy where a development team works as a unit to reach a common goal" as opposed to a "traditional, sequential approach". Scrum enables the creation of self-organizing teams by encouraging co-location of all team members, and verbal communication among all team members and disciplines in the project. A key principle of Scrum is its recognition that during a project the customers can change their minds about what they want and need (often called requirements churn), and that unpredicted challenges cannot be easily addressed in a traditional predictive or planned manner.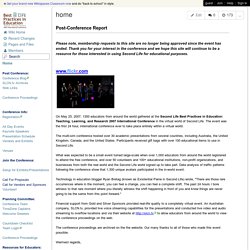 Please note, membership requests to this site are no longer being approved since the event has ended. Thank you for your interest in the conference and we hope this site will continue to be a resource for those interested in using Second Life for educational purposes. On May 25, 2007, 1300 educators from around the world gathered at the Second Life Best Practices in Education: Teaching, Learning, and Research 2007 International Conference in the virtual world of Second Life. The event was the first 24 hour, international conference ever to take place entirely within a virtual world. The multi-sim conference hosted over 30 academic presentations from several countries, including Australia, the United Kingdom, Canada, and the United States.
Second Life Best Practices in Education Conference 2007
the premier open-source platform for rich internet applications