LOGICIELS AVEC OUTILS CREATION CSS
Software.visicommedia.com - Produits - WebExpert. | 5.9.2. jEdit - Programmer's Text Editor - overview. HTML Kit for more than editing HTML. KompoZer - Easy web authoring. NVU. Office.com - Toutes les ressources pour utiliser Microsoft Office. GoLive 9. The Adobe USA site has been optimized for users within the United States.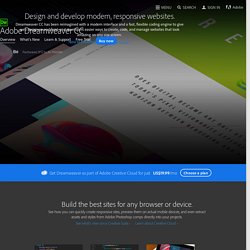 If you live outside the U.S., we recommend that you visit your local site for the most relevant information, including pricing, promotions, and local events. United States Canada - English. Web design software, HTML editor | Adobe Dreamweaver CS5.5.
---