Education blogs
Holt Think: Ed, Creativity, Tech, Administration. Does Opting Out Help or Hurt?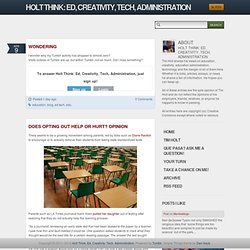 Opinion There seems to be a growing movement among parents, led by folks such as Diane Ravitch to encourage or to actually remove their students from taking state standardized tests. 10 Things We Should No Longer Tolerate in Ed Tech from Fellow Educators. Free Technology for Teachers. Cathy Nelson's Professional Thoughts.
The Principal of Change. This and That. A Principal's Reflections. ScienceFix - Science Fix. Technology with Intention.
---