Make an APP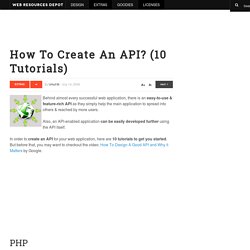 How To Create An API? (10 Tutorials)
Behind almost every successful web application, there is an as they simply help the main application to spread into others & reached by more users.
AppsAmuck iPhone Development Tutorials and Examples
Open Feedback Publishing System (OFPS) is now retired. Thank you to the authors and commenters who participated in the program. OFPS was an O'Reilly experiment that demonstrated the benefits of bridging the gap between private manuscripts and public blogs. Readers gained access to in-progress O'Reilly manuscripts and were able to communicate suggestions with the authors, follow others' comments, and directly participate in the development of new books. Additionally, authors published their in-progress work whenever they thought it ready for public comment and were able to update the site with new versions as the content was improved. Many of the book projects that were in OFPS have been migrated to the Atlas Reader.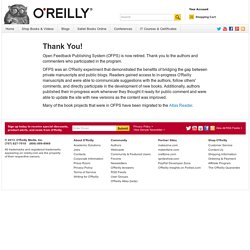 Iphone Web Application Creator - create your web application online
Iwac the first Iphone SDK online.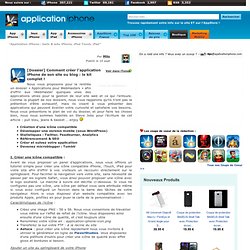 Par Milo Publié le 15 sept Voir dans iTunes
[Dossier] Comment créer l'application iPhone de son site ou blog : le kit complet !
Jeudi 5 novembre
Créer une application iPhone sans programmation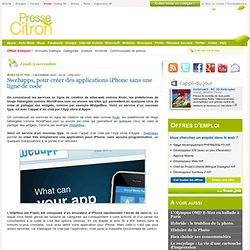 Over a year ago, we posted a round-up of DIY mobile development tools entitled "13 Tools for Building Your Own iPhone App," which has been one of our long-standing top posts of all time. Clearly, there's interest in this area. But focusing on just "DIY" tools for just the iPhone platform is an outdated way of looking at mobile development, if we do say so ourselves. Android, Windows Phone 7, BlackBerry, Symbian and other platforms are now important considerations too, as is the mobile Web itself. Plus, there is a wide range of services supporting mobile development all the way from DIY kits up to developer-friendly, cross-platform SDKs. This week, we've rounded up over 30 services which aid in mobile app development.
Dernièrement (pour une demande client) j'ai du comparer les solutions permettant de convertir un site le contenu ou le flux d'un site vers une application Iphone. Beaucoup de services sont disponibles sur la toile essentiellement payant, avec des modes de rémunération via publicité (pas très pro pour les sites business). Le tout premier service à avoir fait parlé de lui sur le sujet était apploop, malheureusement le service semble non disponible pour de nouvelle inscription.
Convertir son site internet en application Iphone (et Andro?d) | Diplotomatic.com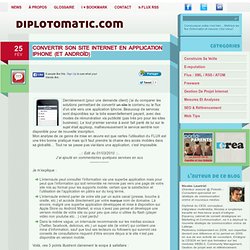 Développer une application iPhone/Android en 2 minutes - Innovation Web - Mobile
API