Blogs I like
Morbid Anatomy
Antonio A. Casilli :: BodySpaceSociety
Nursing Clio
Somatosphere | Science, Medicine, and Anthropology
This Sociological Life | A blog by sociologist Deborah Lupton
The Chirurgeon's Apprentice
The Sociological Imagination Yet, the literature also documents how lengthy running time of films creates challenges when using movies to teach.
The Sociological Cinema - The Cinema Blog
Sociological Images » Seeing is Believing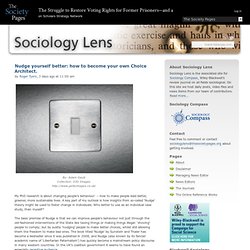 Fugue as Method: A Fughetta on Interdisciplinary Work Within Contemporary Academia by rademacher, 3 hours ago at 07:00 am Cantata BWV 75Johann Sebastian BachSource: Bach Digital Project Exposition - "The first statement of the subject by all the 'voices' in turn" Oxford Dictionary of Music.
Sociology Lens » news. resources. commentary.
Montclair SocioBlog
I'm working my way through a response to Sarah's incisive and provocative posts on Drone Sexuality. But, I realized that I need to get some preliminary arguments on the table before I get into the thick of my response. In particular, I want to focus on what Sarah identifies as the ambivalence at the center of drone/cyborg eroticism; this ambivalence is, as I have argued in this article, deeply racialized. In what follows I'll first explain my reading of Sarah's point and then follow that up with the relevant excerpt from the article.
Cyborgology » humanity meets technology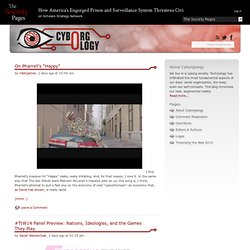 The Health Culture
SociologyFocus | Just another WordPress site
Sociological Images » Seeing is Believing
socialsciencespace | A space to explore, share and shape the issues facing social scientists
Everyday Sociology Blog
On this blog you will find details about our favourite published work, details of events and discussions, and research projects by CPCS associates. Use the buttons at the top to visit the different areas of the Blog. Follow CPCS on twitter for up-to-the minute news, 'like' us on facebook, or subscribe to our bulletin by emailing Dr Ellie Lee Information about our forthcoming book 'Parenting Culture Studies' can be found hereCharlotte Faircloth talking about her book Militant Lactivism?
Centre for Parenting Culture Studies