Blogs I like
Special Valentine's Day Anthropomorphic Insect Shadowbox Workshop with Former AMNH Senior Insect Preparator Daisy Tainton Date: Saturday, February 1 Time: 1 – 4 PM Admission: $75 ***Must buy ticket at http://morbidanatomy.bigcartel.com/product/anthropomorphic-insect-shadowbox-workshop-special-valentines-day-edition-with-daisy-tainton This class is part of The Morbid Anatomy Art Academy **Offsite*** Morbid Anatomy Museum ( New Location ) : 424A 3rd Ave Corner of 7th St, Brooklyn, NY 11215 Today, join former AMNH Senior Insect Preparator Daisy Tainton for a special Valentine's Day edition of Morbid Anatomy's popular Anthropomorphic Insect Shadowbox Workshop. More info here
Morbid Anatomy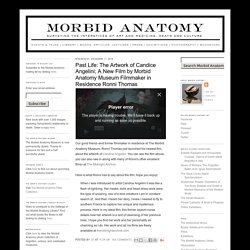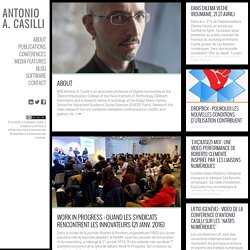 Dans le cadre de mon séminaire EHESS Étudier les cultures du numérique : approches théoriques et empiriques, j'ai eu le plaisir d'accueillir Paola Tubaro (maître de conférences à l'Université de Greenwich, Londres) pour une séance « à deux voix » à l'occasion de la parution de notre dernier livre Against the Hypothesis of the End of Privacy. An Agent-Based Modelling Approach to Social Media, publié en 2014 par la maison d'édition Springer. Web et privacy : sur le prétendu renoncement à la vie privée des utilisateurs d'InternetIntervenants : Paola Tubaro (University of Greenwich, Londres) — Antonio A.
Antonio A. Casilli :: BodySpaceSociety
Nursing Clio
Female Sexual Dysfunction: "Pink Viagra," A Dysfunctional Approach to Treatment by Nicole Foti You may have noticed the recent hype surrounding the "little pink pill" or "pink Viagra," a pill used to treat female sexual dysfunction, or FSD, a condition affecting nearly 50 million women nationwide. The FDA's latest rejection of the drug flibanserin has caught the attention of a number of media outlets and women's groups, including the National Organization for Women (NOW), who are questioning the motives behind this decision. Why does the FDA refuse to approve any drugs for women with sexual dysfunction, while men have five to choose from, plus another nineteen generic brands of these drugs?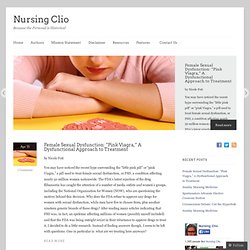 Somatosphere | Science, Medicine, and Anthropology
I have written previously on this blog on the pros and cons of using social media for academic work, including a discussion of why I blog and what I have learnt from using these media. As part of a chapter on the digitised sociologist that I am working on for my Digital Sociology book, I have been reviewing other people's research on academic blogging. Numerous accounts of using social and other digital media for professional academic purposes can be found on websites such as the LSE Impact of the Social Sciences and The Guardian's Higher Education Network. Some more traditional academic articles have also been published in journals on these topics.
This Sociological Life | A blog by sociologist Deborah Lupton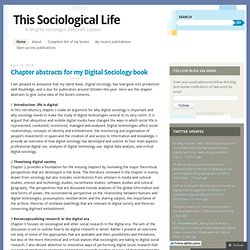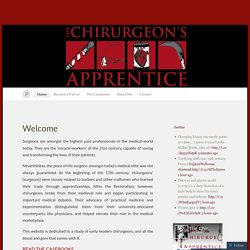 Surgeons are amongst the highest paid professionals in the medical world today. They are the 'miracle-workers' of the 21st century, capable of saving and transforming the lives of their patients. Nevertheless, the place of the surgeon amongst today's medical elite was not always guaranteed.
The Chirurgeon's Apprentice
The Sociological Imagination
Sociological Images » Seeing is Believing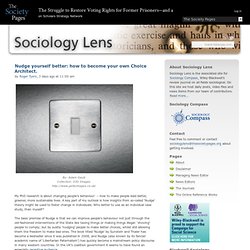 Nudge yourself better: how to become your own Choice Architect. by Roger Tyers, 3 days ago at 11:00 am By: Adam GaultCollection: OJO Imageshttp://www.gettyimages.co.uk/ My PhD research is about changing people's behaviour – how to make people lead better, greener, more sustainable lives.
Sociology Lens » news. resources. commentary.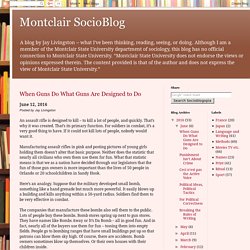 April 1, 2014Posted by Jay Livingston Advertisements echo with many reverberations and overtones. Different people hear different things, and with all the multiple meanings, it's not always clear which is most important. Lisa Wade posted this Snickers ad from Australia at Sociological images (here).
Montclair SocioBlog
On Pharrell's "Happy" by robinjames, 2 days ago at 05:00 am I find Pharrell's massive hit "Happy" really, really irritating. And, for that reason, I love it.
Cyborgology » humanity meets technology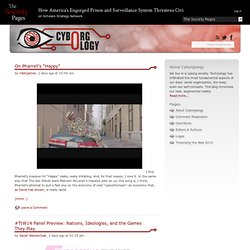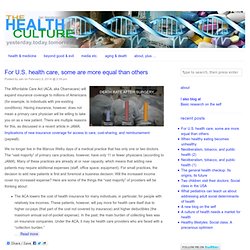 The Health Culture
Throughout history there's been an understandable desire to find connections between our behavior and our health. Human beings have practiced health regimens involving diet, exercise and hygiene since antiquity. When medicine was based on the humoral theory of disease, for example, individuals were advised to purge the body in the spring and, in the summer, avoid foods or activities that caused heat. Bathing in ice water was recommended in the 19th century. Mark Twain quoted the advice: "the only way to keep your health is to eat what you don't want, drink what you don't like, and do what you'd druther not." In the second half of the 20th century many Americans adopted the idea that a 'healthy lifestyle' (diet, exercise, not smoking, etc.) was a good way to prevent disease and live longer.
SociologyFocus | Just another WordPress site
This is part one in a two part series. In this first post, Bridget Welch explains prototypes, schema, and framing and how these concepts help us understand the characterization of black and Latino boys as criminals. In the second post, she will help us relate these concepts to understand the charges of racism made in recent Stand Your Ground cases. Close your eyes and imagine a dog.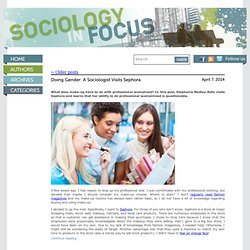 Sociological Images » Seeing is Believing
socialsciencespace | A space to explore, share and shape the issues facing social scientists
By Karen Sternheimer As a self-starter, I like self-help books, and have read or listened to number of audio books in the genre. I have listened to many books on discovering one's passions and creativity, on personal finance, relationships, career building, and those promoting emotional well-being. I can truly say that I have learned a lot from them, and they have taught me how to understand myself and others better.
Everyday Sociology Blog
On this blog you will find details about our favourite published work, details of events and discussions, and research projects by CPCS associates. Use the buttons at the top to visit the different areas of the Blog. Follow CPCS on twitter for up-to-the minute news, 'like' us on facebook, or subscribe to our bulletin by emailing Dr Ellie Lee Our book 'Parenting Culture Studies' has now been published
Centre for Parenting Culture Studies