Blogs I like
Morbid Anatomy. Antonio A. Casilli :: BodySpaceSociety. Nursing Clio. Somatosphere | Science, Medicine, and Anthropology. This Sociological Life | A blog by sociologist Deborah Lupton. The Chirurgeon's Apprentice. The Sociological Imagination. Sociological Images » Seeing is Believing. Sociology Lens » news. resources. commentary. Nudge yourself better: how to become your own Choice Architect. by Roger Tyers, 3 days ago at 11:00 am By: Adam GaultCollection: OJO My PhD research is about changing people's behaviour – how to make people lead better, greener, more sustainable lives.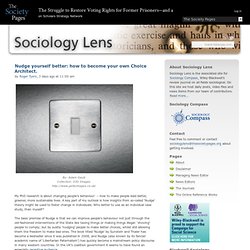 Montclair SocioBlog. Cyborgology » humanity meets technology. On Pharrell's "Happy" by robinjames, 2 days ago at 05:00 am I find Pharrell's massive hit "Happy" really, really irritating.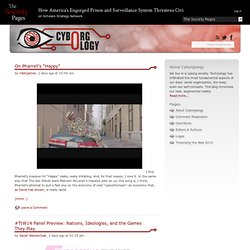 And, for that reason, I love it. The Health Culture. SociologyFocus | Just another WordPress site. Sociological Images » Seeing is Believing. Socialsciencespace | A space to explore, share and shape the issues facing social scientists. Everyday Sociology Blog. Centre for Parenting Culture Studies. On this blog you will find details about our favourite published work, details of events and discussions, and research projects by CPCS associates.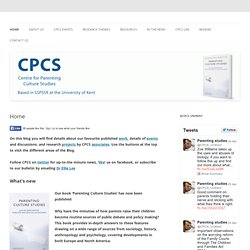 Use the buttons at the top to visit the different areas of the Blog. Follow CPCS on twitter for up-to-the minute news, 'like' us on facebook, or subscribe to our bulletin by emailing Dr Ellie Lee Our book 'Parenting Culture Studies' has now been published.
---