Free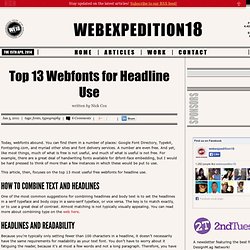 Today, webfonts abound. You can find them in a number of places: Google Font Directory, Typekit, Fontspring.com, and myriad other sites and font delivery services. A number are even free. And yet, like most things, much of what is free is not useful, and much of what is useful is not free. For example, there are a great deal of handwriting fonts available for @font-face embedding, but I would be hard pressed to think of more than a few instances in which these would be put to use. This article, then, focuses on the top 13 most useful free webfonts for headline use.
32. 400ml Type This 400ml typeface was designed and created by student Marco Terre . Currently completing his degree in communication design at the university of applied sciences in Berlin, Marco's aim was to create a clean and little playful type and is based on the idea of combining graffiti glyphs with graphic glyphs. The font comes in four styles: regular, bold, regular italic and bold italic.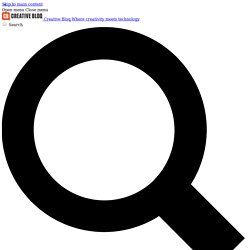 Show All Free Fonts
Dieter Steffmann @ typOasis
Moderne Schwabacher
New & Fresh Fonts
Vintage and retro style designs can be a beautiful thing. By using a combination of rough textures, grunge patterns and brushes meant to add an aged or used appearance, designers can easily pull of this timeless look. To compliment this aged appearance, it is important to use the proper typography to help match the style you are trying to represent. To help you out, I've rounded up 40 attractive retro and vintage fonts to use in your designs. Bobel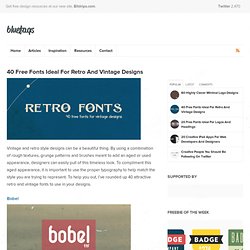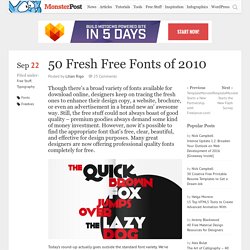 Though there's a broad variety of fonts available for download online, designers keep on tracing the fresh ones to enhance their design copy, a website, brochure, or even an advertisement in a brand new an' awesome way. Still, the free stuff could not always boast of good quality – premium goodies always demand some kind of money investment. However, now it's possible to find the appropriate font that's free, clear, beautiful, and effective for design purposes.
Minimalist Categoy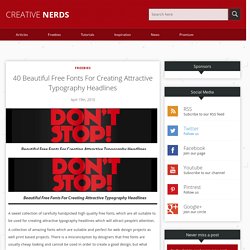 A sweet collection of carefully handpicked high quality free fonts, which are all suitable to be used for creating attractive typography headlines which will attract people's attention. A collection of amazing fonts which are suitable and perfect for web design projects as well print based projects. There is a misconception by designers that free fonts are usually cheap looking and cannot be used in order to create a good design, but what designers don't realise is that there is the odd good free font it just takes time in order to find the perfects ones. This is the exact purpose of this article to be bookmarked by designers and to referred to in the future when working on a design projects where money may be tight and the client can't afford to splash out on big expensive fonts.
Designfreebies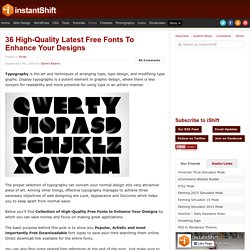 Typography is the art and techniques of arranging type, type design, and modifying type glyphs. Display typography is a potent element in graphic design, where there is less concern for readability and more potential for using type in an artistic manner. The proper selection of typography can convert your normal design into very attractive piece of art. Among other things, effective typography manages to achieve three necessary objectives of web designing are Look, Appearance and Outcome which helps you to keep apart from normal wave. Below you'll find Collection of High-Quality Free Fonts to Enhance Your Designs by which you can save money and focus on making great applications.
Calligraphy fonts go beyond usual typeface definition in typography. Calligraphy raises beauty above the functionality, so that a reader could not only perceive the meaning of letters but also receive aesthetic pleasure from reading the text, printed with calligraphy font. Originating from the ancient times, the art of creating calligraphy fonts is still popular these days. With the development of digital techniques in typography, calligraphy fonts have received wide popularization and are now commonly used in graphics and visual design, where it is necessary to deliver a special message in perfect form.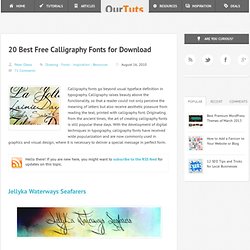 2010 is just going to end leaving good and bad memories and moments for everybody. 2010 also gave us some of the most professional, creative, fanciful, elegant, imaginative and graceful fonts of all time. Today we have collected a collection of top 50 free fonts created in 2010. We hope you will like this collection. You can download these fonts for free, some of them required registration so you will have to sign-up or sign-in.