Ateism och religion
Do Not Ignore Old Testament. Reprinted from: (Click here for author information.)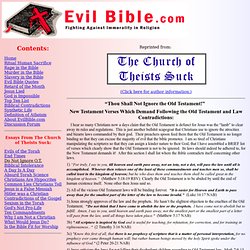 "Thou Shall Not Ignore the Old Testament!" New Testament Verses Which Demand Following the Old Testament and Law Contradictions: Apologetics: How to Talk to an Atheist about Christianity. Domarboken – Bibeln. Judas och Simons erövringar 1 1När Josua var död frågade israeliterna Herren: "Vem av oss skall först dra ut mot kanaaneerna och kämpa mot dem?"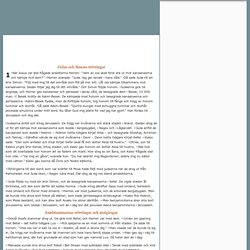 2Herren svarade: "Juda. Jag ger landet i hans våld." 3Då sade Juda till sin bror Simon: "Följ med mig till det område som föll på min lott. Låt oss kämpa tillsammans mot kanaaneerna. Substance over sweetness — another New Atheist critique gone askew : Pharyngula. Another of those common, erroneous strategies used to criticize those danged Gnu Atheists is to first invent a definition for New Atheism that the Gnu Atheists themselves would find foreign, and then to jump all over it for a prolonged period of time until they've convinced themselves they've finally defeated their nemesis.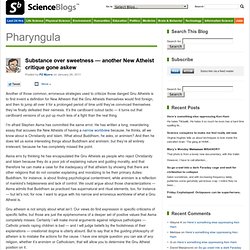 It's the cardboard cutout tactic — it turns out that cardboard versions of us put up much less of a fight than the real thing. I'm afraid Stephen Asma has committed the same error. He has written a long, meandering essay that accuses the New Atheists of having a narrow worldview because, he thinks, all we know about is Christianity and Islam. Open Thread / Show #693: Jen & Tracie. As always, we air at 4:30-5:30 PM (CST) today (Sunday).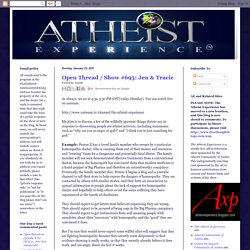 You can watch live on ustream: My plan is to discuss a few of the willfully ignorant things theists say in response to discovering people are atheist activists, including statements such as "why are you so angry at god? " Is Cherry Picking a Good Thing? This is actually a question I can see both sides of, even though I know which side I come down on.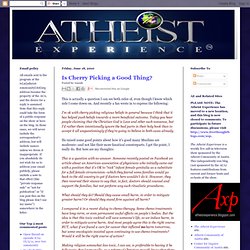 And recently a fan wrote in to express the following: I'm ok with cherry picking religious beliefs in general because I think that it has helped push beliefs towards a more beneficial outcome. Today you hear people claiming that the Christian God is Love and other such nonsense, but I'd rather them intentionally ignore the bad parts in their holy book than to accept it all unquestioningly if they're going to believe in both cases already.
He raised some good points about how it's good many Muslims are moderate--and not like their more fanatical counterparts. I get the point, I really do. Does God Exist? Ricky Gervais Takes Your Questions. Jesus and the Law of Moses. Jesus and the Law of Moses There is much confusion rampant today regarding Christ and the Law of Moses.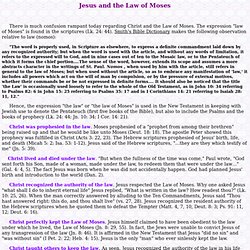 The expression "law of Moses" is found in the scriptures (Lk. 24: 44). De tio budorden. De tio budorden (Tio Guds bud, dekalogen) är de tio befallningar som Gud ger till Mose i Gamla Testamentet, enligt 2 Mos. 20:3-17, 2 Mos. 34:1-28 och 5 Mos. 5:6-21.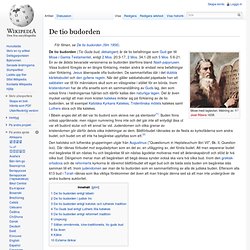 En av de äldsta bevarade versionerna av budorden återfinns bland Nash-papyrusen. Vissa budord föregås av en längre förklaring, medan andra är endast rena befallningar utan förklaring. Jesus åberopade ofta budorden. De sammanfattas där i det dubbla kärleksbudet och den gyllene regeln. Evil Bible Home Page. Positive Atheism's Big List of Quotations. A Philosopher of Religion Calls it Quits | (A)theologies. When philosophy professor Keith Parsons posted an announcement on his blog, The Secular Outpost, explaining why he had decided to abandon philosophy of religion, he expected only his handful of regular readers to take notice.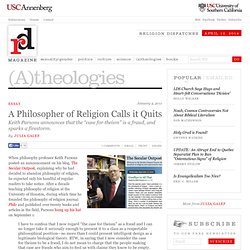 After a decade teaching philosophy of religion at the University of Houston, during which time he founded the philosophy of religion journal Philo and published over twenty books and articles in the field, Parsons hung up his hat on September 1:I have to confess that I now regard "the case for theism" as a fraud and I can no longer take it seriously enough to present it to a class as a respectable philosophical position—no more than I could present intelligent design as a legitimate biological theory.
BTW, in saying that I now consider the case for theism to be a fraud, I do not mean to charge that the people making that case are frauds who aim to fool us with claims they know to be empty. Ny religiös rörelse lockar tusentals unga - Nyheter - Senaste nytt | Expressen - Nyheter Sport Ekonomi Nöje. Från noll till 10 000 medlemmar - på åtta år.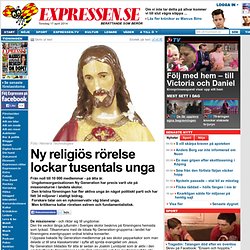 Ungdomsorganisationen Ny Generation har precis varit ute på missionsturné i landets skolor. Den kristna föreningen har fler aktiva unga än något politiskt parti och har fått 34 miljoner i statligt bidrag. Clerics salute 'brave' Pakistan killer. Jamaat-e-Islami, one of Pakistan's main Islamist political parties, also said Mr Taseer's assassination was justified.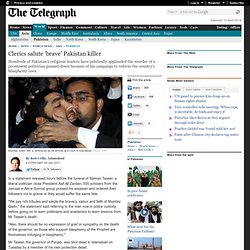 "If the government had removed him from the governorship, there wouldn't have been the need for someone to shoot him," it said in a statement. Qadri said after his arrest that he had shot the Punjab governor for his views: "Salman Taseer is a blasphemer and this is the punishment for a blasphemer. " Pictures of his smiling face dominated the local newspapers, which questioned why five other police protection officers allowed him to pump 40 bullets into Mr Taseer's body. Police sources also claimed that Qadri had previously been identified as a security risk because of his extremist religious views. Mainstream Pakistan religious organisations applaud killing of Salman Taseer | World news. The increasing radicalisation of Pakistani society was today laid bare when mainstream religious organisations applauded the murder of Salmaan Taseer, the governor of Punjab, earlier this week and his killer was showered with rose petals as he appeared in court.
Taseer was buried in his home town of Lahore. The 66-year-old was assassinated yesterday by Mumtaz Qadri, one of his police bodyguards, after he had campaigned for reform of the law on blasphemy. Qadri appeared in court, unrepentant, where waiting lawyers threw handfuls of rose petals over him and others in the crowd slapped his back and kissed his cheek as he was led in and out amid heavy security. Bill O'Reilly vs. David Silverman: You Know They're All Scams. The Christian Faithbook. Att brottas med Gud | Kultur. Varje december får jag en känsla av högtidlig helighet som är omöjlig att matcha med pynt, jesusbarn, pepparkakor och granar. Det handlar om ett religiöst spår som barndomens söndagsskola plöjde upp i min hjärna. Och varje jul brukar jag läsa evangelierna och de andra historierna i barnversion för min son. Britain has 85 sharia courts: The astonishing spread of the Islamic justice behind closed doors.
By Steve Doughty Updated: 09:25 GMT, 29 June 2009 At least 85 Islamic sharia courts are operating in Britain, a study claimed yesterday. The astonishing figure is 17 times higher than previously accepted. The tribunals, working mainly from mosques, settle financial and family disputes according to religious principles. The Nightline Face-Off: Does God Have a Future? (1 of 12) 20BsN.png (PNG-bild, 745x1067 pixlar) - Skalad (74.
Entry Page (NEWS) Religion: respecting the minority | Editorial. Every year, researchers from the British Social Attitudes survey ask a representative sample of British people whether they regard themselves as belonging to any particular religion and, if so, to which one? When the survey first asked these questions in 1985, 63% of the respondents answered that they were Christians, compared with 34% who said they had no religion (the rest belonged to non-Christian religions). Today, a quarter of a century on, there has been a steady and remarkable turnaround. 50 reasons to believe in God. For the book by Guy P. Harrison, see 50 Reasons People Give for Believing in a God. 50 reasons to believe in God is an email that made the rounds of atheist bloggers in June 2008.
PZ Myers, on his blog Pharyngula, identifies the original author as Debra Rufini, an author whose recent book contains "an imaginary scenario in which Richard Dawkins gets psychiatric counseling…from Jesus".[1] What follows is a collection of responses to these purported "reasons". (Note that the title associated with each "reason" did not appear in the original e-mail and is provided here merely for reference.) Main Page. Mythology Pantheons : Browse and search for Gods.
Capitol protestor found not guilty. "Kan släppa ut onda krafter"
---