Ping.fm 1
Songkick - Concerts, tour dates, and festivals for your favorite artists. Cloverr - Welcome to Cloverr! Я - Программа! - Полная база ГОСТов найдена! Раздобыл базу ГОСТов, установил все обновления (апрель 2009) перевел форматы сканов из jpg в gif, чем уменьшил ее размеры с 20 гигов до 5!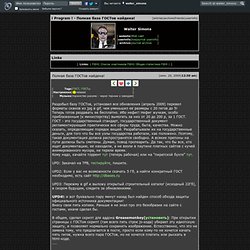 Теперь готов раздавать ее бесплатно. Ибо нефиг! The Warehouse Homepage. Gzip Proxy - Create UML diagrams online in seconds, no special tools needed. Notproud.ru. Все10— Клавиатурный тренажер. Geek Stuff 4 U - For Geeks By Geeks Vibrating Alarm Clock Pillow. Gravatar - Globally Recognized Avatars. BOMBUS MOD - jabber Bombus (BombusMod) Fretlight.com. Using the navigator object to detect client's browser. Using the navigator object to detect client's browser Last updated: July 4th, 11' Until one browser remains standing on the web (if ever), browser detection will continue to be part of any good JavaScripter's life.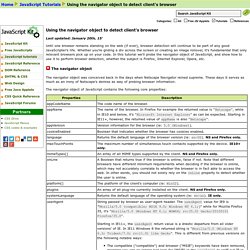 Whether you're gliding a div across the screen or creating an image rollover, it's fundamental that only relevant browsers pick up on your code. Tree Adventures. 1-day - One Day 3 Great Deals, Today Only! Daily Deals. Wolfram|Alpha. Ipad. TweetGrid - by jazzychad. The Bootstrapper&#039;s Bible. <A HREF=" Widgets</A> Issue 8 | The Bootstrapper's Bible By Seth GodinPublished Nov. 16, 2004 3:00 p.m.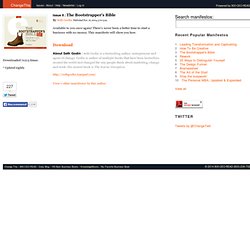 Available to you once again! Graphin' Your Stats. Twuffer - Schedule Twitter tweets. Twittermail.com - E-mail to Twitter. YouDo. Visible Tweets – Twitter Visualisations. Now with added prettiness! Check Username Availability at Multiple Social Networking Sites. TinyURL decoder. Please Retweet Me. UnTweeps - Cleanup Twitter users who don't tweet often enough. Wikirage: What's hot now on wikipedia. Qwitter: Catching Twitter quitters. Convenient Blog Post Scheduling PostLater.com.
Bit.ly, a simple url shortener. All The Little Things. Why NZLive? The events calendar that cost NZ $3.6 million. KoalaWhere.com - The little aussie traveller. NIN|JA 2009. The Pink Floyd Experience New Zealand Tour 2009 at Bruce Mason Centre (Auckland) on 8 May 2009 – Last.fm. Tag. Welcome to Demotix ! Waitakere Sounds - Free Music in The Parks. Rhombus - Fri 5 Dec - Venue TBC, Auckland | Amplifier NZ Music. Is Twitter Down?
---