Meta
The Two Things. Compiled and organized by Glen Whitman [UPDATE, added 15 June 2004: This page has been linked in some prominent places recently, and as a result I've received many submissions for inclusion in The Two Things List.
Although I can't respond to everyone individually, I want to thank you all for your contributions. I hope that I will be able to update the list to include the new submissions sometime in the near future.] The Story of the Two ThingsThe Two Things about the Two ThingsThe Two Things List Business Computers Humanities International Relations Law Natural Sciences Philosophy Professions Social Sciences Miscellaneous. Critic's Notebook - Nightly Guests Give an Insight Into Their Quirks and Tics. "Star Wars" despots vs. "Star Trek" populists - Fiction.
Tips for creative success from Pixar. Randy Nelson is Dean of Pixar University and gives a really nice 9-min talk below with important content for all professionals and students.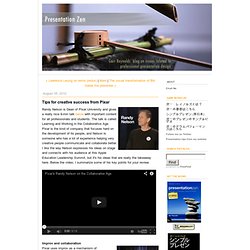 The talk is called Learning and Working in the Collaborative Age. Pixar is the kind of company that focuses hard on the development of its people, and Nelson is someone who has a lot of experience helping very creative people communicate and collaborate better. I like the way Nelson expresses his ideas on stage and connects with his audience at this Apple Education Leadership Summit, but it's his ideas that are really the takeaway here. Below the video, I summarize some of his key points for your review. Improv and collaboration. Akinator, the Web Genius. Malwebolence - The World of Web Trolling - NYTimes.com. Smarter Than You Think - I.B.M.'s Supercomputer to Challenge 'Jeopardy!' Champions. Pearls Before Breakfast - washingtonpost.com.
HE EMERGED FROM THE METRO AT THE L'ENFANT PLAZA STATION AND POSITIONED HIMSELF AGAINST A WALL BESIDE A TRASH BASKET.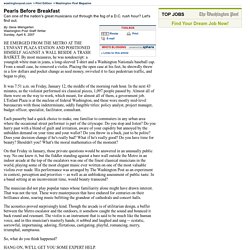 By most measures, he was nondescript: a youngish white man in jeans, a long-sleeved T-shirt and a Washington Nationals baseball cap. From a small case, he removed a violin. Placing the open case at his feet, he shrewdly threw in a few dollars and pocket change as seed money, swiveled it to face pedestrian traffic, and began to play.
---