Architecture
Get flash to fully experience Pearltrees
The world is full of beautiful strange and fantastic buildings that are the examples of amazing architecture.
Luxury Villa Amanzi, Thailand by Original Vision Studio The Villa Amanzi by Architect firm Original Vision Studio is a stunning modern vacation residence located in the exclusive Cape Sol on the West coast of Phuket, Thailand. Villa Amanzi is a stunning six bedroom residence with a 15m infinity pool and breathtaking views over the Andaman Sea. This luxury villa enjoys a spectacular headland location along Kamala's exclusive Millionaires Mile and captures cool gentle breezes all year round with uninterrupted sea views from every vantage point, in one of the most breathtaking locations Phuket has to offer. The contemporary design features ultra modern architecture and interiors that combine to provide guests with the optimal environment to relax and unwind in unspoilt luxury. Photograpghy by Marc Gerritsen & Helicam Asia Aerial Photography
first image 'st. petersburg pier' by BIG architects, st. petersburg, florida all images © BIG architects all images courtesy of the st. petersburg design competition the proposal created by danish firm BIG architects is one of three shortlisted submissions for the st. petersburg pier international design competition . the masterplan will organize and harmonize a variety of individual events along a network of paths, merging to form the iconic pier structure which will gradually flow into the waters of tampa bay. the branching pattern will collectively form the 'tributary park' containing native plantings of diverse color schemes. the gardens will highlight the programmatic sectors of the park including the museum, observation deck, playgrounds and natural forested areas. aerial view
By Tabi , on January 2, 2010 1. Spiral Staircase at Garvan Institute in Sydney, Australia If you love to travel through the world, we sure after having a looking at stunning photographs staircases like Spiral Staircase at Garvan Institute in Sydney, Australia, Spiral Staircase at the Vatican Museum in Italy and Staircase at Lello Bookshop in Portugal you would absolutely like to have your steps on these amazing stairs during your visit of these countries. Lets take a look at ten world's most amazing Staircases. 2.
A friend forwarded me one of those emails her husband got at work. It was full of photos of amazing staircases plus some strange magic eye type puzzles. Being the visual person that I am, I became completely fixated on the staircases and even went so far as to search for more and more visually indulging photos of creative staircases.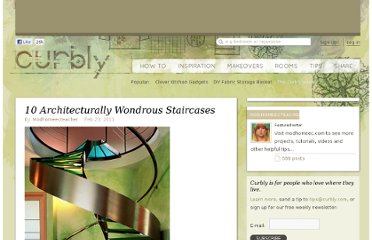 photo © Fernando Alda Project : Metropol Parasol Redevelopment of Plaza de la Encarnacion, Seville, Spain Function : archeological site, farmers market, elevated plaza, multiple bars and restaurants Site area : 18,000 square meters Building area : 5,000 square meters Total floor Area : 12,670 square meters Number of floors : 4 Height of the building : 28.50 meters Structure : concrete, timber and steel Principal Exterior : timber and granite Principal interior material : concrete, granite and steel Designing period : 2004-2005 Construction period : 2005-2011 Building/Cost : 90 Million Euro photo © David Franck W hat is there not to like about Metropol Parasol ? The waffle-like crown structure in Seville , Spain has been finally completed in April 2011 after a competition held by the city of Seville in 2004. Located at Plaza de la Encarnacion, the stunning sequence of undulating parasols comprises the world's largest wooden structure.