Visualisation
Latest News January 2012. Our paper on Action Science Explorer was accepted by JASIST, the Journal of the American Society for Information Science and Technology.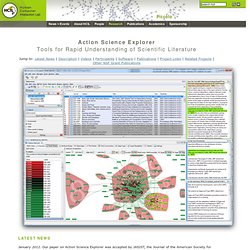 Cytoscape_3 - Cytoscape Wiki
This is the main entry page for software developer documentation for Cytoscape 3. Tutorials are hosted at Open Tutorials and are linked throughout these pages. Disclaimer: Dec.1.2011 - Cytoscape 3 is currently under active development. This means information about it may change from month to month. Thus, Cytoscape 3 documentation linked to from here and on the web may be out of date. As Cytoscape stabilizes, the Cytoscape core team will update this documentation and announce updates on the Cytoscape mailing list .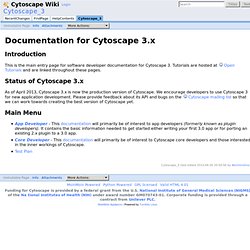 All questions - Cytoscape - Shapado Beta -
Overlay Toolkit | Interdisciplinary Research | Measuring and Mapping Interdisciplinary Research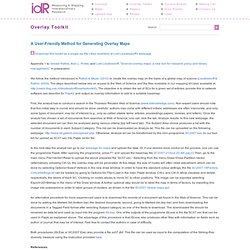 Download this toolkit as a single zip-file | Also available at Loet Leydesdorff's webpage Appendix 1 to: Ismael Rafols , Alan L. Porter , and Loet Leydesdorff , " Science overlay maps: a new tool for research policy and library management ," in preparation We follow the method introduced in Rafols & Meyer (2010) to create the overlay map on the basis of a global map of science ( Leydesdorff & Rafols, 2009 ). The steps described below rely on access to the Web of Science and the files available in our mapping kit (also available at http://users.fmg.uva.nl/lleydesdorff/overlaytoolkit/ ). The objective is to obtain the set of SCs for a given set of articles; provide this to network software (we describe for Pajek ); and output as overlay information to add to a suitable basemap.
CiteSpace: visualizing patterns and trends in scientific literature
CiteSpace is a freely available Java application for visualizing and analyzing trends and patterns in scientific literature. It is designed as a tool for progressive knowledge domain visualization ( Chen, 2004 ). It focuses on finding critical points in the development of a field or a domain, especially intellectual turning points and pivotal points.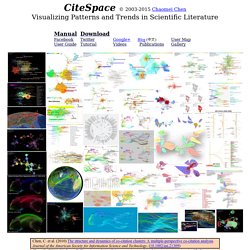 mapequation.org
Micmac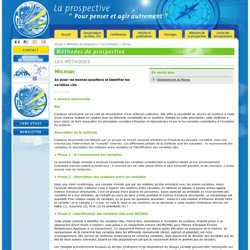 Se poser les bonnes questions et identifier les variables clés L'analyse structurelle But L'analyse structurelle est un outil de structuration d'une réflexion collective. Elle offre la possibilité de décrire un système à l'aide d'une matrice mettant en relation tous les éléments constitutifs de ce système.
*ORA is a dynamic meta-network assessment and analysis tool developed by CASOS at Carnegie Mellon. It contains hundreds of social network, dynamic network metrics, trail metrics, procedures for grouping nodes, identifying local patterns, comparing and contrasting networks, groups, and individuals from a dynamic meta-network perspective. *ORA has been used to examine how networks change through space and time, contains procedures for moving back and forth between trail data (e.g. who was where when) and network data (who is connected to whom, who is connected to where …), and has a variety of geo-spatial network metrics, and change detection techniques.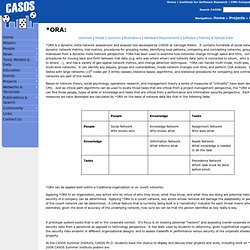 Projects - *ORA | CASOS
Tulip is an information visualization framework dedicated to the analysis and visualization of relational data. Tulip aims to provide the developer with a complete library, supporting the design of interactive information visualization applications for relational data that can be tailored to the problems he or she is addressing. Written in C++ the framework enables the development of algorithms, visual encodings, interaction techniques, data models, and domain-specific visualizations. One of the goal of Tulip is to facilitates the reuse of components and allows the developers to focus on programming their application. This development pipeline makes the framework efficient for research prototyping as well as the development of end-user applications.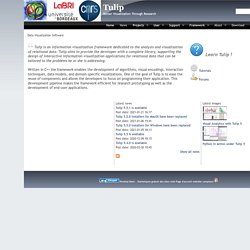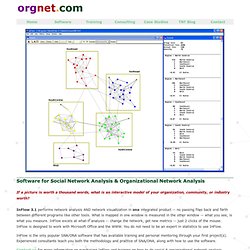 Software for Social Network Analysis & Organizational Network Analysis If a picture is worth a thousand words, what is an interactive model of your organization, community, or industry worth? InFlow 3.1 performs network analysis AND network visualization in one integrated product -- no passing files back and forth between different programs like other tools. What is mapped in one window is measured in the other window -- what you see, is what you measure. InFlow excels at what-if analysis -- change the network, get new metrics -- just 2 clicks of the mouse. InFlow is designed to work with Microsoft Office and the WWW.
InFlow Social Network Analysis Software for Business, Communities and Government
Commetrix - Dynamic Network Visualization Software - Dynamic Visualization of Networks - Dynamic Social Network Analysis Software Visualization - Dynamic Network Analysis - Virtual Communities
Social Networks Visualizer | Download Social Networks Visualizer software for free at SourceForge
Network Workbench Tool
visone
HistCite goes back to an idea that I had 40 years ago in terms of visualizing and mapping the relationships to citation data. -Dr. Eugene Garfield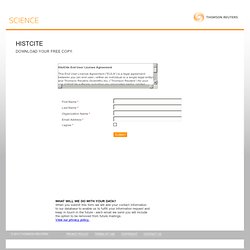 HistCite - Science - Thomson Reuters