Facebook
Actus
How to Facebook Picture with OS X Address Book thanks to Address. Exporter for iPhoto. Languages You can publish your photos directly from iPhoto to your Facebook account, so that your Facebook friends can view and tag your photos.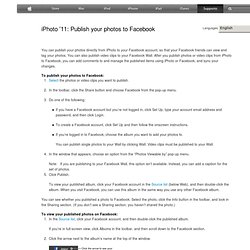 You can also publish video clips to your Facebook Wall. After you publish photos or video clips from iPhoto to Facebook, you can add comments to and manage the published items using iPhoto or Facebook, and sync your changes. To publish your photos to Facebook: How to get Facebook in your inbox with NutshellMail. How to customize the new Facebook home page. 3 Tips for Customizing the New Facebook Home Page With the new "real time" stream on Facebook's redesigned home page, Facebook is relying less on its ability to algorithmically select interesting content for users and more on users' abilities to group and categorize their friends to create the most interesting stream.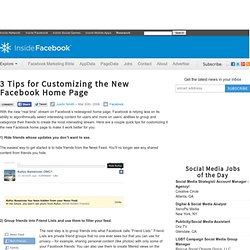 Here are a couple quick tips for customizing it the new Facebook home page to make it work better for you: How to send selective tweets to Facebook. "Nouveau Facebook = Plus d'opportunités pour les annonceurs. Impossible cette semaine de passer à côté de cette annonce majeure : Facebook lancera la semaine prochaine une nouvelle version des profils et pages annonceurs : New Facebook Home Page.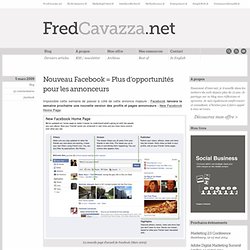 Je ne vais pas m'étendre sur la nouvelle page profil car d'autres l'on fait avant moi, je souhaites juste corriger le fait qu'avec cette nouvelle version Facebook ne souhaite pas concurrencer Twitter mais plutôt FriendFeed (cf. With Twitter Envy, Facebook Adds (Near) Real-time Web Capabilities). Les services de social streaming sont en effet beaucoup plus proches d'un point de vue fonctionnel : agrégation social, commentaire sur les news, fonction d'appréciation "Like"… (lire à ce sujet : Socialstream, vers une hyperprésence des blogueurs ?). How to friend Mom, Dad, and the Boss on Facebook...safely. Oh no!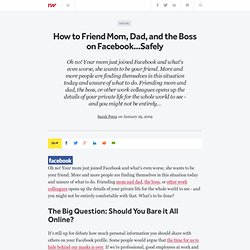 Your mom just joined Facebook and what's even worse, she wants to be your friend. More and more people are finding themselves in this situation today and unsure of what to do. Friending mom and dad, the boss, or other work colleagues opens up the details of your private life for the whole world to see - and you might not be entirely comfortable with that. What's to be done? The Big Question: Should You Bare it All Online? The Stanford Facebook class. AddressBookSync. How to add Facebook Connect to your blog in 8 minutes. How to deal with hyperactive friends on Facebook.
Profile Privacy. "Facebook toujours dans la tourmente" sur FredCavazza. Plus le temps passe et plus Facebook fascine autant qu'il déçoit.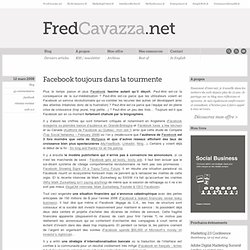 Peut-être est-ce la conséquence de la sur-médiatisation ? Peut-être est-ce parce que les utilisateurs voient en Facebook un service révolutionnaire qui va combler les lacunes des autres (et développent ainsi des attentes irréalistes donc de la frustration) ? Peut-être est-ce parce que l'équipe est en pleine crise de croissance (trop jeune, trop petite…) ? Peut-être un peu des trois… Toujours est-il que Facebook est en ce moment fortement chahuté par la blogosphère. Il y d'abord les chiffres qui sont fortement critiqués et notamment en Angleterre (Facebook enregistre sa première baisse d'audience en Grande-Bretagne et Facebook loses a few bitches) et au Canada (Auditoire de Facebook au Québec: mon oeil !) Facebook Pages vs Facebook Groups: What's the Difference? Howard Greenstein is a Social Media Strategy and Marketing consultant, and President of the Harbrooke Group.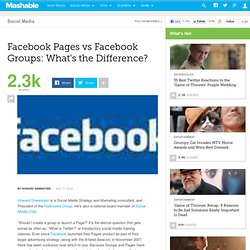 He's also a national board member of Social Media Club. "Should I create a group or launch a Page?" Why is Vin Diesel so popular on Facebook? It's the authenci. With all due respect, I wouldn't put Vin Diesel in the upper echelon of movie actors.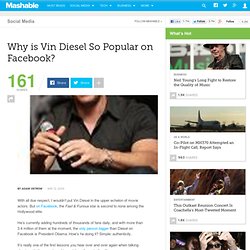 But on Facebook, the Fast & Furious star is second to none among the Hollywood elite. He's currently adding hundreds of thousands of fans daily, and with more than 3.4 million of them at the moment, the only person bigger than Diesel on Facebook is President Obama. How's he doing it? How to download Facebook photo albums to the desktop with a clic. How to : 20 Facebook Tips/Tricks You Might Not Know.
How to use Facebook Chat from the Desktop without opening Facebo. 5 Lessons Celebrities Can Teach Us About Facebook Pages. Dan Schawbel is the bestselling author of Me 2.0: Build a Powerful Brand to Achieve Career Success (Kaplan, April 09), and owner of the award winning Personal Branding Blog.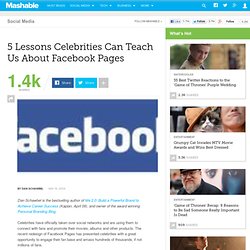 Celebrities have officially taken over social networks and are using them to connect with fans and promote their movies, albums and other products. The recent redesign of Facebook Pages has presented celebrities with a great opportunity to engage their fan base and amass hundreds of thousands, if not millions of fans. While it seems very few big name celebrities are actually using Facebook as a tool to build their own brands and gather their large followings, there are a few who are actively networking on their Pages. Here are 5 lessons we can learn from them. 1.
Comment contacter l'administrateur d'une Page Facebook ? How to "friend" someone on Facebook & hide it from your stat. I'm sure that this has happened to you before.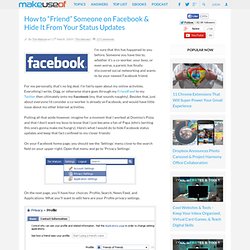 Someone you have ties to, whether it's a co-worker, your boss, or even worse, a parent, has finally discovered social networking and wants to be your newest Facebook friend. For me personally, that's no big deal. How to view private Facebook profiles. I've always had a penchant for finding flaws within supposedly secure systems.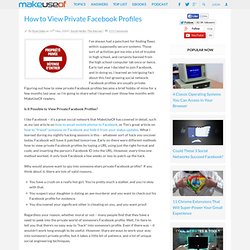 Those sort of activities got me into a lot of trouble in high school, and certainly banned from the high school computer lab once or twice. Early last year I decided to join Facebook, and in doing so, I learned an intriguing fact about this fast-growing social network: Facebook profiles are usually private. Figuring out how to view private Facebook profiles became a brief hobby of mine for a few months last year, so I'm going to share what I learned over those few months with MakeUseOf readers. Is It Possible to View Private Facebook Profiles? I like Facebook – it's a great social network that MakeUseOf has covered in detail, such as my last article on how to email mobile photos to Facebook, or Tim's great article on how to "friend" someone on Facebook and hide it from your status updates. Face.com - Face recognition for the masses.
How to use Facebook privacy settings and avoid disaster. Alison Driscoll is an interactive copywriter and social media consultant who specializes in . She authors a blog at alisondriscoll.com. provides users with the opportunity to share just about everything: photos, links, videos, virtual gifts and random musings in the form of status updates. Under the guise of "being social" and "maintaining transparency," Facebook fiends post anything and everything about themselves on this now omnipresent social network. Photo Uploader. Facebook Group: World Leaders. Facebook Etiquette. Communiquer sur Facebook? Comment, pourquoi et enjeux. Breaking down barriers to Facebook organizing.
Facebook, ou la force des liens faibles. How to write a Facebook application in 5 Minutes. Twitter to Facebook: 5 Ways to Post to Both. How not to be hated on Facebook. Adobe AIR Facebook Desktop Clients. Comment gérer une Page créée par des Fans ?
---