Medical and Clinical Knowledge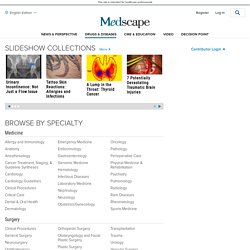 Herpes Simplex Viruses: Test Your Knowledge Prompt recognition of herpes simplex infection and early initiation of therapy are of utmost importance in the management of the disease. Test your knowledge of HSV with our slideshow. April 14, 2014 The Solitary Pulmonary Nodule: Is It Lung Cancer? Solitary pulmonary nodules often present a diagnostic challenge. Review the vast array of benign and malignant etiologies of solitary pulmonary nodules with this slideshow.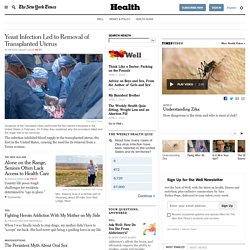 Treating the Newly Insured Check Your Head Walk at Work The Fork Says Slow Down Smart Scales in the KitchenYou Talking to Me?Ask Well: What Helps Motion Sickness?Probing the Parliament of NeuronsApp Smart: WalkingTraining to BobsledThe Read Around: Barry WerthWhat's In It: Protein BarsInside New York City's Water TowersApp Smart: Tracking Food IntakeThe Scramble: A Simple Greek LunchA Culture of ViolenceThe Rollout: An Ikarian Greens PieReturning to the Stage, at 55When the Doctor Is Also a PatientThe Cancer Divide: MaryAsk Well: Sterilizing Baby Bottles?How Pharmaceuticals Sell A.D.H.D.A Dancer's WorkoutThe Cancer Divide: TzippyChristmas Abbott's Nascar WorkoutNew York Bans Under-21 Tobacco SalesRebuilding StrengthVows: In Sickness and in HealthAsk Well: Table Salt or Sea Salt?
Important Notice Welcome to Clinical Knowledge Summaries , a service provided by the National Institute for Health and Clinical Excellence (NICE). Please note that the content currently available through this site was last updated in May 2012 . However, in early 2013 Clinical Knowledge Summaries (CKS) will be up to date. Users will also benefit from the introduction of 10 new topics primary care topics each year and improved usability. Please keep an eye on these pages for more information about the new and improved CKS service over the coming weeks.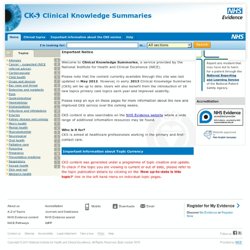 The smell of a flower - The memory of a walk in the park - The pain of stepping on a nail. These experiences are made possible by the 3 pounds of tissue in our heads...the BRAIN!! Neuroscience for Kids has been created for all students and teachers who would like to learn about the nervous system.