Edition photo en ligne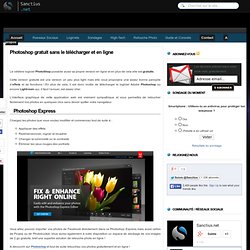 Le célèbre logiciel PhotoShop possède aussi sa propre version en ligne et en plus de cela elle est gratuite . Cette version gratuite est une version un peu plus light mais elle vous proposera une assez bonne panoplie d' effets et de fonctions ! En plus de cela, il est donc inutile de télécharger le logiciel Adobe Photoshop ou encore Lightroom qui, il faut l'avouer, est assez cher. L'interface graphique de cette application web est vraiment sympathique et vous permettra de retoucher facilement vos photos en quelques clics sans devoir quitter votre navigateur. Photoshop Express Chargez les photos que vous voulez modifier et commencez tout de suite à :
Plus besoin d'être un killer en photoshop pour impressioner vos amis. Avec ces sites de retouche et de montage photo, vous allez avoir de quoi passer des heures à vous amuser avec vos photos. De bonnes idées pour illustrer une invit' ou un faire-part, décorer le bureau de votre collègue avec LE dossier de sa dernière soirée arrosée, ou tout simplement égayer votre présentation powerpoint de lundi matin sur les outcomes des targets Q1.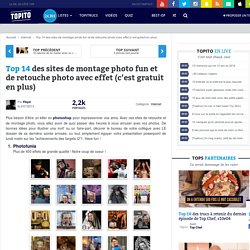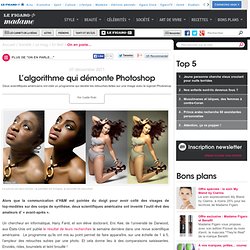 Alors que la communication d'H&M est pointée du doigt pour avoir collé des visages de top-modèles sur des corps de synthèse, deux scientifiques américains ont inventé l'outil rêvé des amateurs d' « avant-après ». Un chercheur en informatique, Hany Farid, et son élève doctorant, Eric Kee, de l'université de Darwood, aux États-Unis ont publié le résultat de leurs recherches la semaine dernière dans une revue scientifique américaine. Le programme qu'ils ont mis au point permet de faire apparaître, sur une échelle de 1 à 5, l'ampleur des retouches subies par une photo. Et cela donne lieu à des comparaisons saisissantes.
Deux scientifiques américains ont créé un programme qui décèle les retouches faites sur une image avec le logiciel Photoshop - L'algorithme qui démonte Photoshop
Bonjour ! Je m'occupe plus de blogs que de réseaux. Les photos m'intéressent et si vous voulez partager l'url de vos pages vous avez la page Contact de Bloguer ou ne pas bloguer (que Google connait) ... by oliviersc Feb 21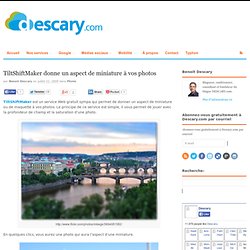 TiltShiftMaker est un service Web gratuit sympa qui permet de donner un aspect de miniature ou de maquette à vos photos. Le principe de ce service est simple, il vous permet de jouer avec la profondeur de champ et la saturation d'une photo. http://www.flickr.com/photos/mikegk/3694081582/ En quelques clics, vous aurez une photo qui aura l'aspect d'une miniature. Aucune connaissance technique n'est nécessaire pour modifier une photo.
TiltShiftMaker donne un aspect de miniature à vos photos | Desca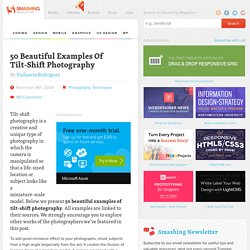 Tilt-shift photography is a creative and unique type of photography in which the camera is manipulated so that a life-sized location or subject looks like a miniature-scale model. Below we present 50 beautiful examples of tilt-shift photography . All examples are linked to their sources. We strongly encourage you to explore other works of the photographers we've featured in this post. To add good miniature effect to your photographs, shoot subjects from a high angle (especially from the air). It creates the illusion of looking down at a miniature model.