Web Design
The 20 Things Users Want Most From Your Mobile Site [New Google Data] Still trying to make the case for mobile optimization of your company's website?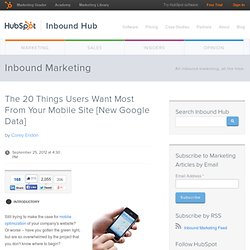 Or worse -- have you gotten the green light, but are so overwhelmed by the project that you don't know where to begin? Makes sense. Starting from square one is hard. Download Free Repeat Patterns. Creating Reusable & Versatile Background Patterns. I haven't written any Photoshop tutorials for a while.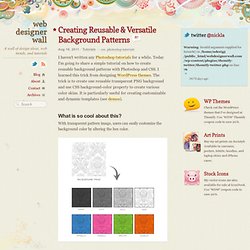 Today I'm going to share a simple tutorial on how to create reusable background patterns with Photoshop and CSS. I learned this trick from designing WordPress themes. The trick is to create one reusable transparent PNG background and use CSS background-color property to create various color skins. Design Gallery, Deals, Tutorials & Community.
Weekly Freebies: 30 Terrific Typographical Textures. This week's collection of freebies is an awesome selection of photographic textures featuring typography.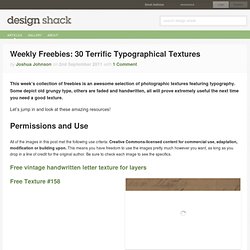 Some depict old grungy type, others are faded and handwritten, all will prove extremely useful the next time you need a good texture. Let's jump in and look at these amazing resources! Permissions and Use All of the images in this post met the following use criteria: Creative Commons-licensed content for commercial use, adaptation, modification or building upon. Type is the backbone of good web design. Ever since launching my Information Portfolio, BrianHoff.net, I've received many emails with similar variations to the question "How do I become better with typography on the web?"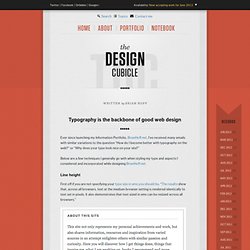 Or "Why does your type look nice on your site?" Below are a few techniques I generally go with when styling my type and aspects I considered and incorporated while designing BrianHoff.net. On Web Typography. There are many books and articles on typography, but considerably few explore typeface selection and pairing.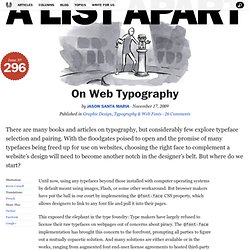 With the floodgates poised to open and the promise of many typefaces being freed up for use on websites, choosing the right face to complement a website's design will need to become another notch in the designer's belt. But where do we start? 70 Useful Free Web Design Elements PSD Files for Download. Instead of paying thousands of dollars to the web designers, there are several web design templates available for free downloading in the internet.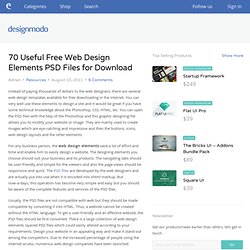 You can very well use these elements to design a site and it would be great if you have some technical knowledge about the Photoshop, CSS, HTML, etc. You can open the PSD files with the help of the Photoshop and this graphic designing file allows you to modify your website or image. 50 Essential Web Typography Tutorials, Tips, Guides and Best Practices. Web typography is the most undervalued and misunderstood aspect of web design.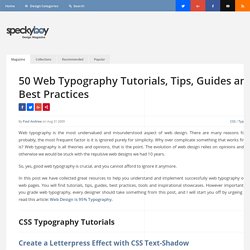 There are many reasons for this, probably, the most common factor is it is ignored purely for simplicity. Why over complicate something that works fine as it is? Web typography is all theories and opinions, that is the point. The evolution of web design relies on opinions and theories, otherwise we would be stuck with the repulsive web designs we had 10 years. Handpicked free fonts for graphic designers with commercial-use licenses. Adobe Photoshop Tutorials from Beginner to Advanced. Web Fonts.
7-Step Process All Designers Should Follow To Complete Every Project. As a graphic designer, you know your job entails helping your client sell their service or product.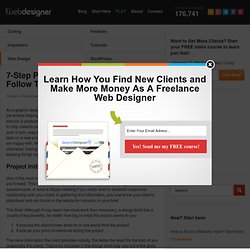 Your ultimate goal is to help viewers understand a message and, in turn, reap benefits for your client. Developing a process to follow each time you take on a new project can help tremendously in achieving results you and your client are happy with. Whether you're a graphic designer, web designer, programmer or otherwise, having a system set up will help you get the work done faster in addition to keeping things organized and the designer/client relationship a positive one. Project Initiation One of the most important steps in the design process is accumulating the information you'll need.
10 Great Google Font Combinations You Can Copy. The average man considers which flavor of Doritos will taste good with his Heineken.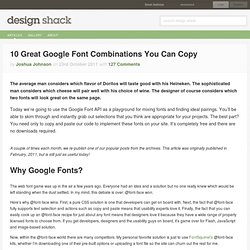 The sophisticated man considers which cheese will pair well with his choice of wine. The designer of course considers which two fonts will look great on the same page. Today we're going to use the Google Font API as a playground for mixing fonts and finding ideal pairings. You'll be able to skim through and instantly grab out selections that you think are appropriate for your projects. Backgrounds In Web Design: Examples And Best Practices - Smashing Magazine. Advertisement Web design has come a long way since its beginning, especially in terms of styling.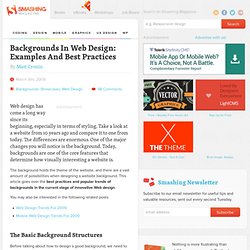 Take a look at a website from 10 years ago and compare it to one from today. The differences are enormous. One of the major changes you will notice is the background. Following A Web Design Process - Smashing Magazine. Advertisement Almost every Web designer can attest that much of their work is repetitive. We find ourselves completing the same tasks, even if slightly modified, over and over for every Web project. Following a detailed website design and development process can speed up your work and help your client understand your role in the project. This article tries to show how developing a process for Web design can organize a developer's thoughts, speed up a project's timeline and prepare a freelance business for growth.
First of all, what exactly is a 'process'? Kuler. Kuler -Liquid Courage. Expression Engine vs WordPress — Design Pepper. WordPress vs. ExpressionEngine: Apples and Oranges? This post has been a long time coming. Whether on Twitter or in the blogosphere, the question often arises, and I have been asked numerous times for my opinion on the ExpressionEngine vs. WordPress debate, and why one would choose one content management system (CMS) over the other. My usual answer is that they cannot be compared. The Shimmering Set Design Behind CNN's Newest Star, Piers Morgan | Co.Design. The shimmering blue and green wall of the set behind Howard Stern's mop of unruly curls was so mesmerizing I nearly lost the thread of his discussion, yet again, about the size of his penis.
("Hung like a raisin") Yes, folks, it's kick-off week for Piers Morgan Tonight, CNN's replacement for Larry King Live and the high-profile guests just keep coming: Oprah, Howard Stern, Condoleeza Rice. 365psd ‹ Download a free PSD every day.
---