Web Comics
Poorly Drawn Lines - A Comic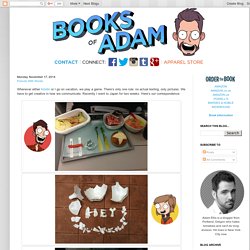 A few weeks ago I got a second kitten. His name is Maxwell, and he's only got three legs. They don't know how he lost his arm, but I assume it was a shark attack, like that surfing girl in Hawaii. I've been making tiny hats for him out of construction paper, because I don't know what else to do with all this damn construction paper. So yeah, I'm not just a writer and illustrator, I'm also a friggin' milliner.
Books of Adam
Comics, Quizzes, and Stories
Fredo and Pidjin. The Webcomic
World According to Americans
New VG Cats and new Super effective! Hey remember that game you guys help Kickstart a while back? Detective Grimoire! Well it's up for Greenlight on steam.
VG Cats
Noblest of Deeds