Jquery plugins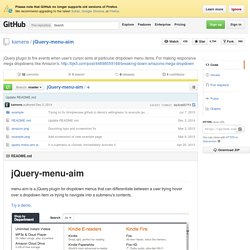 README.md jQuery-menu-aim menu-aim is a jQuery plugin for dropdown menus that can differentiate between a user trying hover over a dropdown item vs trying to navigate into a submenu's contents. Try a demo. This problem is normally solved using timeouts and delays. menu-aim tries to solve this by detecting the direction of the user's mouse movement.
kamens/jQuery-menu-aim
Because if you're selling your soul, you may as well do it asynchronously. Socialite provides a very easy way to implement and activate a plethora of social sharing buttons — any time you wish. On document load, on article hover, on any event! Author: David Bushell http://dbushell.com @dbushell Contributor: Tom Morton http://twmorton.com @tmort Copyright © 2013
Posted by Scott on 08/31/2012 Topics: announcements
Grunticon: A Grunt.js plugin for managing and delivering sharp icons to all devices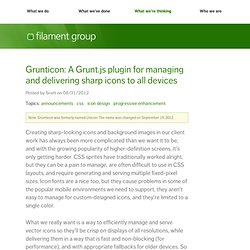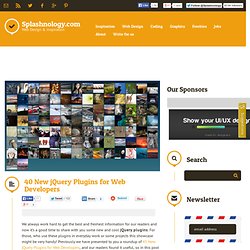 40 New jQuery Plugins for Web Developers
inShare2 We always work hard to get the best and freshest information for our readers and now it's a good time to share with you some new and cool jQuery plugins. For those, who use these plugins in everyday work or some projects this showcase might be very handy!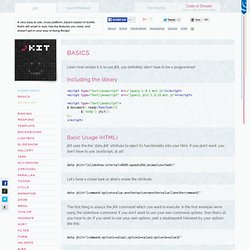 A very easy to use, cross platform, jQuery based UI toolkit, that's still small in size, has the features you need, and doesn't get in your way of doing things! Learn how simple it is to use jKit, you definitely don't have to be a programmer! Including the library <script type="text/javascript" src="jquery-1.9.1.min.js"></script><script type="text/javascript" src="jquery.jkit.1.2.16.min.js"></script><script type="text/javascript"> $(document).ready(function(){ $('body').jKit();});</script> Basic Usage (HTML)
jKit - jQuery based UI Toolkit - Basics
Conditionizr: the conditional free legacy, retina, script and style loader
Overview Conditionizr (.NET Magazine's Open Source Project of the Year finalist) is a standalone JavaScript tool that detects front-end environments and returns an Object with boolean values on given test states. You can use Conditionizr with various public APIs to make your cross platform/device/browser development much easier and manageable. These APIs include adding your own tests, dynamic polyfills (eradicating conditional comments), callbacks for specific environment tests. .config()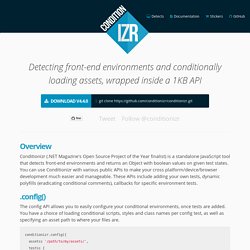 7 Newly Released jQuery Plugins for Developers
jQuery is well known name amongst developers, it is one of the most popular JavaScript languages and googled subject over internet. jQuery is a fast and concise JavaScript Library that simplifies HTML document traversing, event handling, animating, and Ajax interactions for rapid web development. Every month we bring some new useful jQuery plugins for our readers which will aid and benefit them into optimizing and enhancing their web projects. Here at SkyTechGeek we are showcasing 7 Useful recently released jQuery Plugins which will enable you to optimize and enhance your web applications as well as any new features you may be considering adding to your website. 1. CSS3-Powered jQuery Image Gallery : Photobox Photobox is a good looking jQuery image gallery that uses CSS3 transitions and animations.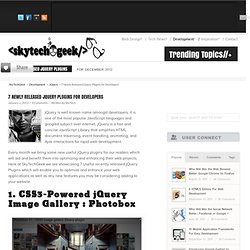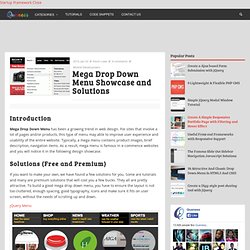 Mega Drop Down Menu Showcase and Solutions
Introduction Mega Drop Down Menu has been a growing trend in web design. For sites that involve a lot of pages and/or products, this type of menu may able to improve user experience and usability of the entire website. Typically, a mega menu contains product images, brief description, navigation items. As a result, mega menu is famous in e-commence websites and you will notice it in the following design showcase.
A lot of issues emerged with the launch of the innovative smartphones that had touch screens, based on touch events and how they are managed through a mobile browser or on various websites. Along with the so called problem came the solution, the latter being represented by one or more jQuery plugins that would handle touch events in a certain matter to avoid bugs or to give a certain functionality to the smartphone user who is visiting a website or using an app. I'm guessing you probably expected just a small number of jQuery plugins to deal with the issues that I previously mentioned.
jQuery Plugins That Handle Touch Events - 43 Items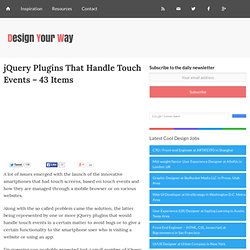 14 Handy jQuery Code Snippets for Developers
The jQuery dev team has been releasing code updates frequently since the project began. JavaScript developers have never had an easier framework to code on frontend interfaces. For anybody just getting started in web development you can be certain to run into some jQuery code on the web. I have put together a series of 14 helpful jQuery code snippets you may save and copy to use at your own discretion. These are merely blank templates you can edit to change variables and parameters matching your own script. I'm sure even experienced developers may find some of these snippets beneficial and shaving off time during code sessions.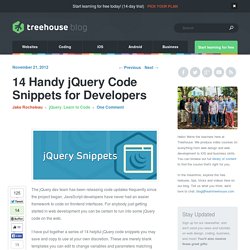 Краткое содержание: с помощью Adaptive Images можно автоматически загружать маленькие изображения на мобильные платформы, а на десктоп — большие. Посетители со смартфона вряд ли будут рады фотографии 1280×800 пикселей и размером в 3 мегабайта. Примерно так же не будут рады пользователи настольного компьютера, разглядывая миниатюрные изображения 300×200 пикселей. Как же угодить всем? Для каждого устройства — свой размер изображения
Адаптивные изображения для сайтов в стиле Responsive Web Design | Веб-студия WeDeal.ru
README.md jQuery Plugins Notice: I plan on breaking each of the plugins in this repository into their own repository in the near future.
abitgone/jQuery-Plugins
Привлекательные экспериментальные плагины на JavaScript
Вступление Я безумно люблю различные эксперименты на JS. Они словно позволяют заглянуть нам в будущее, и посмотреть, каким захватывающим и футуристичным оно будет.
A jQuery plugin that helps you serve different content to different devices. Responsive Content is used to load content that is appropriate to the current device's screen size. It is typically used alongside Responsive Design techniques.
Responsive-content
Introduction Sly is a JavaScript library for advanced one-directional scrolling with item based navigation support. It can be used as a simple scrollbar replacement, as an advanced item based navigation tool, or as a great navigation and animation interface for parallax websites. This is achieved by a powerful & developer friendly API that provides a bunch of very useful methods giving you control over everything. Dependencies jQuery 1.7+
Sly - jQuery plugin
jBar Plugin, the jQuery call to action bar : Todd Motto: Front-End Web Developer & Graphic Designer in Wiltshire, UK.
Cycle2
20 Must See CSS3 and jQuery Tutorials
stickyMojo contained fixed position sticky sidebar jquery plugin
14 Must See New and Useful jQuery Plugins for Developers
ddSlick - a jQuery plugin for custom drop down with images
26 Examples of jQuery Plugins in Website Design
BlocksIt.js - Dynamic Grid Layout jQuery Plugin
Tutorial - jQuery.my plugin
Baseline.js | Vertical rhythm made easy
Flexie
6 New jQuery Techniques to Spice Up Your Design Content
60 jQuery Plugins You Should Try Today
Great New jQuery Plugins And Other Resources For Web Designers
FlexSlider 2 Beta - Basic Carousel
jQuery Picture – A tiny plugin to add support for responsive images
Select2 2.0
jQuery для начинающих
jQuery slideViewerPro 1.5