mindmap
Get flash to fully experience Pearltrees
Creativity and innovation thinking are topics that I have been searching recently. Below are those couple of sites' resource links + some related recommended books that related to creativity and innovation. Techniques (163 of them!)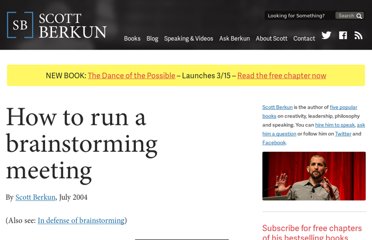 By Scott Berkun , July 2004 (Also see: In defense of Brainstorming )
The human brain is very different from a computer. Whereas a computer works in a linear fashion, the brain works associatively as well as linearly - comparing, integrating and synthesizing as it goes.Association plays a dominant role in nearly every mental function, and words themselves are no exception. Every single word, and idea has numerous links attaching it to other ideas and concepts. Mind Maps™, developed by Tony Buzan are an effective method of note-taking and useful for the generation of ideas by associations. To make a mind map, one starts in the center of the page with the main idea, and works outward in all directions, producing a growing and organized structure composed of key words and key images.
Identifying the Likely Causes of Problems (Also known as Cause and Effect Diagrams, Fishbone Diagrams, Ishikawa Diagrams, Herringbone Diagrams, and Fishikawa Diagrams.) Find all possible problems. © iStockphoto/ragsac When you have a serious problem, it's important to explore all of the things that could cause it, before you start to think about a solution. That way you can solve the problem completely, first time round, rather than just addressing part of it and having the problem run on and on. Cause and Effect Analysis gives you a useful way of doing this.
Suppose you are supposed to solve a hard problem. It could be a mathematics problem, a literary problem, a political problem, a family relations problem, or a business problem. Your usual strategy is often to find some similar problem that you know how to solve, and model that solution.