Vegan
VegNews Magazine | Vegan Recipes, Food, News, Travel, Health, Blogs, TV, Jobs, Events. Quinoa basil bean burgers with basil aioli. Big thank yous to all of the sweet messages about Missy – it was a sad night, and today all I want to do is sit and hug Basil.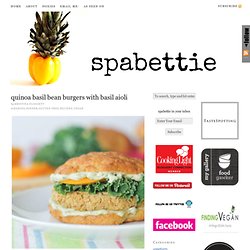 We just returned from a long walk in the sunshine, and I'm about to get a late start to my workday. I wanted to finish up this post that I wasn't able to complete last night. Just had to get my extra Basil time in – last night and today. This is the other basil in my life – fresh basil from the garden just cannot be beat. Chocochili | Vegaaniruokablogi. Vegan Salad in a Jar. Make-Ahead Bliss. Salad.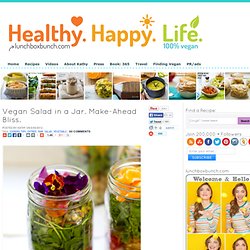 In a jar. I totally get this one. Holistic Health Coach, BodyMind Nutritionist, Personal Trainer | The Vegan Effect. Avocado Sushi Recipe - Healthy Vegan Recipes On Video. Pineapple Fried Quinoa. ..In a Boat. Pineapple Fried Quinoa (in a pineapple boat!)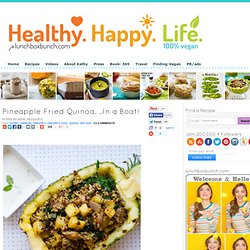 Is on my menu today. A bright yellow pineapple and a bag of quinoa was all I needed to inspire me to dream up this tiki chic recipe. Aloha wishes, South Pacific daydreams, Maui wowie, kowabunga and lets-luau-all-night-long-under-the-glow-of-tiki-torches, just about covers everything that is wrapped into this bowl of pineapple bliss. These flavors will bring you to the party. Mint. Eat Nachos Again! Healthy. Vegan. Party-Approved. I still remember my first knock-out plate of nachos.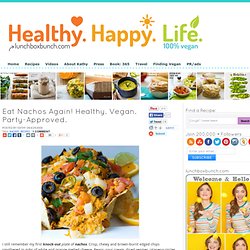 Crisp, chewy and brown-burnt edged chips smothered in gobs of white and orange melted cheese. Beans, sour cream, diced veggies, jalapeno circles and salsa. Heavenly. Vegan Lunchbox: Easy Hummus Spiral Wraps. These Easy Hummus Spiral Wraps are the perfect lunchbox filler to pack for yourself, your kids or your spouse.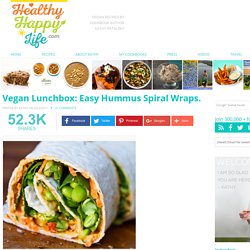 I call these snazzy spirals "lunchbox lavash" because they are made with lavash wrap - a type of roll-able, thin wheat flat bread. And this recipe doesn't get any easier. Just spread, roll and slice your way to a happy lunchbox. Fun Finger Food. These dainty spirals remind me of being at a party or a wedding (remember how trendy these were back in the 90's?)
---