Vegan
Big thank yous to all of the sweet messages about Missy – it was a sad night, and today all I want to do is sit and hug Basil. We just returned from a long walk in the sunshine, and I'm about to get a late start to my workday. I wanted to finish up this post that I wasn't able to complete last night. Just had to get my extra Basil time in – last night and today. This is the other basil in my life – fresh basil from the garden just cannot be beat.
quinoa basil bean burgers with basil aioli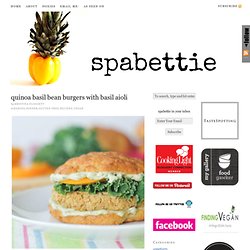 Chocochilin Instagramia seuraavat ovatkin jo huomanneet, että sinne on ilmestynyt viime aikoina liuta ruisleipäkuvia hashtagilla #ruispalat osana Blogiringin ja Ruispalojen yhteistyökampanjaa. Tässä vielä kokoelma parhaita paloja krutonkireseptin kera! Tänään teki mieli lounaaksi jotain astetta kevyempää, mutta ei kuitenkaan salaattia. Surautin siis vaihteeksi smoothien! Paahdetuista punajuurista ja pikaherneistä syntyi helppo levite, joka sopii erityisen hyvin ruisleivän päälle! Onko pää pyörällä ruokakaupan kasvimaitohyllyn luona?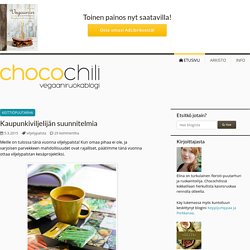 Chocochili | Vegaaniruokablogi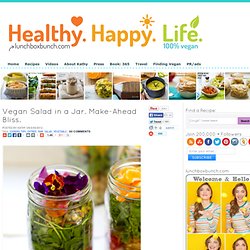 Salad. In a jar. I totally get this one.
Holistic Health Coach, BodyMind Nutritionist, Personal Trainer | The Vegan Effect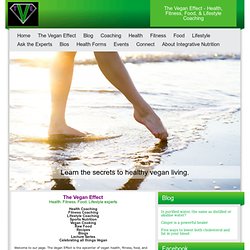 The Vegan Effect Health. Fitness. Food. Lifestyle experts Welcome to our page. The Vegan Effect is the epicenter of vegan health, fitness, food, and lifestyle.
Avocado Sushi Recipe - Healthy Vegan Recipes On Video
Pineapple Fried Quinoa. ..In a Boat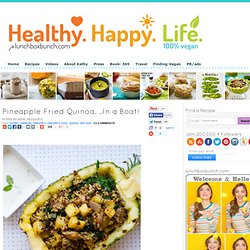 Pineapple Fried Quinoa (in a pineapple boat!) is on my menu today. A bright yellow pineapple and a bag of quinoa was all I needed to inspire me to dream up this tiki chic recipe. Aloha wishes, South Pacific daydreams, Maui wowie, kowabunga and lets-luau-all-night-long-under-the-glow-of-tiki-torches, just about covers everything that is wrapped into this bowl of pineapple bliss. These flavors will bring you to the party. Mint.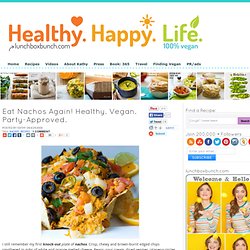 I still remember my first knock-out plate of nachos. Crisp, chewy and brown-burnt edged chips smothered in gobs of white and orange melted cheese. Beans, sour cream, diced veggies, jalapeno circles and salsa. Heavenly.
Eat Nachos Again! Healthy. Vegan. Party-Approved
These Easy Hummus Spiral Wraps are the perfect lunchbox filler to pack for yourself, your kids or your spouse. I call these snazzy spirals "lunchbox lavash" because they are made with lavash wrap - a type of roll-able, thin wheat flat bread. And this recipe doesn't get any easier. Just spread, roll and slice your way to a happy lunchbox. Fun Finger Food. These dainty spirals remind me of being at a party or a wedding (remember how trendy these were back in the 90's?)
Vegan Lunchbox: Easy Hummus Spiral Wraps