Street Credibility
50 Shades of Black Box Set Accompanying the artworks featured in the upcoming 50 Shades of Black opening, Shepard Fairey has created a limited edition box set with screen prints of each of his 50 new album cover designs inspired by the 12-inch record cover format. The 50 Shades of Black box set is the largest number of images to date and is a work of art itself! Each box set is a limited edition of 200 and includes 50 signed and numbered screen prints of all new album cover designs, as well as an album cover stencil, an LP sticker sheet, and a certificate of authenticity. The box is hand made and features the Sound and Vision LP graphic on the cover presented in gold foil stamping with embossed highlighting throughout. These will be available in limited quantity for in-person only purchases during the opening on Wednesday, April 16; no phone orders and credit card only please.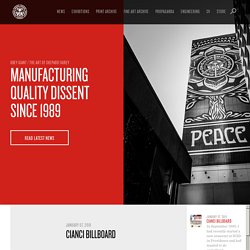 MOBYPOD TV - EXPO NASTY- MIST
YouTube - Birdy Nam Nam - Abbesses
Beastie Boys - Hello Nasty
9eme concept - collectif d'artistes - street art - peinture - ex
Galerie MobileMe - THE CARMINE VAULT
Being Ed Templeton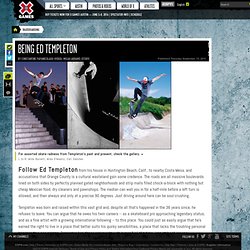 Follow Ed Templeton from his house in Huntington Beach, Calif., to nearby Costa Mesa, and accusations that Orange County is a cultural wasteland gain some credence. The roads are all massive boulevards lined on both sides by perfectly planned gated neighborhoods and strip malls filled chock-a-block with nothing but cheap Mexican food, dry cleaners and pawnshops. The median can wall you in for a half-mile before a left turn is allowed, and then always and only at a precise 90 degrees. Just driving around here can be soul-crushing. Templeton was born and raised within this vast grid and, despite all that's happened in the 36 years since, he refuses to leave.
Wassup Rockers