Tech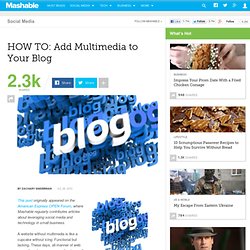 This post originally appeared on the American Express OPEN Forum, where Mashable regularly contributes articles about leveraging social media and technology in small business. A website without multimedia is like a cupcake without icing: Functional but lacking. These days, all manner of web pages from huge company sites to small business blogs are expected to add audio, photo, or video to their posts and homepages. While this all sounds well and good for multimedia companies that produce endless amounts of content, small businesses with text-based websites can run into trouble finding and providing appropriate content.
HOW TO: Add Multimedia to Your Blog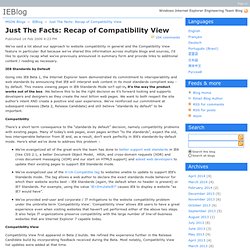 @Anon: I call bull. While, indeed, people want websites to work, it's web developers that want browsers that behave correctly. I'll take your IE8 example with Google Maps. - Google Maps provides a standards-compliant page using SVG to all browsers, detecting supported methods and objects as described in standards, and failing gracefully with browsers that don't meet criteria. - Google Maps provides an IE6/7 specific page using VML because IE6/7 renders HTML and CSS differently than other browsers, generate an error when you try to detect their capabilities (or merely don't answer), and supports rejected as standard, declared deprecated by MS, VML.
Just The Facts: Recap of Compatibility View - IEBlog
How to Add the Facebook Send Button to Your Website or WordPress.org Blog Or Even Your Facebook Page