Hair
Get flash to fully experience Pearltrees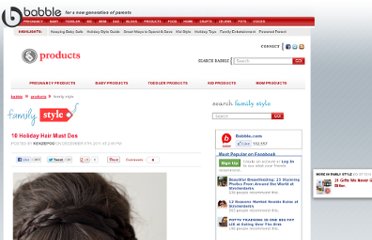 Are you in need of some hair inspiration for all your holiday happenings this year? A lot of us go all out with sparkles, high heels, and deep red lipstick. Why not try and complete your look with the perfect Holiday Hair too! We have found 10 beautiful Holiday Hair Must Dos for you to find inspiration from! Keep reading after the jump to view our 10 Holiday Hair Must Dos! Braided Do
photo/post/graphic design: Kristin Ess One of my all time favorite hairstyles for a wedding or for red carpet is the most super simple chic chignon (say that 3 times fast!). In this tutorial we show future brides and bridesmaids alike how to keep their hair out of the way while maintaining a timeless, classic look for any event. This is one of those updos that really allows you to focus on the dress, accessories and overall beauty instead of being a major focal point.
By Lauren Salapatek | 08/04/2012 10:00:00 AM Braids are all the rage! I just got the scoop from owner and lead stylist of SalonCapri in Newton and Dedham, MA, Nick Penna Jr. on how to do the technique for a "conch shell" braid!
I wore a more relaxed version of this hair style in an outfit post in June of 2009 but for reasons unbeknownst to me, I never did a tutorial for it. Recently though, a few of my lovely readers have asked for it ...so here it is. Enjoy
I love the look of naturally curly hair! My sweet friend, Katie , told me about rag rolling. It's a quick and simple way to get natural looking curls without using a curling iron! I asked her to share her method here on A Beautiful Mess because I knew you'd be itching to learn like I was!
all photos: Kristin Ess + thebeautydepartment.com post designed by kristin ess Lots of emails this week asking for a tutorial on Lauren's temporary bright colors. Here I've replicated the process for you in 7 steps on an extension. While I never recommend bleaching out the ends of your hair at home, if you want to do the fun colors yourself, maybe get the tips bleached out by a pro + then play with the temporary colors on your own. The best things about this color– you're able to hide it in a bun for work if you need to, AND you're only doing a couple of inches on the bottom so it won't kill you to cut it off if you get over it quickly. TOOLS : highlighting comb, clips, foils, color brush, hair bleach with the appropriate volume ( always seek a professional when using bleach), light pink color, dark pink color, light blue, dark blue, clear gloss.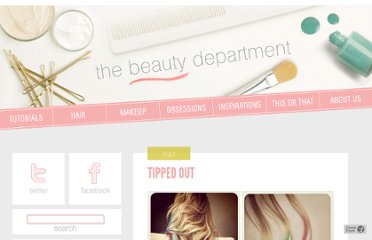 photos by: Kathleen Bly post designed by kristin ess Mad love for our first guest post winner, Taylor Nick !!! I am fully obsessed with this bohemian-inspired-braided-goodness! Even though Taylor had some SERIOUS competition, there's no doubt that this little lady took the cake in our hair tutorial contest. She created a beautiful, textured, easy hairstyle that will work with almost any hair type.
The cascade braid recently exploded as the new "trend braid" of the season. The waterfall effect looks cool and complex, but it's easier to style than you think. Give this beautiful braid a try when Beautylish takes you through the how-to! Section Off This style works best on straight or loose waves.
photos: Kristin Ess, post designed by Kristin Ess Last week, we were shooting Lauren's collection for Kohl's and at the end of the day, we got our hands on some colorful soft chalks. How can a girl resist when there are pinks + purples involved?? Lauren's pink cotton candy bun was pretty cute! As you may know, hair chalking has been around for a little while now and it's a great way to temporarily add color to your locks.