Diner
Crispy Parmesan and Dijon Chicken Strips – The Scrumptious Pumpkin - StumbleUpon. This is my go-to recipe when I've had a crazy day, I'm running 30 minutes behind, and I'm starving .
These chicken strips are healthy, delicious and nearly as easy to throw together as the frozen chicken tenders you find at the grocery store. Served with a couple quick sides like a tossed salad and sliced carrots, it's complete meal that's ready in 20 minutes. Here are the key ingredients.
Man-approved spicy oven fries. San francisco garlic fries | The Red Spoon - StumbleUpon. Well folks, not much going on this week.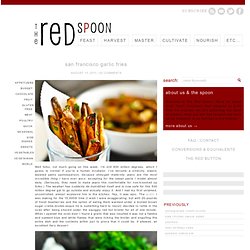 I'm still 800 million degrees, which I guess is normal if you're a human incubator. I've become a stretchy, elastic waisted pants spokesperson, because ohmygah maternity jeans are the most incredible thing I have ever worn, excepting for the sweat pants I model almost daily. (Seriously, they need to make jeans this comfortable for non-knocked up folks.)
---