Google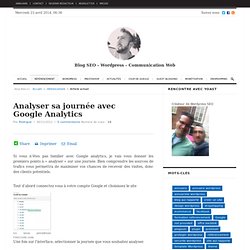 Si vous n'êtes pas familier avec Google analytics, je vais vous donner les premiers points à « analyser » sur une journée. Bien comprendre les sources de trafics vous permettra de maximiser vos chances de recevoir des visites, donc des clients potentiels. Tout d'abord connectez vous à votre compte Google et choisissez le site
Analyser sa journée avec Google Analytics - Agence Web Cree1site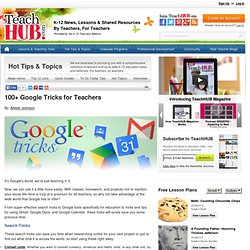 It's Google's world, we're just teaching in it. Now, we can use it a little more easily. With classes, homework, and projects–not to mention your social life–time is truly at a premium for all teachers, so why not take advantage of the wide world that Google has to offer? From super-effective search tricks to Google tools specifically for education to tricks and tips for using Gmail, Google Docs, and Google Calendar, these tricks will surely save you some precious time. Search Tricks
Google's Apps for Education and the New Privacy Policy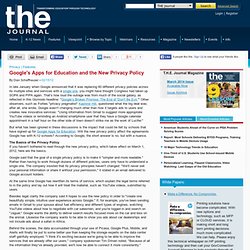 Privacy | Features Google's Apps for Education and the New Privacy Policy By Dian Schaffhauser02/15/12 In late January when Google announced that it was replacing 60 different privacy policies across its multiple sites and services with a single one, you might have thought Congress had taken up SOPA and PIPA again. That's how loud the outrage was from much of the social galaxy, as reflected in this Gizmodo headline: "Google's Broken Promise: The End of 'Don't Be Evil.'" Other observers, such as Forbes "privacy pragmatist" Kashmir Hill, questioned what the big deal was; after all, she wrote, Google wasn't changing much other than how it targets ads to users and creates new innovative services: "Using information from Gmail to suggest more appropriate YouTube videos or reminding an Android smartphone user that they have a Google calendar appointment in a half hour on the other side of town doesn't strike me as the work of Lucifer."
Google Apps is one of the powerful digital toolkit for teachers. It is packed with all kinds of apps you can use both in your teaching and for your professional growth . Think about services such as Gmail, Google Docs, Presentations, Forms, Google Calendar, Google Education, and the list goes on and on. Most of these tools are free and are part and parcel of our digital being. I am personally a huge fan of Google services and I use almost all of them including Google Code.I have been writing a lot of tutorials on each of these tools and I will still keep you updated about any new releases in this regard.
81 Ways Teachers Can Use Google Forms with Their Students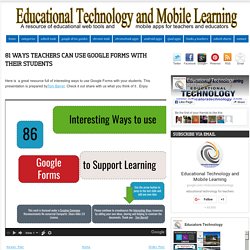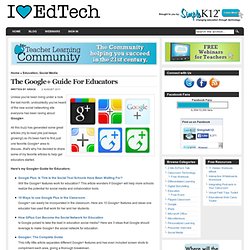 Home » Education, Social Media Written by Grace2 August 2011 Unless you've been living under a rock the last month, undoubtedly you've heard of the new social networking site everyone has been raving about: Google+. All this buzz has generated some great articles (my to-read pile just keeps growing!) so it's been hard to find just one favorite Google+ area to discuss...that's why I've decided to share some of my favorite articles to help get educators started.
After covering everything that Google Search has to offer, you can easily forge that search only forms one small part of the Google behemoth. With so many different features and clients available, it's very easy to use the basic features for each and leave it at that. However, if you delve a little deeper, there are many tricks hidden away that will help improve your experience. To help you out, here are a number of tips and tricks that you can use for four of Google's more popular features: Gmail, Maps, Google Drive and Google News. Gmail Use Filtered Search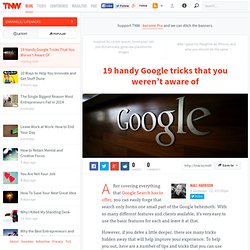 Google Forms is a great tool and I hope to use it more throughout this year. Take a look here for a more detailed introduction and guide to using and creating a Google Form – this was written prior to Google bringing forms into the NEW menu. I have created example forms for each of the different topics, follow the links in each of the ten sections.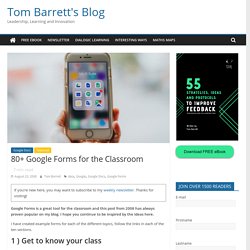 Google Docs is a user friendly suite of online collaborative tools that come with tremendous potential for use in the classroom. Last year all of the students in our school received Google Docs accounts and I was kept quite busy getting students and teachers up and running with the new tools, then discovering innovative ways to use them as effective tools for learning. Here are some of the favorites. Collaborative Writing Sharing and commenting provide students with opportunities to receive immediate feedback on their writing from teachers and peers in the 24/7 classroom. The integrated reference tools and smart spell checker provide students with convenient writing support right on the page.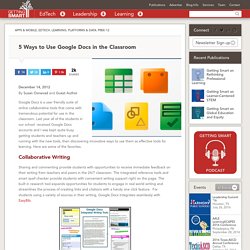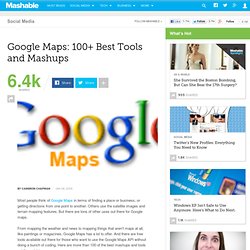 Most people think of Google Maps in terms of finding a place or business, or getting directions from one point to another. Others use the satellite images and terrain mapping features. But there are tons of other uses out there for Google maps. From mapping the weather and news to mapping things that aren't maps at all, like paintings or magazines, Google Maps has a lot to offer. And there are free tools available out there for those who want to use the Google Maps API without doing a bunch of coding. Here are more than 100 of the best mashups and tools out there right now.
Google Earth Links
gReader (Google Reader | RSS)
Gmail - Version Juillet 2013
Les messages de votre boîte de réception sont classés en catégories ("Social", "Promotions", "Mises à jour", etc.) Les catégories peuvent apparaître sous formes d'onglets de la boîte de réception et de libellés. Elles vous permettent de repérer facilement les messages importants et de regrouper ceux d'une même catégorie. Si vous utilisez une boîte de réception personnalisée, telle que la boîte de réception Prioritaire, les onglets ne sont visibles que si vous les activez. Procédez comme suit : Ouvrez Gmail.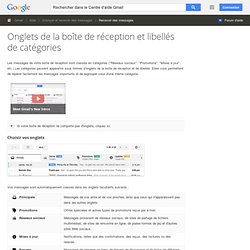 [Astuce] Mettez en forme vos textes sur Hangouts
Une nouvelle astuce a été publié sur Google Plus Daily. Si vous utilisez souvent la fonctionnalité Hangouts sur Google+, inutile de vous dire qu'elle devrait vous plaire, étant donné que l'article énumère les raccourcis clavier permettant la mise en forme du texte. Le tableau ci-dessous vous donne 3 exemples précis. Alors, vous les utilisez les formatages de texte sur Hangouts, ou comptez-vous les utilisez ? A propos de l'auteur: Christophe