Sides
Strawberry Quinoa Salad With Brie - The Kitchen Magpie
Brussels Sprout with Lemon & Pancetta Recipe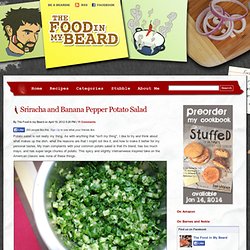 Sriracha and Banana Pepper Potato Salad
Potato salad is not really my thing. As with anything that "isn't my thing", I like to try and think about what makes up the dish, what the reasons are that I might not like it, and how to make it better for my personal tastes. My main complaints with your common potato salad is that it's bland, has too much mayo, and has super large chunks of potato. This spicy and slightly Vietnameese inspired take on the American classic was none of these things. First I made an herb salad with mint, cilantro, scallion, and cucumber. This goes into the potato salad after it has cooled.
It wouldn't be Thanksgiving without my mom shouting at my brother, "That's NOT FULLY COOKED, you're gonna get sick!" while he's hunched over the refrigerator door, grabbing a spoonful of uncooked stuffing. I can't really blame him for wanting to eat it uncooked; our mom really does make the most incredible sausage & chestnut stuffing. These baked apples taste just like Thanksgiving except my mom isn't in the background shouting at me for getting into them. The filling of sausage, celery, herbs & onions remind me of her stuffing, but the apples add a nice sweet/tang to round out the flavor.
Baked Apples with Savory Stuffing
Have you tried kale chips yet? Did you think they were "just ok" but didn't get the hype? That's probably because you didn't have these.
Spicy Tahini Kale Chips - Savory Simple: A Recipe Blog
Grilled Potatoes With Asian Seasonings Recipe - Food.com - 304665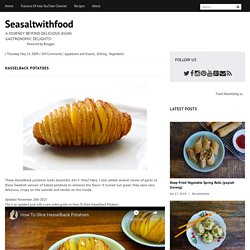 These Hasselback potatoes looks beautiful, don't' they? Here, I also added several cloves of garlic to these Swedish version of baked potatoes to enhance the flavor. It turned out great, they were very delicious, crispy on the outside and tender on the inside.. Hasselback Potatoes (Printable Recipe) Ingredients
I'm never going to make garlic potato fries any other way. These garlic fries, win hands down as the best garlic french fries I've ever made. Plus they are baked – so I won't feel too guilty if I make it every time I'm craving for some potato comfort. When I read that there is garlic infused oil involved, my heart skipped a beat (in a good way, not the way oil would otherwise treat your heart). I got down to making them immediately.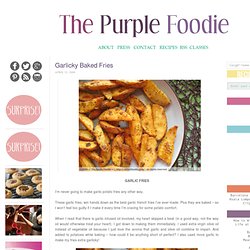 I have hopes that my son is becoming a runner. He is 6 years old. For the past two weeks he has been running with the junior group of my running club, the usual lap around a park which is 3.4k or 2 miles.
Spicy Steamed Bok Choy
I love grilling season. Which, where I live, essentially lasts from mid-February to mid-November. During the summer, the Foodie Groom's "vegetable" of choice is grilled corn. It could be worse, I guess – although lately he and the toddler have really been digging the grilled green & purple beans from the garden.
Grilled Broccoli with Chipotle-Lime Butter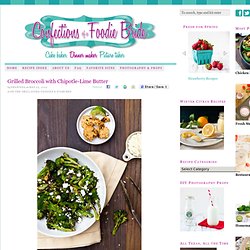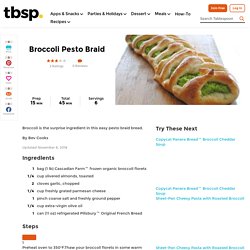 Braided Bread with Broccoli Pesto
I miss a good French braid. I also miss Electric Youth perfume, Wilson Phillips and blue mascara, but I probably shouldn't have just typed that out. I'll be straight with ya, some days when I'm working in the garden, working out or working for the weekend, I'll throw my hair in a dang french braid and high five myself.
There are a million versions of these smashed potatoes all over the place. However, I love the idea of making these a little tangy. I love those thick-cut salt and vinegar chips, which is where the inspiration for this recipe came from. By dousing these potatoes with cider vinegar after they come out of the oven, you are indeed in for a tasty and tangy treat. My mouth puckers just thinking about it. Serve along side your favorite main dish and enjoy.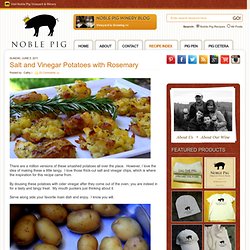 What's For Lunch Honey? | Experience Your Senses: Roasted Cauliflower and Pearl Onions with Smoky Paprika and Coriander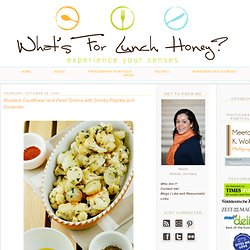 It's the time of year when my CSA box has begun to bring cauliflower, cabbage and co. to my doorstep each week. I admit I am the type of person who gets excited at the site of the milky white flower like vegetable or the sturdy variety of cabbage. I am well aware that my delight is not often shared by many people and me squealing with joy at the sight of cauliflower does raise an eyebrow or two. I adore cauliflower. It's the simplicity and the variety of ways one can prepare this gorgeous vegetables that makes it so attractive for me.