Fun
Ultimate Flash Face v0.42b. Restyle the web with Stylish! | userstyles.org. Kakorama: a ride into the past. N°1 au hit-parade le jour de votre naissance. Le kakoscope: la boule de cristal quantique. Au même titre que l'astrologie ou la météorologie, le kakoscope permet de réaliser en toute sécurité de très jolies prédictions à base de couleurs psychédéliques.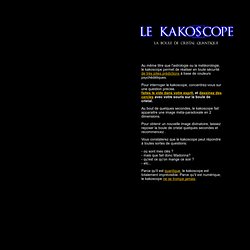 Pour interroger le kakoscope, concentrez-vous sur une question précise. faites le vide dans votre esprit, et dessinez des cercles avec votre souris sur la boule de cristal. Au bout de quelques secondes, le kakoscope fait apparaitre une image méta-paradoxale en 2 dimensions. Pour obtenir un nouvelle image divinatoire, laissez reposer la boule de cristal quelques secondes et recommencez . Fourchelang. Le kakophone : La machine à composer de la musique pour téléphone portable. Kakomessenger: tell it with a song ! Skelanimals | My Heart For Yours - Création et partage de dessins animés, cartoons gratuits sur la Cartoonerie. MANGA PUZZLE ONAMIS. What numbers and letters do you key on you keyboard to make a heart symbol.
Nightingale songs. ALIENSONIC.
Humour
---