Network tools
Posted by nitzan on Wednesday, September 5th, 2007 Mega Tools There are lots of specialized tools out there, but sometimes you just need one good tool to get the job done. These mega tools are great for general conversions.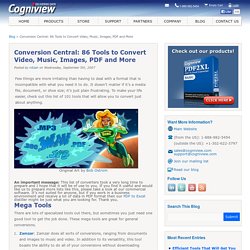 Ramsinks
Some of the tips below are effortless to implement and save you a lot of time and energy when dealing with these issues. Let's start with the first proof of the awesomeness of Google… 1. Create unlimited disposable email addresses with Gmail If you add dots (.) between the letters of your Gmail username, sending an message to the new username will get forwarded to your original email (which is without or with only 1 dot.) For example: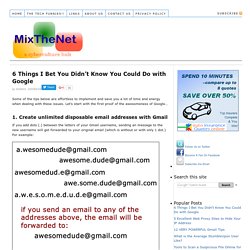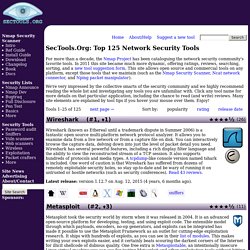 SecTools.Org: Top 125 Network Security Tools For more than a decade, the Nmap Project has been cataloguing the network security community's favorite tools. In 2011 this site became much more dynamic, offering ratings, reviews, searching, sorting, and a new tool suggestion form . This site allows open source and commercial tools on any platform, except those tools that we maintain (such as the Nmap Security Scanner , Ncat network connector , and Nping packet manipulator ).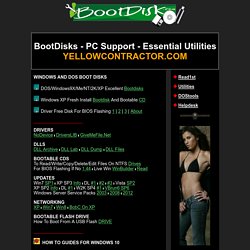 DOS/Windows9X/Me/NT/2K/XP Excellent Bootdisks Windows XP Fresh Install Bootdisk And Bootable CD Driver Free Disk For BIOS Flashing 1 | 2 | 3 | About DRIVERS GiveMeFile.Net NoDevice
Microsoft Network Monitor Microsoft Network Monitor is a network protocol analyzer that lets you capture, view, and analyze network traffic. Version 3.3 of Network Monitor is available in 32- and 64-bit versions. Download it now. Microsoft Baseline Security Analyzer The Microsoft Baseline Security Analyzer (MBSA) is an easy-to-use tool designed to help administrators of small and medium-sized businesses ensure that their Windows-based computers are secure. You can use MBSA to determine the security state of your computers in accordance with Microsoft security recommendations.
Four Free Tools that every Administrator should Know About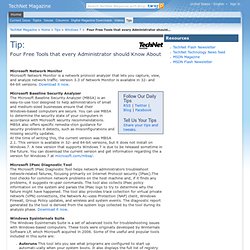 We know administrators love tools that make life easier – especially when they're free! So here are 101 of them! Any free tools you know of that are missing from this list? Leave us a comment! System and network analysis 1.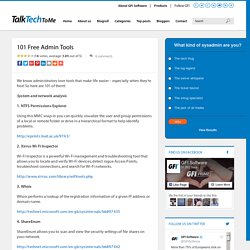 How to Set Up a File-Syncing Dropbox Clone You Control
Depends on what you mean by 'safe'. Nothing is truly safe, and any kind of wireless syncing is going to be accessible or 'sniffable' at some point. Honestly, if your father isn't being specifically targeted by someone, Live Mesh is fine. I prefer Dropbox though.