Network tools
Mega Tools There are lots of specialized tools out there, but sometimes you just need one good tool to get the job done. These mega tools are great for general conversions. Zamzar: Zamzar does all sorts of conversions, ranging from documents and images to music and video. In addition to its versatility, this tool boasts the ability to do all of your conversions without downloading software.SUPER: This aptly-named tool offers a simple and efficient way to convert any multimedia file to any format you need. You won't need to download any additional codecs or deal with any time or function limitations.CZ Document Converter: CZ Document Converter is a powerful batch document converter.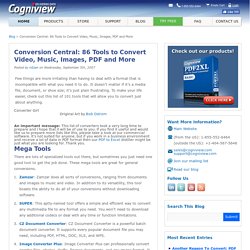 Ramsinks
Some of the tips below are effortless to implement and save you a lot of time and energy when dealing with these issues. Let's start with the first proof of the awesomeness of Google… 1. Create unlimited disposable email addresses with Gmail If you add dots (.) between the letters of your Gmail username, sending an message to the new username will get forwarded to your original email (which is without or with only 1 dot.) For example: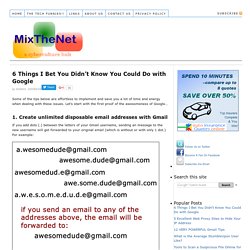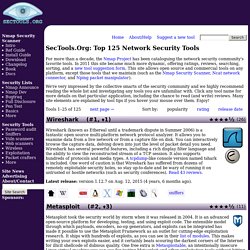 SecTools.Org: Top 125 Network Security Tools For more than a decade, the Nmap Project has been cataloguing the network security community's favorite tools. In 2011 this site became much more dynamic, offering ratings, reviews, searching, sorting, and a new tool suggestion form . This site allows open source and commercial tools on any platform, except those tools that we maintain (such as the Nmap Security Scanner , Ncat network connector , and Nping packet manipulator ).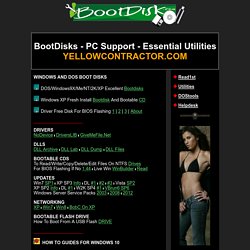 DOS/Windows9X/Me/NT/2K/XP Excellent Bootdisks Windows XP Fresh Install Bootdisk And Bootable CD Driver Free Disk For BIOS Flashing 1 | 2 | 3 | About DRIVERS GiveMeFile.Net NoDevice
Microsoft Network Monitor Microsoft Network Monitor is a network protocol analyzer that lets you capture, view, and analyze network traffic. Version 3.3 of Network Monitor is available in 32- and 64-bit versions. Download it now. Microsoft Baseline Security Analyzer The Microsoft Baseline Security Analyzer (MBSA) is an easy-to-use tool designed to help administrators of small and medium-sized businesses ensure that their Windows-based computers are secure. You can use MBSA to determine the security state of your computers in accordance with Microsoft security recommendations.
Four Free Tools that every Administrator should Know About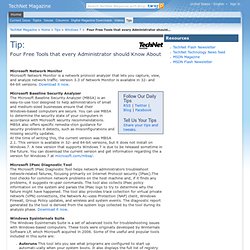 We know administrators love tools that make life easier – especially when they're free! So here are 101 of them! Any free tools you know of that are missing from this list? Leave us a comment! System and network analysis 1.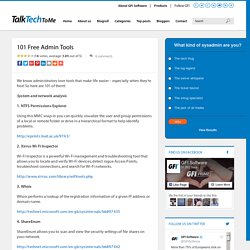 networkingessentials.jpg (JPEG Image, 1308 × 1116 pixels) - Scaled (55%)
How to Set Up a File-Syncing Dropbox Clone You Control
File syncing is a godsend when you work on multiple computers or devices and want to make sure you have the most up-to-date files wherever you log in. While online services like Dropbox may be the most convenient options, there are plenty of reasons you may want to "roll your own cloud" and sync your files to your own web server or just on your local network. Below, we'll detail how to set up a Dropbox clone, complete with instantaneous, encrypted syncs, cloud backups, and file versioning, using cross-platform software GoodSync. Why Set Up Your Own Syncing System? Control. The biggest reason many of us might go looking for Dropbox alternatives is lack of control or a feeling of uncertainty with things like odd changes in terms of service implying the syncing service "owns" our files.