Storytelling &Crossmedia resources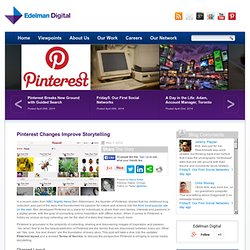 In a recent video from NBC Nightly News Ben Silbermann, the founder of Pinterest, shared that his childhood bug collection was part of the story that transformed his passion for nature and science into the third most popular site on the web. Ben developed Pinterest as a place for individuals to share their own stories, interests and passions in a digital sense, with the goal of connecting online inspiration with offline action. When it comes to Pinterest, a hobby as unique as bug collecting can be the start of a story that means so much more.
Pinterest Changes Improve Storytelling
Transmedia Storytelling and Journalism · lorenatarcia
Email Marketing and Email List Manager
Social media consulting for nonprofits | Socialbrite
How to use storytelling and NLP to create sales campaigns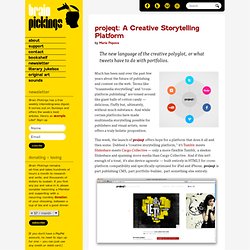 by Maria Popova The new language of the creative polyglot, or what tweets have to do with portfolios. Much has been said over the past few years about the future of publishing and content on the web. Terms like "transmedia storytelling" and "cross-platform publishing" are tossed around like giant balls of cotton candy — delicious, fluffy but, ultimately, without much substance.
projeqt: A Creative Storytelling Platform
www.insydestory.com
Everyone has a story!
Whrrl
Links to Storytelling Platforms, Prompts, and Tools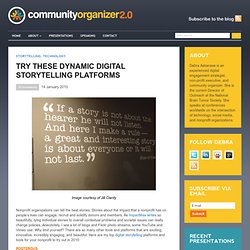 Try These Dynamic Digital Storytelling Platforms
Image courtesy of Jill Clardy Nonprofit organizations can tell the best stories. Stories about the impact that a nonprofit has on people's lives can engage, recruit and solidify donors and members.
OCCUPYTwitter: A Revolution in Social Media · SoapboxNeat
Using Great Storytelling To Grow Your Business
Every two months, I pull together a community of innovators. We meet somewhere in New York City, usually a boardroom overlooking a park or cityscape.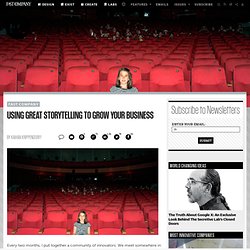 [Jeff] As a new generation of creators, producers and executives rise to power, we're going to see an exciting new video design and integration sensibility come into play.
The Importance Of Online Video In Transmedia Campaigns - Starlight Runner's Jeff Gomez
Jeff Gomez on Transmedia Storytelling at nextMedia...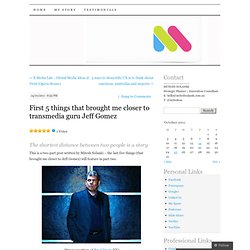 i
First 5 things that brought me closer to transmedia guru Jeff Gomez | Mitesh Solanki
On a cold Friday evening in February two years ago, with a historic blizzard bearing down on the Eastern Seaboard, a small crowd of people bundled into a New York University lecture hall to hear a talk that would become something of a legend, a shot heard 'round the Internet.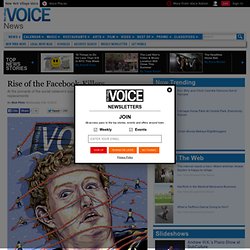 Rise of the Facebook-Killers
Present.me is SlideShare Meets YouTube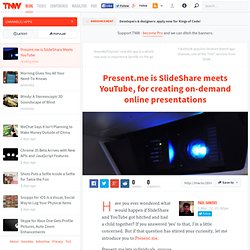 Have you ever wondered what would happen if SlideShare and YouTube got hitched and had a child together?