Articles
Chemo drugs may lead to cancer relapse. Double therapy can stop breast cancer relapse - Health - Cancer. 18 of Nature's Most Powerful Medicinal Plants. (Part of an Exclusive WebEcoist Series on Amazing Trees, Plants, Forests and Flowers) From marijuana to catnip, there are hundreds of remarkably common herbs, flowers, berries and plants that serve all kinds of important medicinal and health purposes that might surprise you: anti-inflammatory, anti-fungal, insect repellent, antiseptic, expectorant, antibacterial, detoxification, fever reduction, antihistamine and pain relief.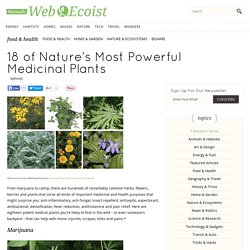 Here are eighteen potent medical plants you're likely to find in the wild – or even someone's backyard – that can help with minor injuries, scrapes, bites and pains. . * The Ultimate Superfood Guide. Superfoods are the most vibrant and nutritionally dense foods on the planet, which have been found to contain profound healing and dietary effects.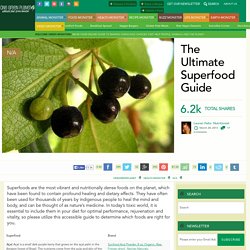 They have often been used for thousands of years by indigenous people to heal the mind and body, and can be thought of as nature's medicine. In today's toxic world, it is essential to include them in your diet for optimal performance, rejuvenation and vitality, so please utilize this accessible guide to determine which foods are right for you. Image Source: Inao Vásquez/Flickr. How the Cancer Industry Controls Women - CounterThink.com. Permissions to use: Want to use this cartoon?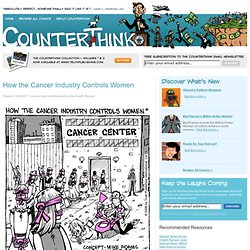 Specific, limited permission is granted to reprint in any book, movie, website, magazine, newspaper, animation or other media under the following 'professional courtesy' conditions: Cartoon creator Mike Adams must be conspicuously credited.Web address www.NaturalNews.com must be posted below or adjacent to the cartoon in a conspicuous manner. If on the web, the link must be clickable.You may not use this cartoon in a disparaging context or manner.You may not charge for this cartoon.Truth Publishing retains all ownership, rights and copyrights.Reprint rights may be revoked, without notice, on a case by case basis, if reprint courtesy is, in our opinion, abused.High-resolutions files are available for film and print. Help stop former Monsanto VP from attaining top position at the FDA - sign the petition. (NaturalNews) The one man who may be responsible for more food related illnesses and deaths than anyone in history, Michael R.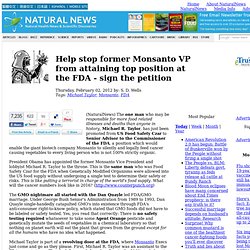 Taylor, has just been promoted from US Food Safety Czar to Senior Advisor to the Commissioner of the FDA, a position which would enable the giant biotech company Monsanto to silently and legally feed cancer causing vegetables to every living person who is not 100% strictly organic. President Obama has appointed the former Monsanto Vice President and lobbyist Michael R. Taylor to the throne.
"Forks Over Knives": Is the Science Legit? (A Review and Critique) « Raw Food SOS: Troubleshooting on the Raw Food Diet. Welcome to my "Forks Over Knives" analysis, AKA the longest movie review you'll ever attempt to read.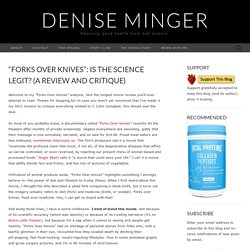 Thanks for stopping by! In case you aren't yet convinced that I've made it my life's mission to critique everything related to T. Colin Campbell, this should seal the deal. As most of you probably know, a documentary called " Forks Over Knives " recently hit the theaters after months of private screenings. Is Dairy Healthy? The Whole Story - Part 1. Written on September 9, 2011 at 3:35 am, by Eric Cressey In light of the overwhelming popularity of a recent guest blog on the topic of sports nutrition and healthy food options, I wanted to keep the ball rolling with some regular nutrition content.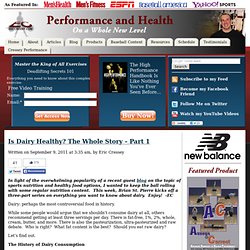 This week, Brian St. Pierre kicks off a three-part series on everything you want to know about dairy. Infowars Nightly News for Tuesday, January 24, 2012 (Full) Cat's Claw Treats Cancer and Many Other Illnesses. (NaturalNews) There is much talk about cat's claw and its healing properties used for the treatment of cancer, but cat's claw can be used in the treatment of many illnesses.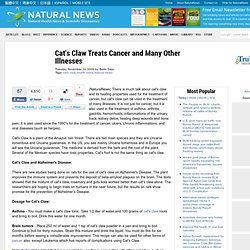 It is not just for cancer, but it is also used in the treatment of asthma, arthritis, gastritis, hemorrhoids, inflammations of the urinary track, kidney detox, healing deep wounds and bone pain. It is also used since the 1990's for the treatment of cancer, ulcers, chronic inflammations, and viral diseases (such as herpes). Www.facebook.com/l.php?u=http%3A%2F%2Fwww.youtube.com%2Fwatch%3Ffeature%3Dplayer_detailpage%26v%3DIJNLoci3qDc%23t%3D2757s&h=8AQGRUkyEAQEeLMUzRujmLE3F_PpWeK-4Tv8tE5lpVWFczg. Teen creates cancer fighting technique.
---