FOOD
My Kitchen is Perfect. 7 Crock Pot Recipes That Rock. Crock pot, slow cooker, call it what you will, but this convenient kitchen appliance is hotter than ever.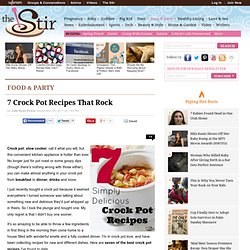 No longer just for pot roast or some goopy dips (though there's nothing wrong with those either), you can make almost anything in your crock pot from breakfast to dinner, drinks and more. I just recently bought a crock pot because it seemed everywhere I turned someone was talking about something new and delicious they'd just whipped up in theirs. So I took the plunge and bought one. When French Toast Met Pancakes. If you ever want me to like you, just make me a light, fluffy stack of pancakes.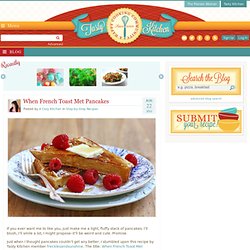 I'll blush, I'll smile a lot, I might propose–it'll be weird and cute. Promise. Just when I thought pancakes couldn't get any better, I stumbled upon this recipe by Tasty Kitchen member frecklesandsunshine. The title: When French Toast Met Pancakes…and Fell In Love totally made me giddy with butterflies in my stomach. Strawberry summer cake. It is not summer yet.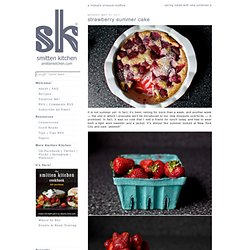 In fact, it's been raining for more than a week, and another week — the one in which I presume we'll be introduced to our new mosquito overlords — is promised. In fact, it was so cold that I met a friend for lunch today and had to wear both a light wool sweater and a jacket. Fluffy Pancakes | Blogger For Hire. This pancake recipe is the result of mixing and matching different recipes from many different sources.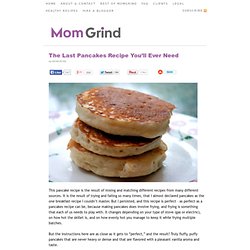 It is the result of trying and failing so many times, that I almost declared pancakes as the one breakfast recipe I couldn't master. But I persisted, and this recipe is perfect – as perfect as a pancakes recipe can be, because making pancakes does involve frying, and frying is something that each of us needs to play with. It changes depending on your type of stove (gas or electric), on how hot the skillet is, and on how evenly hot you manage to keep it while frying multiple batches. But the instructions here are as close as it gets to "perfect," and the result? Truly fluffy, puffy pancakes that are never heavy or dense and that are flavored with a pleasant vanilla aroma and taste.
---