Mobile Marketing & Mobile Ads
Other guides in this series: • Guide to mobile agencies • Guide to mobile industry awards • Compendium of global mobile stats • The insiders' guides to world's top mobile markets The guide to mobile advertising networks Welcome to the mobiThinking guide to mobile advertising networks.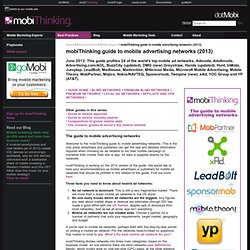 BuzzCity - Mobile Internet Advertising
Europe's Mobile Advertising Marketplace
Whether you're focused on performance advertising, or building a brand, mobile is key to reaching your audience. Research shows 90% of people move between devices to accomplish a goal, so reaching customers on-the-go is more important than ever before. Google Mobile Ads can help you achieve your performance marketing objectives to win new customers, grow leads and earn conversions. Google Mobile Ads can also help you fulfill your branding goals. Make an impact with engaging, interactive, rich-media display ads on the mobile web and in apps.
Mobile Ads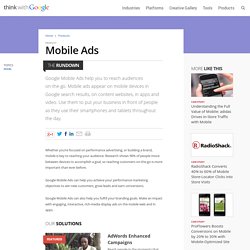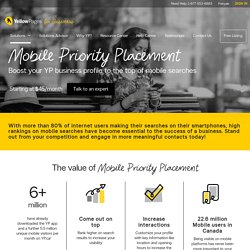 Marketing success lies in one very simple idea: Be where your customers are. Chances are they're among the 17 million Canadians using our advertising network. And they're not just browsing: they came ready to buy. Harness the power of an integrated network.
Mobile Phone Advertising & Yellow Pages 360 Mobile Marketing
AdGallery - Rich media mobile advertising - Celtra
Reach Me Mobile
Mobile Advertising, App Advertising and Analytics, Mobile Ad Exchange, Mobclix
Mobile » Trial Registration
BuzzCity - Mobile Internet Advertising
Mobile Ad Network and Conversion Optimizer
Developers
The Airpush SDK is the most powerful app monetization solution in the world, providing developers with stunning performance and weekly payouts. Android developers earn over 10x more with our ad formats compared to standard in-app banner ads, and in many cases over 30x more. Learn more about our Ad Formats and Weekly Payments to see the tremendous differences between Airpush and other networks. Push Ads Ads Displayed in the Notification Tray Earn $5+ CPM's and 90%+ Fill Rates Monetize Total Installs, Not Just Active Users Includes new rich push format A Push Ad is an ad sent to the notification tray of Android devices, rather than inside of an app. Publishers can control how often ads are sent and to which users. SmartWall The Intelligent Interstitial Ad Earn $10+ CPM and 90%+ Fill Rates Optimally serves multiple full-page ad formats based on yield, maximizing publisher revenue.
Proximus Mobility - Proximus Mobility, LLC.
TapIt!™ | Mobile Advertising | Promote Apps | Monetize iPhone / Android Traffic | Measure Performance
Home
KissMyAds