Mobile Marketing & Mobile Ads
Other guides in this series:• Guide to mobile agencies• Guide to mobile industry awards• Compendium of global mobile stats• The insiders' guides to world's top mobile markets The guide to mobile advertising networks Welcome to the mobiThinking guide to mobile advertising networks.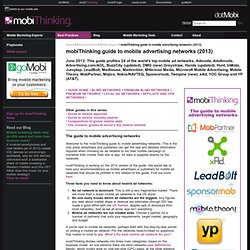 BuzzCity - Mobile Internet Advertising
Whether you're focused on performance advertising, or building a brand, mobile is key to reaching your audience. Research shows 90% of people move between devices to accomplish a goal, so reaching customers on-the-go is more important than ever before. Google Mobile Ads can help you achieve your performance marketing objectives to win new customers, grow leads and earn conversions. Google Mobile Ads can also help you fulfill your branding goals.
Mobile Ads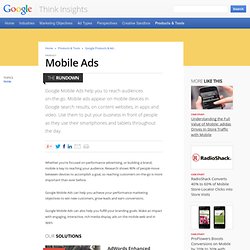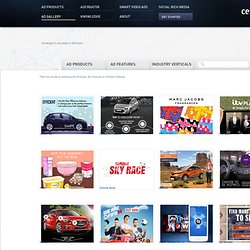 Showcase of ads made in AdCreator Ad Products Ad Features Industry Verticals Filter the results by selecting Ad Products, Ad Features or Industry Verticals. Citroën C3 IAB Rising Stars Pull Autos Citroën C4 Picasso Rich Media Post for Facebook Autos Marc Jacobs Rich Media Expandable Retail ITV Player Rich Media Expandable Entertainment Flora Rich Media Expandable CPG Chrome Racer Rich Media Expandable Technology Renault Rich Media Expandable Autos Infiniti Rich Media Expandable Autos
AdGallery - Rich media mobile advertising - Celtra
Reach Me Mobile
Mobile Advertising, App Advertising and Analytics, Mobile Ad Exchange, Mobclix
Mobile » Trial Registration
BuzzCity - Mobile Internet Advertising
Mobile Ad Network and Conversion Optimizer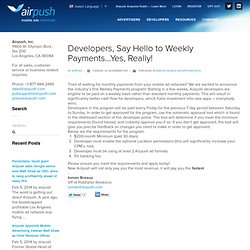 Developers
Tired of waiting for monthly payments from your mobile ad networks? We are excited to announce the industry's first Weekly Payments program! Starting in a few weeks, Airpush developers are eligible to be paid on a weekly basis rather than standard monthly payments. This will result in significantly better cash flow for developers, which fuels investment into new apps — everybody wins. Developers in the program will be paid every Friday for the previous 7 day period between Saturday to Sunday.
Proximus Mobility - Proximus Mobility, LLC.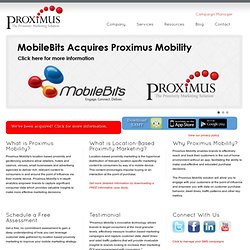 Proximus Mobility's location based proximity and geofencing solutions allow retailers, hotels and casinos, venues, small businesses and advertising agencies to deliver rich, relevant content to consumers in and around the point of influence via their mobile device. Proximus Mobility's in-depth analytics empower brands to capture significant consumer data which provides valuable insights to make more effective marketing decisions. Location-based proximity marketing is the hyperlocal distribution of relevant, location-specific marketing content to consumers by way of a mobile device. This content encourages impulse buying or an interaction at the point of purchase. Get more detailed information by downloading a FREE informative case study. Proximus Mobility enables brands to effectively reach and track their customers in the out-of home environment without an app, facilitating the ability to make cost-effective and educated purchase decisions.
TapIt!™ | Mobile Advertising | Promote Apps | Monetize iPhone / Android Traffic | Measure Performance
Home
<div class="noscript"><div class="noscript-inner"><p><strong>JavaScript seem to be disabled in your browser.</strong></p><p>You must have JavaScript enabled in your browser to utilize the functionality of this website.</p></div></div> From 0,0070 /SMS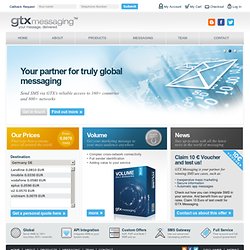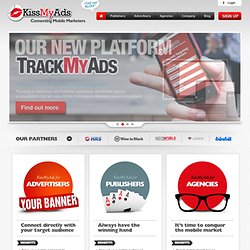 Faster, secure & even more targeted Focusing on Advertiser and Publisher experience, KissMyAds deploysa new platform that will make Mobile Performance Marketing even more efficient. Find out more Guaranteed Performance KissMyAds delivers a risk-free platform to monetize all mobile campaigns. Show Details
KissMyAds