WTF!!
DollarShaveClub.com - Our Blades Are F***ing Great. Share photos on Twitter. Raw Video: Darth Vader Opens Wall Street. Oscars shmoscars: Transformers 2 'wins' worst-movie Razzie | SCI. Transformers: Revenge of the Fallen was the big "winner"—not at the Oscars, which are handed out tonight—but at the Razzies, otherwise known as the 30th Annual Golden Raspberry Awards, which recognize the worst movies of the year.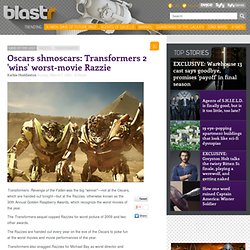 The Transformers sequel copped Razzies for worst picture of 2009 and two other awards. The Razzies are handed out every year on the eve of the Oscars to poke fun at the worst movies and movie performances of the year. Transformers also snagged Razzies for Michael Bay as worst director and Ehren Kruger, Roberto Orci and Alex Kurtzman for worst screenplay. Transformers actually tied Land of the Lost, with seven nominations each. Astonishingly, Land was nearly shut out in every category. Dark Vador a un nouveau destrier. La jolie histoire du Meuporg. Time Wasters. ## ACIDE ## INSOLITE FUN. David Hasselhoff. WTF. .chez kek.
Video a la con. Untitled. Halo Movie Trailer - a Gaming video. Baby Kangaroo swimming at the Beach. PIXELS by PATRICK JEAN. - une vidéo Art et Création. Musicbattles. B0CsT.jpg (480×389) Admin - Modo - User ! Le dealer de Mario ! Tractor-fight from "Alluda Majaka" YouTube - Un pro du KiteSurf ! Cycles. April Fools 2010 in the tech industry. Share photos on Twitter. Un #FAIL qui crève le coeur (amis des canards s'abstenir) on Twi. Bulletstorm : Cliff Bleszinski Walkthrough Trailer - une vidéo J.
---