Most Read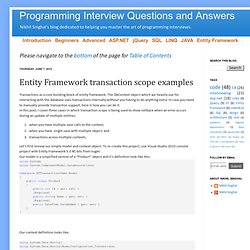 Transactions as a core building block of entity framework. The DbContext object which we heavily use for interacting with the database uses transactions internally without you having to do anything extra. In case you need to manually provide transaction support, here is how you can do it. In this post, I cover three cases in which transaction scope is being used to show rollback when an error occurs during an update of multiple entities: when you have multiple save calls to the context; when you have single save with multiple object; and transactions across multiple contexts. Let's first review our simple model and context object. To re-create this project, use Visual Studio 2010 console project with Entity Framework 5.0 RC bits from nuget.
Programming Interview Questions and Answers: Entity Framework transaction scope examples
Knowledgebase - activePDF Technical Support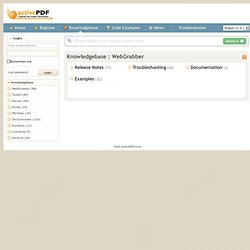 PROBLEM: Error 10099 with WebGrabber and DotNetNuke. RESOLUTION: Ensure that you are passing on the session credentials to the WebGrabber object. Consult your system administrator for further details on permissions with DotNetNuke. WebGrabber may split table rows across two pages, occasionally resulting in a single line of text being split horizontally. This issue occurs because WebGrabber sees the table row as an inline element.
Canvas Fireworks
Creative CSS3 Animation Menus
Sample App with Backbone.js and Twitter Bootstrap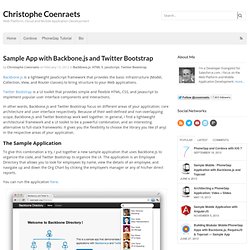 Backbone.js is a lightweight JavaScript framework that provides the basic infrastructure (Model, Collection, View, and Router classes) to bring structure to your Web applications. Twitter Bootstrap is a UI toolkit that provides simple and flexible HTML, CSS, and Javascript to implement popular user interface components and interactions. In other words, Backbone.js and Twitter Bootstrap focus on different areas of your application: core architecture and user interface respectively.
Performance and the Entity Framework
Introduction If you are using the Entity Framework (EF), then you need to understand the best practices for improving its performance, or you will suffer the consequences! Background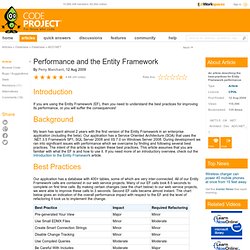 jQuery's replaceWith and using it to create a new insertion mode for Ajax update targets - Building Web Applications
In an Ajax -enabled web application it is possible to update only parts of a web page after submits to the server. This allows for a great user interface experience. To partially update a page, the contents of a DOM node (e.g. a DIV element) are replaced in JavaScript by some HTML that has been returned by the web server.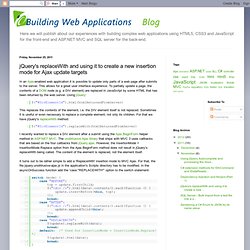 Custom MVC ModelBinder with Complex Models/Objects/Interfaces using built in MVC Validation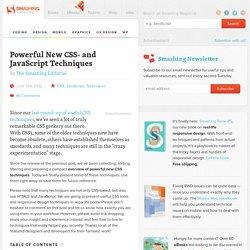 Since our last round-up of useful CSS techniques , we've seen a lot of truly remarkable CSS geekery out there. With CSS3, some of the older techniques now have become obsolete, others have established themselves as standards, and many techniques are still in the "crazy experimentation" stage. Since the release of the previous post, we've been collecting, sorting, filtering and preparing a compact overview of powerful new CSS techniques . Today we finally present some of these techniques.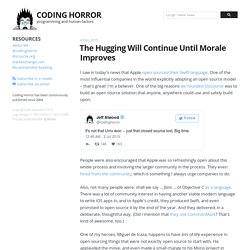 Why Ruby? March 22, 2013 I've been a Microsoft developer for decades now. I weaned myself on various flavors of home computer Microsoft Basic , and I got my first paid programming gigs in Microsoft FoxPro, Microsoft Access, and Microsoft Visual Basic. I have seen the future of programming, my friends, and it is terrible CRUD apps running on Wintel boxes!
K. Scott Allen
Article Archive
New addtions to the 1,000+ jQuery Plugins Directory