Mains
Get flash to fully experience Pearltrees
Am I the only one who was craving flautas/taquitos after seeing this post on The Kitchn last week? They looked amazing! We went through a phase a few years ago where we loved the frozen ones, but now they kind of weird me out so it's been forever since I've had them.
This is one the easiest pasta dishes I make for my family, I make it at least twice a month when I need a quick meal and they all devour it. With just a few ingredients and only one pot, this recipe will put dinner on the table in 15 minutes. I'm really not sure why I haven't posted this sooner, this is the recipe my daughter wants to learn how to make when she is away at college. In fact, as I was photographing this today, she was standing right next to me with a plate and bowl in hand.
This is pure melt in your mouth goodness!!! I was so happy how this turned out. I love broccoli so I may be a little bias...
Make sure to become a follower and like my Facebook page for more great recipes! I made this a few months back and it didn't quite turn out. But that was my fault because I didn't listen to the recipe. We only gave it a rating of 2 stars but I knew this recipe had the potential of being great! So this time around I made the homemade alfredo sauce and shredded my chicken instead of cubed it. That made it so much easier to roll-up.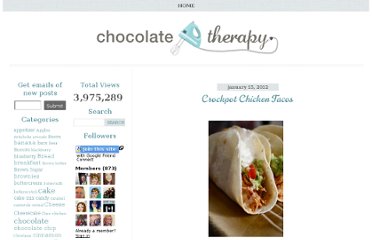 I'll keep this short and sweet: this is one of my all time favorite recipes. If there is one crockpot recipe you need in your repertoire, this is it. But truthfully, after making it once you won't even need the recipe because it's just so darn easy. Three ingredients and almost zero work. The result is a juicy, flavorful shredded chicken that makes some killer tacos. I like to load up my tacos, so they look a bit messy in the pictures.
Every night this week, I have dreamt I was on a beach. White sands, clear blue water, frozen margaritas and the ultimate holiday luxury… fish tacos. There is honestly nothing better than sitting down to a vast table of salty, crunchy, gooey, citrusy fish tacos. Before retiring for a long snooze in the sun. I first discovered them on a trip to Harbour Island earlier this year and have been hooked ever since. Now, seeing we can't all go to the beach, I thought I'd bring the beach to us!
I have a really fun recipe for you! And easy, too. It's hardly any work; the oven does the work for you, but it's a really fun and tasty way to serve chicken for a change. Serve with an Avocado & Fennel Salad , lots of skillet baked potatoes and a little Green Peppercorn Sauce , but that's mainly because I'm seriously addicted to how the sauce tastes on potatoes. This was absolutely delicious! Directions:
A tasty and easy Mexican-style pizza – two crisp tortillas filled with seasoned ground turkey, hearty beans, and then topped with chunky salsa, a three cheese blend, green onions, black olives, and diced ripe tomatoes. Yield: 2 Mexican Pizzas Prep time: 20 min | Cook time: 25 min Ingredients
Hello my dear friends, I want you to do me a favor, ok? Please go to the market today and buy the ingredients and make this. You won't regret it and I think it will become a staple in your home.
pepperoni stuffed chicken $3.66 recipe / $0.91 serving It's true, I usually am not a fan of chicken. I find the flavor and texture to be rather boring.
October 18th, 2008 by katie I love this recipe. It is so fast and easy yet so filling and rich. It is a company worthy dish on a weeknight time budget.