NonBlogDesign 1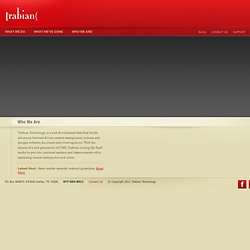 Trabian | Welcome to our site
CMS Development Our CMS allows you to publish pages easily, integrate HTML, and provide a platform for future application development. Website Design We design custom websites starting with the wireframe and integrating your brand using CSS/XHTML for consistency and functionality.
Avalonstar. The Aries Project. By Bryan Veloso.
CLEXUS NEW MEDIA - Home
ShaunInman.com
The Big Noob™ - a Neubix Studios production.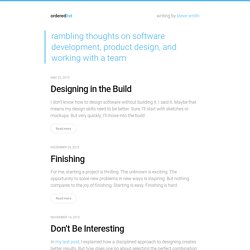 Ordered List by Steve Smith
I had the opportunity to add a couple themes to the recent launch of GitHub Pages . Today I've open sourced the HTML / CSS on GitHub for anyone to use and improve. Since the acquisition , it's time to transition this site back to my own personal blog. I'm so excited to have a place to experiment, write, and design as myself, and not as a business. I'm excited to announce that as of today, the team at Ordered List officially joins GitHub in its quest to build the best developer tools in the world. We're bringing along our talent, our passion, and our products ( Speaker Deck , Gaug.es , and Harmony ).
Dangergraphics.com // Portfolio
adam greenfield's v-2.org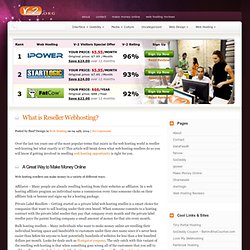 3 Things To Consider When Setting Up Your Own Minecraft Server Posted by fluid*Design in Web Hosting, Web Hosting Questions on 12 23rd, 2013 | No Comments So you want to play minecraft with your friends and get away from the riff-raff you can encounter on the public servers?
Those of you who saw my talks at either Future of Web Design in NYC, or at Webstock in Wellington may remember a segment where I urged delivering value as quickly as possible. In that segment, I compared the act of taking and sharing a photo with Hipstamatic, and the same in Instagram. I posited that one of the biggest reasons for Instagram's runaway success is how quickly you can snap a photo, apply a filter, and share it with the world. It delivers value in three short steps, and it's fun. Here is Instagram's founder and CEO, Kevin Systrom, validating this deliver-value-quickly notion as a key to Instagram's success: "Products can introduce more complexity over time, but as far as launching and introducing a new product in to the market, it's a marketing problem," Systrom tells Fast Company.
Stopdesign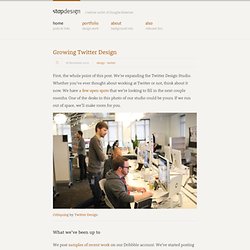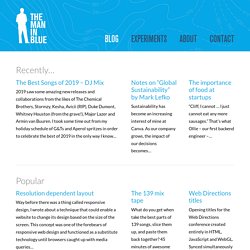 21 January 2013 It's been a while since I did a house music DJ mix, so I thought I'd put together some tunes that I'm feeling at the start of 2013. This one starts off deep, goes vocal and ends on a blissful high, so take a listen, or download all 50 minutes as an MP3 ... continued Popular Entries Articles Elsewhere
The Man in Blue > Distilling fine web design since 1863
Jake Tracey
Let's face facts: delivering content to users is the primary goal of the web. If an application is primarily based on a social function, the content has to be provided by users - a commodity most new applications don't have. Here's a short guide I've written based on my observations and experiences on kickstarting a new web app. Even if you haven't launched a product, prep your potential user base with a few simple e-mails and a promotional site. You've seen these sites before - a simple description of the product and an e-mail submission form will do. If you can afford it, have a professional designer create the branding for your app.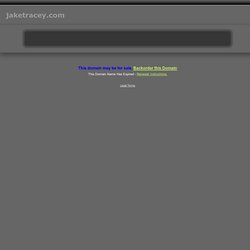 This is Powazek
What We Can Learn from the Twitter Block Fiasco In Community, Twitter on 23 December 2013 An edited version of this article first appeared in Wired.
Rob Goodlatte - Interactive Design, Standards, and Accessibility
Yellowlane | So much time. So little to do.
Surfin' Safari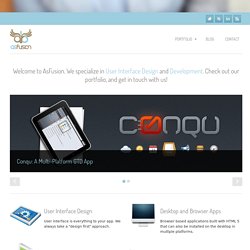 AsFusion ActionScript + ColdFusion
One Pound: Weight Tracking App for Tablets and BB Phones Conqu: A Multi-Platform GTD App One Pound: Weight Tracking App for Tablets and BB Phones Conqu: A Multi-Platform GTD App User Interface Design
You are probably thinking what has Copenhagen in common with a wheel. Well for starters it isn't something from Denmark but from the United States. The wheel got its name because Copenhagen is famous for all its cyclists and being so bicycle friendly. Discover what the Copenhagen Wheel is exactly after the jump.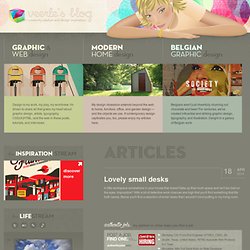 Veerle's blog 2.0 - Webdesign - XHTML CSS | Graphic Design
December 12, 2005 by Luke Wroblewski & Jed Wood Blogs have permeated just about every corner of human interest from arphids to zoology and continue to grow at a furious pace . Despite their popularity, many blogs suffer from interface design shortcomings. Unlike issues of spam and authority, these problems have relatively straightforward solutions that could considerably increase the utility of blog content. Assuming a blog is not filled with spam content (splogs), spam comments, or spam trackbacks, there's often a wealth of information to be found therein: information that is frequently buried deep within archives and comments.
Blog Interface Design 2.0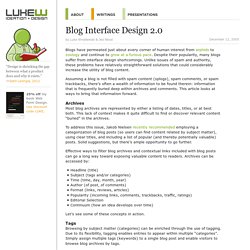 theBar.com
Welcome. Can we help you find something? Browse by Category Brands See all Spirits
I recently put together a personal retrospective that outlines some of the high-level principles I've come to embrace through nine years of interface design. I described these principles as "lessons" to focus on how I came to adopt these principles and why. Lessons are a useful way to think about interface design methodologies and guidelines because not only is the design process complex, it also never really ends. "We now accept the fact that learning is a lifelong process of keeping abreast of change. And the most pressing task is to teach people how to learn." — Peter F. Drucker
Functioning Form - 9 Lessons from 9 Years of Interface Design
Design Eye for the List Guy - SXSW 2006
Download the digest section of each issue for FREE Publication Dates Treehouse is published on the first Monday of every month. Contributors View the list of amazing people involved in our publication. Email me about New Particletree Products and Services. John Resig · Code Trevor Morris · Design Jason Guthrie · Business
Treehouse
Blog Comment Form Design Showcase
Typography for Headlines
The Bivings Report » Web Design Matters.
Silk Icons Preview
Best Sellers : MyFonts
[d'strict] d'strict d'fines d'gital
YAJR (Javascript)
elfURL
Ajax Lessons
NID GALLERY
Visual McDonalds Experience
The InVision Guide to a Healthy Heart
flickrGraph
Web Design Blog by Smiley Cat Web Design