NonBlogDesign 1
Trabian | Welcome to our site. Avalonstar. The Aries Project. By Bryan Veloso. CLEXUS NEW MEDIA - Home. ShaunInman.com. UX Magazine - The User Experience Magazine. The Big Noob™ - a Neubix Studios production. Ordered List by Steve Smith. Dangergraphics.com // Portfolio. Adam greenfield's v-2.org. Stopdesign.
The Man in Blue > Distilling fine web design since 1863. Jake Tracey. This is Powazek. Rob Goodlatte - Interactive Design, Standards, and Accessibility. Yellowlane | So much time. So little to do. Surfin' Safari. AsFusion ActionScript + ColdFusion. Veerle's blog 2.0 - Webdesign - XHTML CSS | Graphic Design. Blog Interface Design 2.0. December 12, 2005 by Luke Wroblewski & Jed Wood Blogs have permeated just about every corner of human interest from arphids to zoology and continue to grow at a furious pace .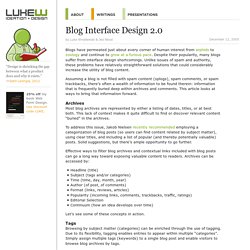 Despite their popularity, many blogs suffer from interface design shortcomings. Unlike issues of spam and authority, these problems have relatively straightforward solutions that could considerably increase the utility of blog content. Assuming a blog is not filled with spam content (splogs), spam comments, or spam trackbacks, there's often a wealth of information to be found therein: information that is frequently buried deep within archives and comments. Design Melt Down. Dynamic Drive CSS Library- Practical CSS codes and examples. TheBar.com. Functioning Form - 9 Lessons from 9 Years of Interface Design. I recently put together a personal retrospective that outlines some of the high-level principles I've come to embrace through nine years of interface design.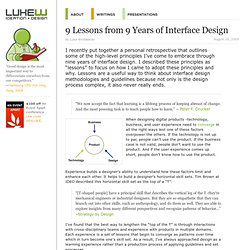 I described these principles as "lessons" to focus on how I came to adopt these principles and why. Lessons are a useful way to think about interface design methodologies and guidelines because not only is the design process complex, it also never really ends. "We now accept the fact that learning is a lifelong process of keeping abreast of change. And the most pressing task is to teach people how to learn." — Peter F.
Drucker. Design Eye for the List Guy - SXSW 2006. Treehouse. Blog Comment Form Design Showcase. 0Google + Previously I put together a showcase of interesting and creative blog comment design.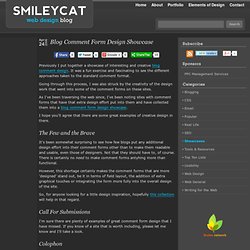 It was a fun exercise and fascinating to see the different approaches taken to the standard comment format. Going through this process, I was also struck by the creativity of the design work that went into some of the comment forms on these sites. As I've been traversing the web since, I've been noting sites with comment forms that have that extra design effort put into them and have collected them into a blog comment form design showcase. I hope you'll agree that there are some great examples of creative design in there. Typography for Headlines. Smiley Cat Weblog - Web design thoughts and commentary. 27Jun2006 Typography for Headlines 0 0Google +0 88 Update 01/30/07: I've put these into a blog so that I can add them more easily. 200 headlines is my next goal!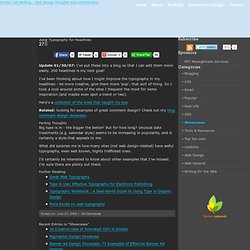 24 ways. The Bivings Report » Web Design Matters. The first ten years of the Internet are over.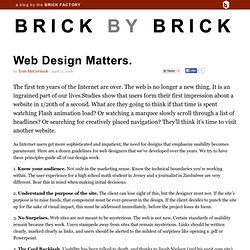 The web is no longer a new thing. It is an ingrained part of our lives.Studies show that users form their first impression about a website in 1/20th of a second. What are they going to think if that time is spent watching Flash animation load? Or watching a marquee slowly scroll through a list of headlines? Or searching for creatively placed navigation? Silk Icons Preview. BrowserCam : Screen capture and Remote Access service for cross platform compatibility testing and HTML design quality assurance. Step by step CSS float tutorial. Floatutorial takes you through the basics of floating elements such as images, drop caps, next and back buttons, image galleries, inline lists and multi-column layouts.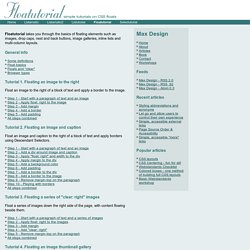 General info Tutorial 1. Floating an image to the right. 300 Images From 1800 Sites. I started gathering little, iconesque web images for myself so that I could compare, contrast, and study the techniques used by graphic artists on the web like Ben Sky.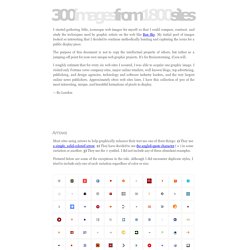 My initial pool of images looked so interesting that I decided to continue methodically hunting and capturing the icons for a public display piece. The purpose of this document is not to copy the intellectual property of others, but rather as a jumping-off point for your own unique web graphic projects. It's for Brainstorming, if you will. Best Sellers : MyFonts. [d'strict] d'strict d'fines d'gital.
YAJR (Javascript) ElfURL. Ajax Lessons. NID GALLERY. Color Schemer | Create matching color schemes at the click of a button. Visual McDonalds Experience. The InVision Guide to a Healthy Heart. FlickrGraph. Web Design Blog by Smiley Cat Web Design.
---