Photographie
Peters, Vincent. MODZIK MAGAZINE / AD : Laurent Burte / Editor : Irina Munz. Sébastien Coindre - PHOTOGRAPHE. Nicolas Buisson Photography.
Audrey GAUTIER | Page d'accueil. JULIE b / make up. Thomas Paquet | Photographer. MANAGEMENT+ARTISTS - PHOTOGRAPHY - DANIEL SANNWALD. Sébastien Coindre - PHOTOGRAPHE. Picture tank | home. Home | Antonin BonnetAntonin Bonnet. Grégoire Alexandre, Advertising - Carole Lambert. Thierry Guerlain - Mixt website - Direction Artistique. Eric Maillet: Still life and Beauty Photographer. Tableaux d'intimité par Anne-Laure Maison. David Parfitt still life photographer. Olivier Jeanne Rose | Still life. The Work of Robert Jaso. Benjamin Hénon - PHOTOGRAPHER. Elena Jasic | PHOTO DONUTS DAILY INSPIRATION PHOTOGRAPHY. Photography by Henryk Lobaczewski | Ben Trovato. Sydney based Henryk Lobaczewski never really planned to be a photographer, let alone a fashion photographer: "- While studying graphic design I got a job straight out of university as an Art Director for Lorna Jane, and they hired me under the pretense that I'd shoot their monthly look books as well.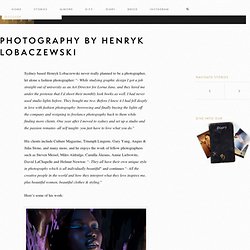 I had never used studio lights before. They bought me two. Khuong Nguyen //// Claude Badée. Lothar Schmid, Mitchell Feinberg, Diego Zitelli, Amélie Lombard, Ludovic Belmonte, Sergio Veranes, Charles Helleu, Chloé Tallot / Magnificent - Patrick Skacha - Agent des Photographes - Artist's Representative - magnificent.fr. :: paco peregrín :: Photographers Limited Editions - PLE - Sina 1, Vienna. Mitchell Feinberg. Werkstette. Emeis Deubel. Grégoire Alexandre. Main : Mikel Uribetxeberria. CLM. Strike a Pose! Maria Djelebova Photography. Мария Джелебова фотография. Raphaël Susitna Photographer - Paris / Annecy / Genève. James Silverman · Photography · Front Page. JULIA FULLERTON-BATTEN. Jongmin kim. Have a seat...
---