Design
FURNITURE :
Gary Chang, Alessi designer
Gary Chang Born in Hong Kong in 1962, Gary Chang graduated in architecture in 1987. He was director of edge 1994-98, then set-up his own office edge (hk) ltd 1998.
Architects and architecture students are increasingly concerned with food production, designing everything from edible schoolyards (Work AC) to pig skyscrapers (MVRDV), as well as entirely new urban landscapes of cultivation (Nicholas de Monchaux's Local Code). But what about an edible architecture—an architecture that is designed to be consumed, whether by humans or our companion species? Back in 2007, I taught a workshop on hybrid programming to architecture students at the Royal Academy in Copenhagen.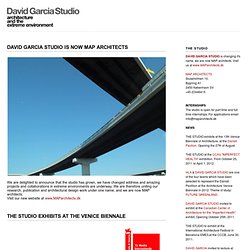 DAVID GARCIA STUDIO
Alvaro Catalán de Ocón - Pielettrico
Naço
In October 2005, Naço set up a design studio in Shanghai. The studio is located in Bridge 8 (phase 2) within the old French Concession, a well-known area with studios for creative designers, advertisers and fashion designers. Naço Shanghai is a young & dynamic design agency with a total of 18 designers including architects, interior designers, product designers and graphic designers, mostly came from Europe. It's a real melting pot where different cultures brainstorm ideas.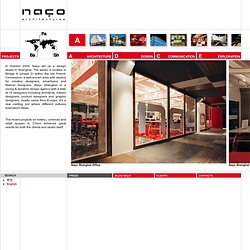 posted on January 24 by DesignAddict. The Museum of Modern Art presents the exhibition 'Frank Lloyd Wright and the City: Density vs. Dispersal'. Frank Lloyd Wright (1867–1959)—perhaps the most influential American architect of the 20th century—was deeply ambivalent about cities.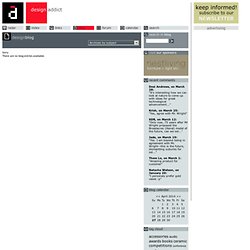 design blog - DesignAddict
Since the early fifties Hundertwasser concerned himself with architecture, and for the rest of his life he pursued his interest in an architecture more fitting to nature and humans. He began his involvement with manifestos, essays and demonstrations, which were later followed by architecture models that he used to illustrate his ideas of an afforestation of the roof, tree-tenants, and the window right, as well as by architectural shapes, such as eye-slit houses, the high-rise meadow house, the spiral house or the pit house. As an architecture doctor he created non-regulated irregularities and barriers of beauty, and in the end he was able to realise exemplary architectural projects where the window right and the tree-tenants exist, as well as the uneven floors, forests on the roofs and spontaneous vegetation. In his architectural work Hundertwasser replaced monotony with variety, and the grid system with the organic and non-regulated irregularities.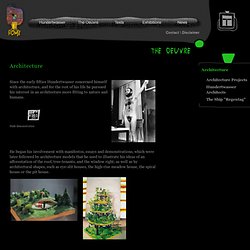 Architecture · Hundertwasser
mut-work in progress
abgc architecture & design
Der Inhalt dieser Website ist nur für den persönlichen Gebrauch und / oder für Bildungszwecke bestimmt. Weder die Texte noch die Abbildungen dürfen in irgendeiner Weise reproduziert werden ohne die Genehmigung der Hundertwasser Gemeinnützigen Privatstiftung. The contents of this site are for personal and / or educational use only. Neither text nor photographs may be reproduced in any form without the permission of The Hundertwasser Non-Profit Foundation.