Psychology
8 Things Everybody Ought to Know About Concentrating - StumbleUpon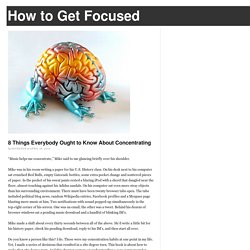 "Music helps me concentrate," Mike said to me glancing briefly over his shoulder. Mike was in his room writing a paper for his U.S. History class. On his desk next to his computer sat crunched Red Bulls, empty Gatorade bottles, some extra pocket change and scattered pieces of paper.
WorkFlowy has become one of three tabs that I keep open in my browser, along with Gmail and Google Calendar. ~ Matt Cutts Head of Webspam, Google Prediction: WorkFlowy and Quora will each revolutionise significant parts of education in the next 5 years. ~ David Langer
Organize your brain.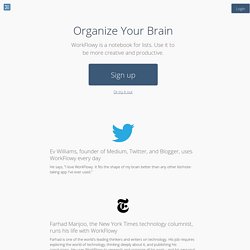 Psych Central - Trusted mental health, depression, bipolar, ADHD and psychology information .
Human Consciousness
10 Psychological States You've Never Heard Of — And When You Experienced Them