Bibles ♱
Quran in English - Clear and Easy to Understand, with Audio.
The New King James Version (NKJV
Chapter Three Contents: Nicodemus and the new birth. The last testimony of John the Baptist. Characters: God, Jesus, Holy Spirit, Nicodemus, John the Baptist, Moses, John's disciples. Conclusion: Since the natural man, however gifted, moral, or refined, is absolutely blind to spiritual truth and impotent to enter the kingdom, a new birth through Christ as the channel and the Holy Spirit as the power is an absolute necessity. Heaven is a prepared place for a prepared people.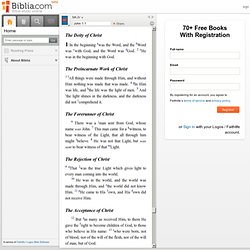 Message Hub
Study Guide Main List
Barnes' Notes on the Bible Think not that I am come ... - Our Saviour was just entering on his work. It was important for him to state what he came to do. By his setting up to be a teacher in opposition to the scribes and Pharisees, some might charge him with an intention to destroy their law, and to abolish the customs of the nation.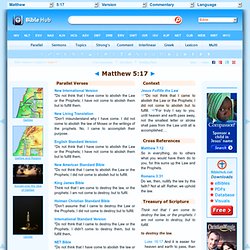 Matthew 5:17 "Do not think that I have come to abolish the Law or the Prophets; I have not come to abolish them but to fulfill them.