Class Resources
Puzzles, Games, Brain Teasers, Free Games for Kids: Free Puzzles, Online Puzzles. 7 Ways to Collect Student Work in an #iPad Classroom #staar. Next week, I'll be facilitating a short one-hour workshop on a topic that is deceptively simple on a computer, but can be complex on an iPad--how to get student work off an iPad in a place where the teacher can get to it in ONE place.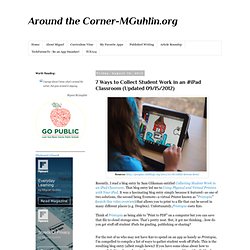 This short blog entry tries to offer some solutions. Let me know what you think, ok?
Flashcards
Visuals for Foreign Language Instruction  1 to 20  of  467 hits. More Spanish. I am working on a series of blog posts for the summer called Five for Friday.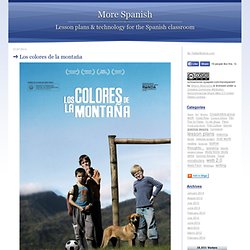 Sorry this one is a little late. In addition to the digital ways that I assess oral work, I have several informal ways of checking my students' speaking skills. I don't want to stifle emerging communicative skills by taking off points for mistakes, so most of these checks are based on effort rather than accuracy. More than six ways of using technology in language teaching. This week, the discussion question over on the iTDi blog is I'll be honest … I sort of expected that all of the posts (except for my own) would gush about the wonders of technology in teaching.
I know that's a dreadful generalization, but almost all of this week's authors are digital natives, and quite tech savvy. This generalization sounds worse and worse, doesn't it, especially when I that the whole digital native and immigrant distinction is rarely worth the space used to describe it. But sometimes, in online networks, saying anything cautionary about using technology in teaching seens about as popular as saying anything favorable about coursebooks.
Portfolios
9 Places to Find Creative Commons & Public Domain Images. When students create multimedia projects they might be tempted to simply do a Google Images search and use the first images they see.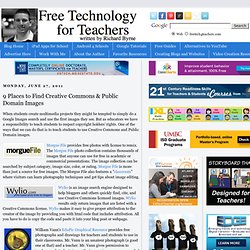 But as educators we have a responsibility to teach students to respect copyright holders' rights. One of the ways that we can do that is to teach students to use Creative Commons and Public Domain images. Morgue File provides free photos with license to remix. Ten Tips for Engaging Underperforming Students. Guided by research, educators at Cochrane Collegiate have homed in on ten top teaching methods, and teachers receive weekly PD to help them implement the practices.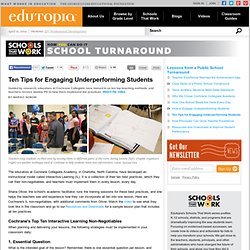 Watch the video. Teachers keep students on their toes by moving them to different parts of the room during lessons (left). Graphic organizers (right) are another technique used at Cochrane to help students learn new information. Credit: Zachary Fink. Flashcards. Flashcard Search. 100+ Funny Photos Taken At Unusual Angle [Humor] They say a picture is worth a thousand words, but sometimes this ain't exactly right.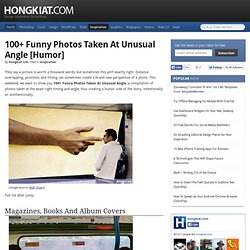 Distance overlapping, positions, and timing can sometimes create a brand new perspective of a photo. This weekend, we want to show you 100+ Funny Photos Taken At Unusual Angle, a compilation of photos taken at the exact right timing and angle, thus creating a humor side of the story; intentionally or unintentionally. Clipart | Free Icons | IconBug.com. Home – TagMyDoc. Quizlet. QR-Code Generator.
Wordle Word Clouds. My Site Resources. Simply learn.
---