DIY
Kaytucky Chicken. I have a really fun recipe for you!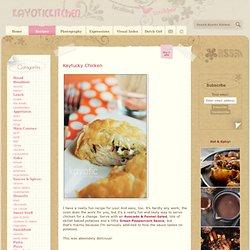 And easy, too. It's hardly any work; the oven does the work for you, but it's a really fun and tasty way to serve chicken for a change. Serve with an Avocado & Fennel Salad, lots of skillet baked potatoes and a little Green Peppercorn Sauce, but that's mainly because I'm seriously addicted to how the sauce tastes on potatoes. Style Scrapbook: DIY: YELLOW CLUTCH. March 19, 2011 in Uncategorized by Andy And because I like keeping my word, here is the how.to.make.this.bag step-by-step… C'mon, its Saturday, you have no school, no work, you probably have a party later today, but you are free right now, so get the fabric, scissors, pins and let the party begin!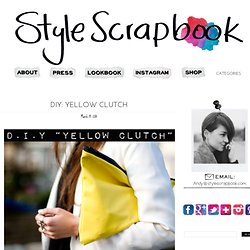 , then, you take your new clutch to tonight's party? DIY Proenza Schouler Scroll Necklace. Were you blown away by Proenza Schouler's entire Fall 2011 Collection as much as we were?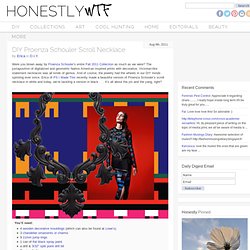 The juxtaposition of digitalized and geometric Native American inspired prints with decorative, Victorian-like statement necklaces was all kinds of genius. And of course, the jewelry had the wheels in our DIY minds spinning ever since. Erica of PS I Made This recently made a beautiful version of Proenza Schouler's scroll necklace in white and today, we're tackling a version in black . . . it's all about the yin and the yang, right? Diy Couture Tshirt Dress.
Mark the middle point of this elastic by folding it in half and putting in a pin at the fold.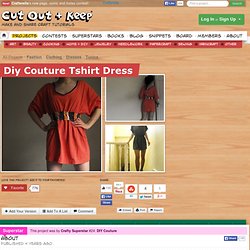 Position your elastic over the line you marked on your T-shirt. Put the sewing machine foot - and needle - down on top of them. With your right hand, gently pull the elastic towards you so the pin reaches the side seam of your T-shirt. DIY Box Braid Necklace. The moment we saw Phillip Lim's Box Braid Collar Necklace, we were immediately overcome with a wave of nostalgia.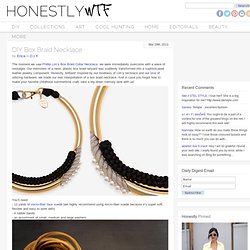 Our memories of a neon, plastic box braid lanyard was suddenly transformed into a sophisticated leather jewelry component. Honestly, brilliant! Simple DIY Statement Necklace | The Adventures of an Urban Socialite™ DIY Turband. DIY Gretchen Jones Necklace A couple of months ago, while visiting New York, we met the lovely Gretchen Jones and were fortunate enough to spend an entire day crafting in her über charming Brooklyn apartment.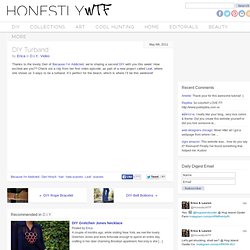 Not only is she […] DIY Woven Chain Bracelet Chain link bracelets, with colorful threads woven through them, have been popping up here and there. We adore Aurèlie Bidermann's Do Brazil bracelets and thought it was about time we graduate to the ultimate "grown-up" friendship bracelet. […] Alana Taylor. DIY Hipster T-Shirt Scarves grab some cotton t-shirts you don't wear anymore. larger sizes tend to work better as do non-ribbed shirts with no side seams. small logos on the shirts work fine, too.grab a pair of fabric scissors if you have them, otherwise any scissors will do.lay the shirt out on a flat table in front of you.cut the hem off the bottom and put it aside.cut the shirt into 1-1 1/2 " horizontal strips all the way up to the armpit.grab 3-4 shirt strips in both hands, and gently stretch them out. the strips will naturally curl into themselves.once you have done this with many of the strips, it is time to get creative. try draping them, wrapping one end with excess fabric, combining colors, braiding them, attaching beads, pins, old jewelry, etc.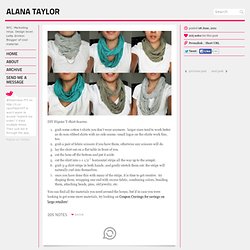 You can find all the materials you need around the house, but if in case you were looking to get some more materials, try looking on Coupon Cravings for savings on large retailers! DIY Collar Tips. You probably have guessed by now that we have a major soft spot for almost all things western . . . bolos, cowboy boots and the like.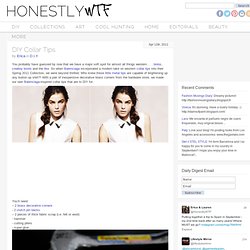 So when Balenciaga incorporated a modern take on western collar tips into their Spring 2011 Collection, we were beyond thrilled. Who knew these little metal tips are capable of brightening up any button up shirt?! With a pair of inexpensive decorative brass corners from the hardware store, we made our own Balenciaga-inspired collar tips that are to DIY for. DIY Luv Aj Handpiece. When the lovely Amanda Thomas of Luv Aj offered to show us how to DIY her signature handpiece, we were ecstatic!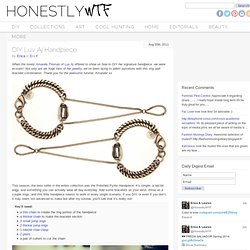 Not only are we huge fans of her jewelry, we've been dying to adorn ourselves with this ring and bracelet combination. Thank you for the awesome tutorial, Amanda! DIY Minaudière. I have an awful habit of losing sunglasses.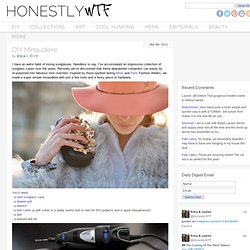 Needless to say, I've accumulated an impressive collection of sunglass cases over the years. Recently we've discovered that these abandoned containers can easily by re-purposed into fabulous mini clutches! Inspired by those spotted during Milan and Paris Fashion Weeks, we made a super simple minaudière with just a few tools and a fancy piece of hardware.
Open the sunglass case and drill a hole in the top center. DIY Bolo Tie. Many years ago, we might have shunned the idea of wearing bolos but nowadays we couldn't be more obsessed with these western neckties! Worn pulled up against a buttoned up collared shirt or loose as a necklace, bolos are our must have accessory of the moment. Inspired by recent street style sightings, magazine editorials, and a few designers who have embraced this western inspired trend, we put together an easy bolo tie tutorial that we hope you'll love. DIY Rope Bracelet. Climbing rope? Bracelets? Count us in. Inspired by Miansai's colorful, stackable and adjustable rope bracelets, we were determined to add another do-it-yourself bracelet to our growing collection. DIY Door Knocker Belt.
After discovering lion drawer pulls at the hardware store a few weeks ago, we were immediately reminded of this vintage Moschino jacket spotted on Jane of Sea of Shoes. They were obviously too amazing to pass up and we knew we had to incorporate the mini door knockers into a DIY. Luckily, we were able to track down the same lion head drawer pulls online so now you can join in on the fun! You'll need: Start by placing the drawer pulls along the backside of the belt and place them to your liking.
---