History
Heliga Birgitta, Sainte Brigitte. 7 Lost Bodies of Work (That Would Have Changed Everything) History has one hell of a chronic problem when it comes to keeping some of the greatest triumphs in human achievement safe from the triumphs of greater assholes.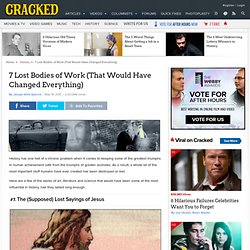 As a result, a whole lot of the most important stuff humans have ever created has been destroyed or lost. Here are a few of the works of art, literature and science that would have been some of the most influential in history, had they lasted long enough. The (Supposed) Lost Sayings of Jesus The Q Document, if it exists, is probably the single most influential thing recorded, like, in the history of ever.
History.com — History Made Every Day — American & World History. Top 10 Mysteries of the First Humans | Human Origins | Ardi, Hobbits & Neanderthals.
Mythology. Creation Story in Norse Mythology. Ancient skeletons discovered in Georgia threaten to overturn the theory of human evolution. By David Derbyshire Updated: 12:26 GMT, 9 September 2009 For generations, scientists have believed Africa was the cradle of mankind.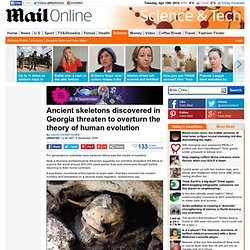 Now a stunning archaeological discovery suggests our primitive ancestors left Africa to explore the world around 800,000 years earlier than was previously thought before returning to their home continent. History: Ancient History in-depth. Dinosaurs: The Natural History Museum's Dino Directory. Facts.
---