Produktivitet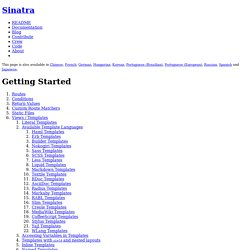 This page is also available in Chinese, French, German, Hungarian, Korean, Portuguese (Brazilian), Portuguese (European), Russian, Spanish and Japanese.
Sinatra: README
Pearltrees is the first and largest social curation community on the Internet.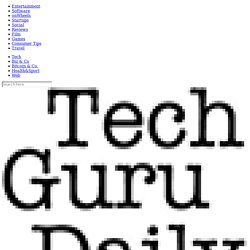 ZSH-LOVERS(1)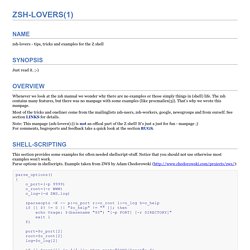 zsh-lovers - tips, tricks and examples for the Z shell Whenever we look at the zsh manual we wonder why there are no examples or those simply things in (shell) life. The zsh contains many features, but there was no manpage with some examples (like procmailex(5)).
Tips for Having Great Virtual Meetings
(Editor's note: The following post is an excerpt from the book The Collaboration Imperative: Executive Strategies for Unlocking Your Organization's True Potential by Ron Ricci and Carl Wiese. Ron Ricci is the vice president of corporate positioning and has spent the last decade helping Cisco develop and nurture a culture of sharing and collaborative processes. In addition, he has spent countless hours with hundreds of different organizations discussing the impact of collaboration.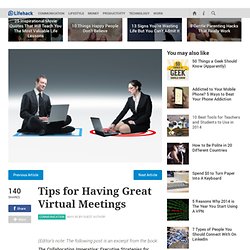 17 powerful bookmarklets for your iPhone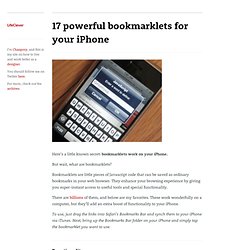 Here's a little known secret: bookmarklets work on your iPhone. But wait, what are bookmarklets? Bookmarklets are little pieces of Javascript code that can be saved as ordinary bookmarks in your web browser.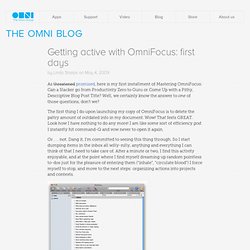 As threatened promised, here is my first installment of Mastering OmniFocus: Can a Slacker go from Productivity Zero to Guru or Come Up with a Pithy, Descriptive Blog Post Title? Well, we certainly know the answer to one of those questions, don't we? The first thing I do upon launching my copy of OmniFocus is to delete the paltry amount of outdated info in my document. Wow!
Getting active with OmniFocus: first days - Blog
I LOVE OmniFocus for my iPhone, iPad, and Mac! One of the 5 phases of getting things done is "Capture" it is imperative that you have the ability to quickly capture things directly to inbox with minimal fuss. In the past I've used a Levenger pocket briefcase and note cards because it was quicker to pull out a note card and jot down a note than to open an app on my phone and click new item. Ideally there would be a "Capture" icon on my iPhone homescreen that would take me instantly to the "Quick Entry in Inbox" action. Turns out this is totally doable! If you type omnifocus:///add into mobile safari it takes you right to that screen.
How to create a "Capture to inbox" icon