Blender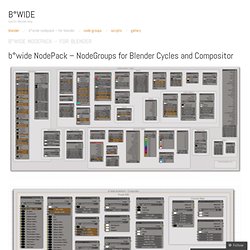 b°wide NodePack – for Blender | b°wide
Here is my hand picked selection of NodeGroups i've created over the past 2-3 years.
The next entry in this series is a much improved version of my procedural wood.
» Procedural wood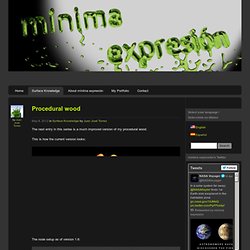 » Procedural rust
The first entry in this Surface Knowledge series will be the now fully procedural metal rust material. This is how it looks: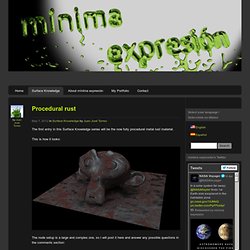 » Procedural orange skin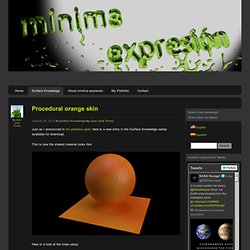 Just as I announced in my previous post , here is a new entry in the Surface Knowledge series available for download. This is how the shared material looks like: Here is a look at the node setup: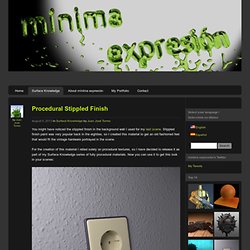 You might have noticed the stippled finish in the background wall I used for my last scene . Stippled finish paint was very popular back in the eighties, so I created this material to get an old fashioned feel that would fit the vintage hardware portrayed in the scene.
» Procedural Stippled Finish
Alpha Rest Room in 3D World Magazine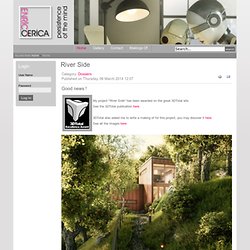 Home
Gallery - Painter loft
chocofur! / Furniture
In this tutorial you will discover: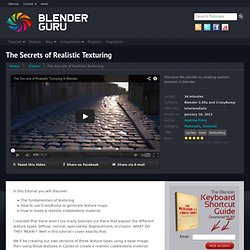 The Secrets of Realistic Texturing
Create a interior scene
Create modern architecture
BLENDER-MATERIALS.COM | materials, render engines and more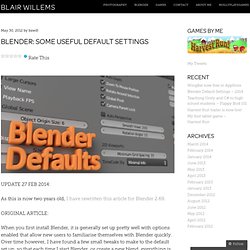 When you first install Blender, it is generally set up pretty well with options enabled that allow new users to familiarise themselves with Blender quickly. Over time however, I have found a few small tweaks to make to the default set up, so that each time I start Blender, or create a new blend, everything is configured how I prefer it.
Blender: some useful default settings « blair willems
Virtual Aircraft: A book about programming
Sebastian König on Vimeo
"Fly" - Blender Modeling Timelapse on Vimeo
Blender 3D Tutorials : CG Masters
Hi again! It's time for sculpting!! Blender has a quite nice sculpting system, very easy to use, and very powerful. On this tutorial, we'll take a tour over the basic tools, and how to use the Sculpt Mode. Then, at the end of the video, I've put a quick timelapse, showing the main workflow for sculpting in blender a simple character's face.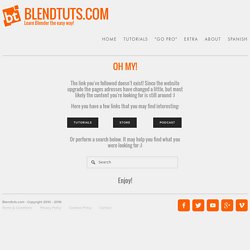 Basic Sculpting in Blender 2.5 | www.blendtuts.com
Blender Fundamentals: First drop of videos now available to the public
DVD training 7: Blend & Paint - Blender Store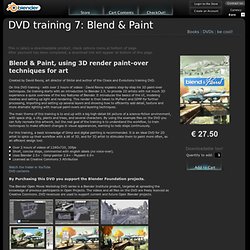 Created by David Revoy, art director of Sintel and author of the Chaos and Evolutions training DVD. On this DVD training - with over 2 hours of videos - David Revoy explains step-by-step his 3D paint-over techniques. De training starts with an introduction to Blender 2.5, to provide 2D artists with not much 3D experience a quick overview of the key features of Blender.
BlenderBasics_4thEdition2011.pdf (Objet application/pdf)
BenSimonds.com