Meal plans and menus
What to Eat Before You Work Out. If you are a moderate exerciser who tends to perform better with a pre-exercise snack, there are two ways to handle your needs: 1.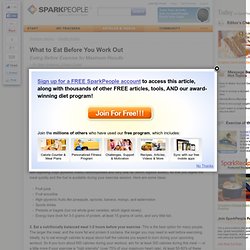 Eat a small (100- to 200-calorie) snack about 30 minutes before you work out. This snack should include fast-digesting (high glycemic index) carbohydrates and very little fat (which digests slowly), so that you digest the meal quickly and the fuel is available during your exercise session. Here are some ideas: This Week's Menu. Whole-Wheat Chocolate Chip Oatmeal Cookies So, my ambitious plans to do a lot of freezer cooking last week pretty well fell flat on their face.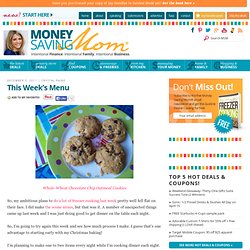 I did make the scone mixes, but that was it. This week's menu. Bread Machine Cinnamon Rolls BreakfastsGranola bars Toasted bagels, scrambled eggs Steel cut oats with dried cranberriesCookie Dough Baked Oatmeal Waffles, scrambled eggs OatmealBread Machine Cinnamon Rolls, scrambled eggs, fruit saladLunchesLunch at Sonic PB&J, carrot sticks, apple slices Annie's macaroni & cheese, peas, pears Hamburgers, sweet potatoes, fruit salad Tossed salad with hard-boiled eggs, feta cheese, and dried cranberries Leftovers x 2SnacksHomemade Salted Caramel Mocha Fruit/veggies Cheese/crackersDinnersCheesy Chicken and Rice Bake, tossed salad Baked Tilapia, sweet potatoes, steamed broccoliCheesy Vegetable Chowder, Bread Machine Buttery Rolls, apple slicesBroccoli & Cheddar Quiche with Brown Rice Crust, fruit salad, Bread Machine Buttery RollsSlow Cooker Chicken TacosChicken and Black Bean Enchilada Casserole, steamed veggies Dinner with extended family.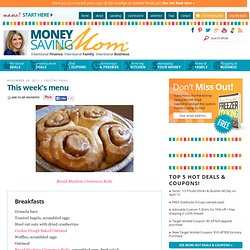 Food seasons
Recipies. Bountiful Baskets Roundup & Menu Plan October 9, 2011. Bountiful Basket October 8, 2011 Hi – It's Heather here, filling in for Nisha while she vacations at Disneyland with her family.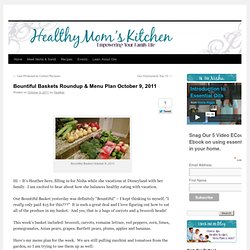 I am excited to hear about how she balances healthy eating with vacation. Reader.
---