Meal plans and menus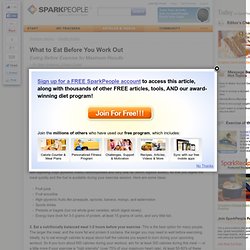 If you are a moderate exerciser who tends to perform better with a pre-exercise snack, there are two ways to handle your needs: 1. Eat a small (100- to 200-calorie) snack about 30 minutes before you work out. This snack should include fast-digesting (high glycemic index) carbohydrates and very little fat (which digests slowly), so that you digest the meal quickly and the fuel is available during your exercise session. Here are some ideas:
What to Eat Before You Work Out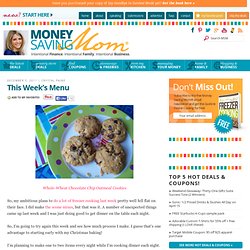 This Week's Menu
Whole-Wheat Chocolate Chip Oatmeal Cookies So, my ambitious plans to do a lot of freezer cooking last week pretty well fell flat on their face. I did make the scone mixes, but that was it.
For the first time in 10 weeks, I'm actually able to make a menu! I'm taking it slow, because I'm still not feeling 100% (and probably won't for a while), but at least I can handle the sight of food again Monday-Cilantro Lime Slow Cooker Chicken Tacos, Green Salad Tuesday-Sausage and Peppers, Green Salad, Ciabatta Bread Wednesday-Out to Eat Thursday-Leftovers Friday-Grilled Greek Chicken, Pita Bread, Green Salad http://www.savemoneylivejoyfully.com/2011/09/family-favorite-recipes-grilled-greek.html Saturday-Spaghetti and Meatballs (from the freezer), Green Salad
This week's menu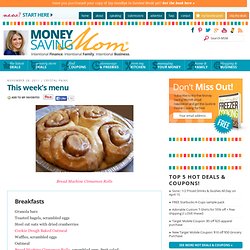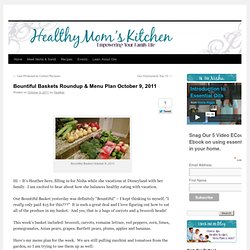 Bountiful Basket October 8, 2011 Hi – It's Heather here, filling in for Nisha while she vacations at Disneyland with her family. I am excited to hear about how she balances healthy eating with vacation.
Bountiful Baskets Roundup & Menu Plan October 9, 2011
Reader