Grains
A Big Mouthful : Roasted Tomato, Asparagus and Zucchini Couscous with Lemon Basil Dressing. Summer has officially begun.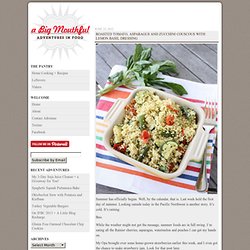 Well, by the calendar, that is. Last week held the first day of summer. Veggie 101: Quinoa-and-Apple Salad with Curry Dressing. Somehow I just KNEW this was going to be amazing as soon as I laid eyes on the recipe.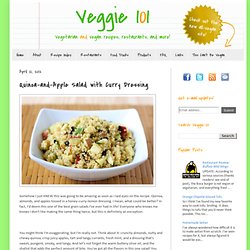 Quinoa, almonds, and apples tossed in a honey-curry-lemon dressing. I mean, what could be better? In fact, I'd deem this one of the best grain salads I've ever had in life! Everyone who knows me knows I don't like making the same thing twice, but this is definitely an exception. You might think I'm exaggerating, but I'm really not. 7 Fat-Fighting Dinner Recipes. Roasted Beet & Quinoa Salad with Chipotle Cinnamon Dressing. Several years ago G was on a quinoa kick.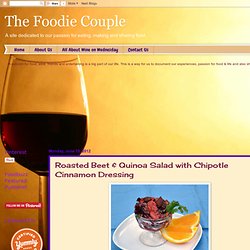 He made these amazing quinoa and chirozo stuffed peppers that we were eating pretty regularly for awhile. Then we sort of moved away from using it, using cous cous in it's place I guess.Not a purposeful switch just kind of happened. But quinoa is back on our radar again. And we're glad it's such a great whole-grain (for when we are eating grains) ready in 15-20 minutes and gluten-free ...what's not to like? BBQ Chicken Quinoa Salad | Coffee & Sunshine. Recently, the weather has been nice enough for backyard dinners.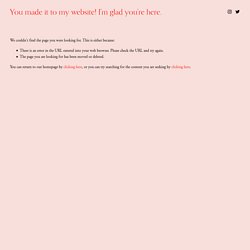 I'm fortunate enough to live in an apartment with a truly amazing backyard, complete with an orange tree and patio furniture—perfect for dinners outside. It's also the busiest few weeks of my school year, as I frantically finish the end of the school business. Griddled Polenta Cakes with Caramelized Onions, Goat Cheese, and Honey recipe from food52.
Author Notes: This recipe was inspired by one of my favorite tapas- fried goat cheese with onion jam and honey.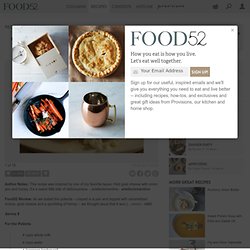 It's a sweet little bite of deliciousness. - arielleclementine - arielleclementine Food52 Review: As we tasted this polenta – crisped in a pan and topped with caramelized onions, goat cheese and a sprinkling of honey -- we thought aloud that it would make a great first course. No, a small lunch! Chile and Corn Quinoa | fromscratchtoplate. Okay, okay…this is very similar to my other corn quinoa recipe.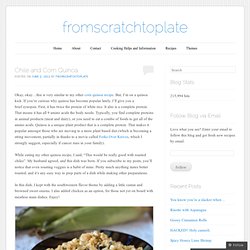 But, I'm on a quinoa kick. If you're curious why quinoa has become popular lately, I'll give you a brief synopsis. First, it has twice the protein of white rice. Попробуем жизнь на вкус?! - Котлеты с киноа и булгуром. Scroll down for recipe In English.
Еще в марте проходил интереснейший Флешмоб под предводительством Наташи. Компания Ярмарка разыгрывала призы за лучшее ризотто. Я тогда собиралась на Кубу и, абсолютно не рассчитывая на победу, отправила свой рецепт Наташе. Farro with Feta Cucumbers and Sun-dried Tomatoes. This salad combines farro with Mediterranean ingredients such as cucumbers, lemon juice, feta and mint for a delicious salad you can enjoy as a side dish, or even for lunch!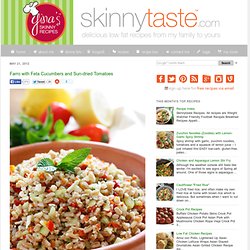 This would be perfect to bring to a potluck or BBQ this Memorial Day weekend! I'm in love with farro these days and I have been having so much fun cooking with it lately. Farro is an ancient Italian grain that has been rediscovered and is becoming quite popular in the US and throughout Europe. OATS KOZHUKATTAI EASY | OATS BREAKFAST RECIPE ~ Rak's Kitchen. This oats kozhukattai can be made so easily and quickly.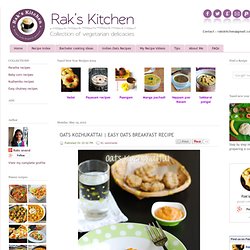 I made it just like the aval kozhukattai and it turned out good. I tried this for the first time and will be in the menu here after. 17 Healthy Grains You've Never Heard Of. For many, whole grains are an important part of a healthy diet.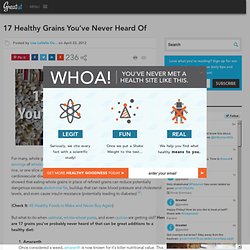 Consuming at least three servings of whole grains per day (one serving is a ½ cup of cooked grains like oatmeal or rice, or one slice of bread) can reduce the risk of some chronic health conditions like cardiovascular disease, type II diabetes, and certain cancers . One study also showed that eating whole grains in place of refined grains can reduce potentially dangerous excess abdominal fat, buildup that can raise blood pressure and cholesterol levels, and even cause insulin resistance (potentially leading to diabetes) . (Check It: 45 Healthy Foods to Make and Never Buy Again) But what to do when oatmeal, whole-wheat pasta, and even quinoa are getting old?
Basil Quinoa Cakes. Once in a while, everyone needs a little cake in their lives. But that doesn't necessarily mean the chocolate-based, sugar-filled kind. These little patties are packed with flavor from the fresh basil and Parmesan cheese, are fun to make, and make the perfect portable lunch or dinner for a springtime picnic. Como.come.cami - Ensalada de Arándanos y Queso de Cabra / Cranberry Goat Cheese Salad.
Beetroot Quinoa. Quinoa has become a part of our regular diet nowadays, I have started replacing rice with it in many of our dishes. Even if I am not preparing a special dish with it, we mix it (instead of rice) with dal or sambar. I made this simple but yummy combination of quinoa with beetroot, if you like beetroot rice or curry, then you should definitely give this a try..Need To HaveCooked Quinoa - 2 cupsBeetroot - 1 small gratedFresh peas - 1/2 cupMustard Seeds - 1/2 teaspoonUrad Dal - 1 teaspoonAsafoetida - 1/4 teaspoonCurry Leaves - 10 Chopped Coriander - 1/4 cupTo GrindGreen Chillies - 3Grated Ginger - 1 tablespoonCoriander Seeds - 1 tablespoon Method Cook quinoa according to the instructions on the packet and cool it.
Grind the ingredients given under to grind. Apricot and Almond Quinoa. Apricot and Almond Quinoa When I'm on a cleanse, I rarely eat any grains. That's fine by me because usually I'm so focused on creating a flavorful main dish- either meat-based or vegetarian- that the grain is nothing more than an afterthought. Most often I just toss some brown rice or quinoa into the rice cooker and call it good. Healthy? Quinoa w/ Mango and Raisins. | Something Like That. For the past couple years, I've tried to get on the quinoa bandwagon. It seems quinoa keeps popping up everywhere! As a side dish, in meatloaf, as a coating for fried or baked meats…you name it. Tomato Basil Quinoa. Certainly sounds like summer, right? We generally think of basil as a food we only eat in the summer when our basil plant is in full glory. However, our farmer's market has some lovely hydroponically grown fresh basil…and our office has some baby basil in an AeroGarden – two perfect excuses to splurge on our favorite herb!
Pineapple Fried Quinoa. ..In a Boat. Sun-Dried Tomato Polenta Recipe. Moroccan Quinoa Salad. Pumpkin farro faux-sotto « Doughing Rogue. Israeli couscous | Makeunder My Life. Citrus-Pomegranate Quinoa Salad. Spicy Quinoa Patties | SoupAddict.com. Millet recipe.
---