Blog addictions
Each Craft Weekend we have super amazing sponsors that send their product for our guests. it is like christmas morning for everyone! These companies are run by creative women using their gifts. i love being able to show you all kinds of products each month. THANK YOU to all of the generous sponsors! Craft Weekend loves you. Click over to ALL the shops and definitely take advantage of those discounts! Lemonade Makin' Mama Use the code MEG10 for 10% off your order in her shop!
whatever » Blog
Fresh-Season.com - Bloggin' and Tweetin' from Canada's capital!
I know I haven't been around lately (feel free to scold me), but things have been a little crazy around here. I just got back from my trip to Newfoundland (which was amazing and well over-due), so I'm still going through the post-vacation adjustment. But one thing I wanted to share with you guys is some of my new beauty favourites. I've been trying a lot of new products in the last month or so (especially hair products!), and I've been pretty pleased with all of them. Here are just a few of my favourites: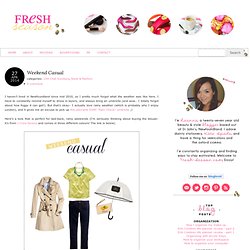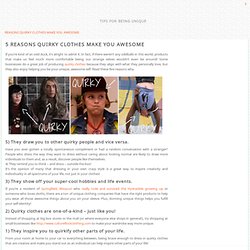 CHEYENNE meets CHANEL - hollywood california fashion blog
If you're kind of an odd duck, it's alright to admit it. In fact, if there weren't any oddballs in this world, products that make us feel much more comfortable being our strange selves wouldn't even be around! Some businesses do a great job of producing quirky clothes because they align with what they personally love, but they also enjoy helping you be your unique, awesome self. Read these five reasons why. 5) They draw you to other quirky people and vice versa. Have you ever gotten a totally spontaneous compliment or had a random conversation with a stranger?
vickichristine
but it didn't! and thanks to a second time out here, the cable guys finally set us up! holler!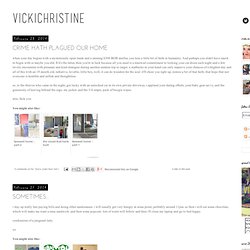 Mish Lovin' Life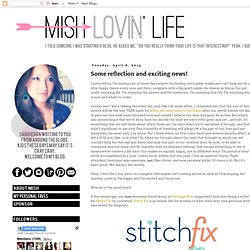 I gotta tell ya, yesterday's half marathon was NOT the easiest run of my life. It was definitely one of the prettiest, but there were hills, hills, and more hills. And well, let's just say Mo and I live in one of the flattest neighborhoods in San Francisco so "hill training" was not exactly incorporated in our runs for the last 3 months. Anyway, I can't tell you how happy I am for this chapter of my life to be over. I started training for this back in January and for those of you that have run these things know, you have to be very dedicated and committed to a running schedule if you want to be able to run these events all the way through successfully.
Apr 10 You Can't Always Get What You Want I almost titled this "Stop adding this stuff to your cart Jordan, you can't ever have it." We are starting to actually decorate the house (way more fun than redoing the electrical!) But lately I've found that I'll narrow down my lighting options for the dining room and realize none of the tabs open in my browser cost less than $9000.
Oh Happy Day!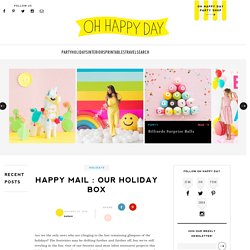 Love Taza | Rockstar Diaries
today we have teamed up with our partner, naturebox, to giveaway a 6-month snack subscriptions to two lucky readers! (details at the end of this post.) so far on this family trip, we have clocked in something like 15+ hours of travel time in the car (not including the plane, just talking time buckled up on the good old fashioned highway…) that's a lot of time on the road for a family that doesn't even own a car back home in manhattan. for the most part, it's been alright. in my opinion, in order to have a successful road trip of any kind, you need three things. one:: good company, two:: good music, and three:: lots and lots of good snacks! while i'm usually stocking up on junk food and soda for the car, i am proud to say i've been working hard on ditching these kinds of food habits for better ones over the past several months. we brought along a bunch of fresh veggies and fruit and several snack bags from naturebox for the drive this trip and so far they have been a huge hit!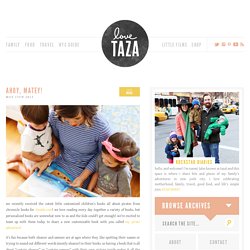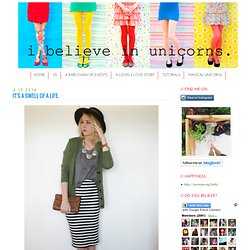 I love being married, but anyone who's been married for more than a few years likely knows that you can start to get stuck in a rut and date nights quickly turn to lots of dinner and a movies... Just before we headed off to Costa Rica I was contacted by the fab people at Phoenix POGO. They told me about their awesome year passes and offered to let Marcus and I test them out.
i believe in unicorns.
champagne bubbles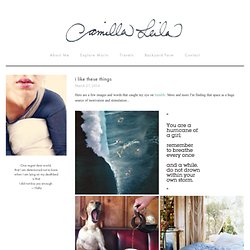 I'm sitting in my sweet little home, with a cup of coffee, homework done (and done well, which is quite an improvement this semester), heater on, and a sleeping pup under my feet. I'm in heaven. The only thing missing is Damir, but I think if he was here in this moment I just might burst. Odin is such a love, it's hard to articulate.
71 Toes
It was my favorite Christmas Eve yet. And we spent it here: ...and here: Without any hoopla or decorations.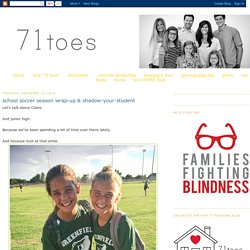 noFrills
I am a dreamer of possibilties. The creation of something that will eventually be beneficial to my family is so rewarding. Watching something I made with my own hands change, grow, progress and develop, has been very satisfying and despite it's simplicity, quite exciting. Over the last few weeks we have built garden bed edging using treated pine, prepared soil, grown seedlings, planted, watered, watched and waited...patiently. My experiences and things I learnt growing up on a small farm played a part in the inspiration and provided some of the skills used in creating our vegetable garden and will aid in other changes that are still to come for my family and our acre property.
Fashion Inspiration: Beyoncé's Visual Album (Part 1) Photo Credit – Screenshot Is it really Queen B's world and we're all just living in it?
College Fashion - Tips, trends and style for students.
College Candy
Zo they say.
This Tumblr was taken by force by Zoe Foster, hereby referred to as "me," or "I," or "Your festive highness." If you'd like to read more of my Nonsense About Nothing, read my weekly page in Sunday Style magazine. If you like tootin' round with makeup and hair, you will enjoy my beauty blog at fruitybeauty.com.au
Shop Sweet Lulu - Home
Lauren Conrad
StoryMonster
I work with a lot of guys, which means I get to hear some pretty good scout camp stories. The best ones involve fire, infectious diseases, and cold-weather camping. My director once told a story about how he went snow caving. He got pretty good and sweaty digging the cave, so when he went to bed that night, he laid his pants out to dry. Of course they froze stiff overnight...so not only did he have to wear wet pants, but they were freezing. This was the exact moment he decided to become an artist.