Blog addictions
vickichristine
Mish Lovin' Life
Oh Happy Day!
Love Taza | Rockstar Diaries
angela hardison.
~~~W.I.L.D~~~
i believe in unicorns.
Career & Money | SavvySugar
champagne bubbles
71 Toes
noFrills
College Fashion - Tips, trends and style for students.
College Candy
Zo they say.
This Tumblr was taken by force by Zoe Foster, hereby referred to as "me," or "I," or "Your festive highness." If you'd like to read more of my Nonsense About Nothing, read my weekly page in Sunday Style magazine. If you like tootin' round with makeup and hair, you will enjoy my beauty blog at fruitybeauty.com.au
StoryMonster
unnamed pearl
CHEYENNE meets CHANEL - hollywood california fashion blog
Shop Sweet Lulu - Home
YAY!! WE funded Diana's Water Project!!!that is awesome. makes me so happy. ahhhhh. thank you to everyone who donated!
whatever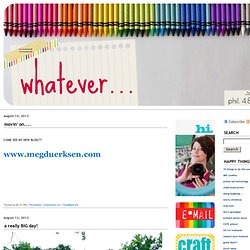 Fresh-Season.com - Bloggin' and Tweetin' from Canada's capital!